Community Fellow, Planetary Health
Community Scholar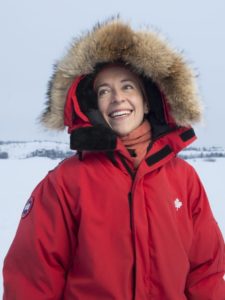 Dr Courtney Howard is an Emergency Physician in Canada's subarctic, a Clinical Associate Professor in the Cumming School of Medicine, University of Calgary, and Past-President of the Canadian Association of Physicians for the Environment (CAPE). Her interest in global health led her to work with Médecins Sans Frontières in Djibouti. After six months of resuscitating severely malnourished children, Dr Howard came home and started a family of her own in Yellowknives Dene Territory. At that point she realized that if pediatric malnutrition is one of the most severe health impacts of climate change, the best way she could promote a healthy future for her Northern Indigenous patient community, children overseas, and her own kids, is to work on a healthy response to planetary change.
Dr Howard has researched menstrual cups and wildfires, and led policy work and advocacy regarding ecoanxiety, movement-building, active transport, plant-rich diets, divestment, carbon pricing, coal phase-out, and hydraulic fracturing. She led the 2017-2019 Lancet Countdownon Health and Climate Change Briefings for Canadian Policymakers and was the 2018 International Policy Director for the Lancet Countdown. She sits on the boards of the Canadian Medical Association, Health in Harmony, and the Global Climate and Health Alliance, as well as the Steering Committee of the Planetary Health Alliance and the Editorial Advisory Board of the Lancet Planetary Health. As Co-chair of the advocacy subcommittee of the WHO-Civil Society Working Group on Climate Change and Health, she helped launch a Healthy Recovery initiative which gained the support of two-thirds of the world's healthcare professionals
You may also be interested in...