Mental Health Literacy Guide for Autism
We created the Mental Health Literacy Guide for Autism to increase awareness and share knowledge around issues related to Autistic mental health. This guide is meant to be read by everyone, but most importantly by Autistic adults, family members, professionals, policy-makers and leaders.
We began writing the guide in September 2019 with 29 Autistic adults and family members from across Canada. Throughout the project, advisers were consulted on the guide's content, format, and overall design. Each section was reviewed and discussed via monthly group video meetings and weekly communications. The materials we produced were based on our Autistic advisers' lived experiences and on understanding of what was important to them. The process of listening and learning from our advisers was crucial. There was content within sections that would not have been included if not for adviser input, and we endeavoured to link this with first-person accounts of Autistic experiences.
Our goal for this guide is to provide knowledge about the different factors that can impact Autistic mental health. The guide highlights how individual experiences and contexts play roles in the mental health of Autistic adults and how societal acceptance and appreciation of autism is critical for better support and well-being.
In collaboration with Spectrum Productions, we also developed a complimentary 6-video animated series based on sections of the guide. Scroll down to watch them all.
"Knowing more, helps more."
The Mental Health Literacy Guide for Autism was produced by the Autism Mental Health Literacy Project (AM-HeLP) Group:
Co-Principal Investigators: Drs. Jonathan Weiss & Yona Lunsky
Research Coordinator: Paula Tablon Modica
Research Associate: Dr. Jonathan Leef
Advisers: Aaron Bouma, Alex Echakowitz, Elsbeth Dodman, Patricia D. George, Lianne Goldsmith, Lindamarie Gossen, Tom Jackman, Pari Johnston, Kate Keto, ShanEda Lumb, Dr. Kimberly Maich, Tim Martens, Amond McKenna, Lachina Tycho Mckenzie, Nathan Moore, Iris Parker, Marie Porter, Rosanne Purnwasie, M. S. M. Kennith James Skwleqs Robertson, Gizzelle Rocha, Maxine Share, Todd Simkover, Louise Tardif, Sue Walters, Courtney Weaver, Margaux Wosk, and Shirley-Ann Yamashita
Note: 2 advisers asked to be anonymous
Suggested guide citation: Autism Mental Health Literacy Project (AM-HeLP) Group. (2021). Mental Health Literacy Guide for Autism. Retrieved from: https://www.yorku.ca/health/lab/ddmh/am-help/
Cover Art: Love Grows - Copyright © 2020 by Margaux Wosk, Retrophiliac. All rights reserved.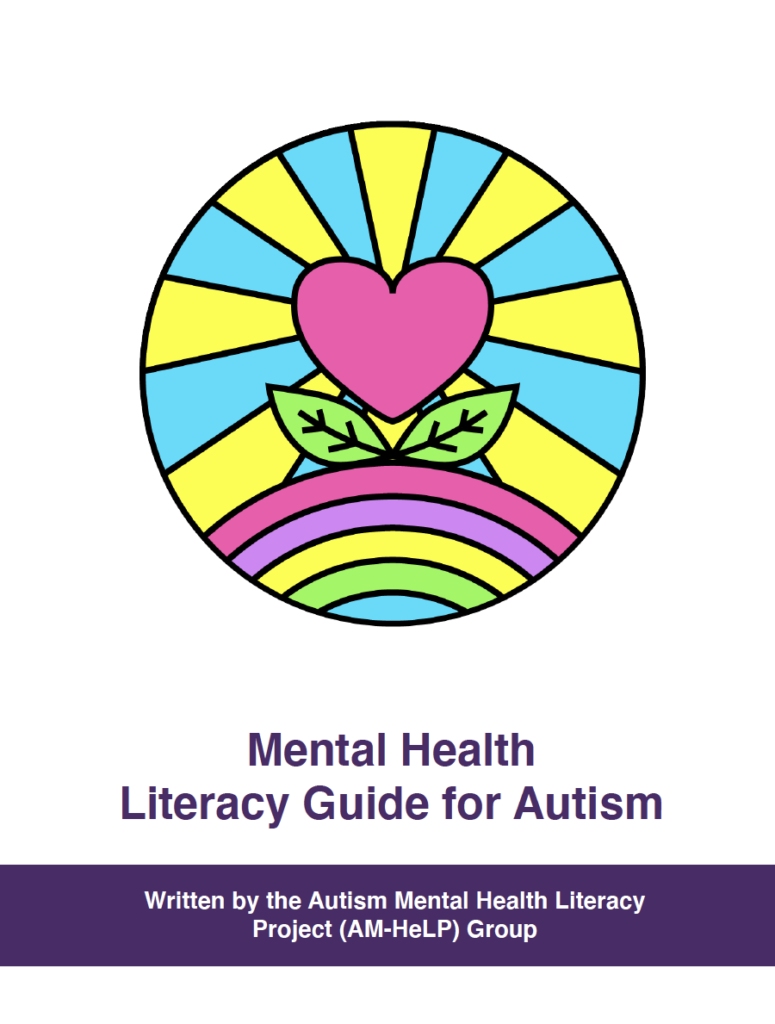 Guide Sections
You can access each section separately below.
---
Mental Health Literacy Guide for Autism Animated Video Series
Using the information from our Mental Health Literacy Guide for Autism, the AM-HeLP animated video series is about different aspects of autism mental health literacy. The video format and images were developed in consultation and collaboration with our advisers. Several AM-HeLP advisers also participated in the recording process.
Credits
Videos were produced by: Spectrum Productions
Voiceovers by: Riley Goldsmith and members of the AM-HeLP Group
Scripts Written by: Paula Tablon Modica, Dr. Yona Lunsky, and Dr. Jonathan Weiss
Understanding Mental Health Literacy
We define "mental health literacy" and how it can be helpful.
Introduction to Mental Health
We provide an introduction to mental health and how it is experienced differently by everyone.
Autism and Diversity
We discuss how diverse autism is.
Understanding Autistic Mental Health
We discuss the social, psychological and biological factors that play important roles in Autistic mental health.
Understanding Autistic Well-being
We discuss what well-being, self-care and community care means and what they can look like for Autistic people.
Understanding Supports for Autistic Mental Health
We discuss helpful supports for Autistic people and the importance of Autistic acceptance.
Want to know more about the project?
For more information, please feel free to contact Paula Tablon Modica (tablonp@yorku.ca), or Dr. Jonathan Weiss (jonweiss@yorku.ca).
AM-HeLP guide in the Media
This project was supported by the Public Health Agency of Canada.