Our research team consists primarily of clinical-developmental psychology trainees (including Ph.D. and M.A. level students, and post-doctoral fellows) and research trainees (including research associates, coordinators, assistants, undergraduate thesis students, and volunteers). All lab members are supported by the York Research Chair in Autism and Neurodevelopmental Disability Mental Health.
Broadly, my research aims to enhance community participation and inform evidence-based practice. I am particularly interested in the mental health needs and presentations of children and youth with neurodevelopmental disabilities and the ways in which we can optimize mental health services for this population.
I am interested in how families best adapt to and support children with neurodevelopmental disabilities. For my master's thesis, I studied how parenting, parent mental health, and the parent-child relationship are impacted when parents of autistic children are involved in their child's therapy. For my dissertation, I am interested in coping and wellbeing in parents and caregivers of autistic children.
My current research focuses on common factors in cognitive behaviour therapy for autistic youth, with the aim of understanding why certain children benefit from participating in therapy while others do not. I am interested in examining various therapeutic process factors, such as therapeutic alliance, youth engagement, and parent involvement, in relation to treatment change and improvements in mental health outcomes for autistic young people.
My research is focused on understanding how pathways in the brain are involved in emotion regulation for children with neurodevelopmental conditions, and how these pathways are related to treatment response. I'm also investigating whether using advanced neuroimaging methods in addition to behavioural reports can help us to predict which children are most likely to respond to SAS:OR, and why. My Master's thesis explored how school-age autistic children experience mindfulness activities during cognitive behavioural therapy, using mobile psychophysiological measurement, child-report, clinical characteristics and a comparison, computer-based therapeutic activity. I have also been working on a study examining the effects of classroom-delivered digital game pedagogy for children living in low-income communities.
I am interested in the role of emotion regulation processes in the mental health of individuals with developmental disabilities, and how these processes can inform treatment across the lifespan. My master's thesis will investigate associations between child autism characteristics, parent co-regulation, and observed emotion dysregulation in autistic youth.
My current research interest includes investigating treatment interventions to improve the mental health and wellbeing of children and youth with neurodevelopmental disabilities. My master's thesis examined clinician factors related to the delivery of psychotherapy for autistic youth compared to youth with ADHD.
I am interested in understanding the factors that contribute to well-being for individuals with developmental disabilities and their families. My Master's thesis aims to understand the links between ecological resources (e.g., environmental supports and caregiver responsiveness), mental health problems, and thriving among youth with intellectual and developmental disabilities. I also intend to explore how COVID-19-related stressors are associated with mental health problems among these youth, and if thriving buffers this association.
My current research interests include investigating the role of families and caregivers in fostering the mental health and well-being of autistic children. I am also interested in investigating how community-based programs for children with autism can bolster treatment success to ultimately improve mental health outcomes.
My current research interests include the well-being of individuals with neurodevelopmental disorders and their caregivers. I am interested in examining different intervention approaches that aims at improving mental health outcomes. I also have an interest in culturally responsive care and in supporting underserved communities.
My research interests include thriving among autistic children and youth, and the empowerment of these individuals through participatory research and clinical practice. I am further interested in the role of the social environment in defining of disability for autistic children and youth.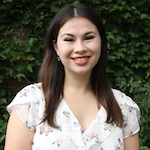 I am the lab coordinator for the DDMH Lab. Being involved in this lab allows me to engage in compelling research on neurodevelopmental disabilities and build upon my clinical experience. I am extremely passionate about autism-based research, specifically focused on self-acceptance, mental well-being, and social/familial support.
I am a research assistant with the DDMH lab, as well as a 4th year Specialized Honours student with broad interests in psychotherapy process and outcome research. As a member of this lab, I am learning more about cognitive-behavioural and other interventions for youth with developmental disabilities.