As a student in the Faculty of Liberal Arts & Professional Studies, we know that decisions that impact our faculty also impact you. By getting involved in University governance, you will get to influence these decisions. You will also get a unique opportunity to connect with fellow students, your professors and York staff.
Working with University governance will help you gain important analytical, decision-making and collaboration skills that will benefit you in any personal or professional situation. Check out the many opportunities below to get involved and influence positive change.
Join Faculty Council
All student representatives on council and standing committees are elected through your respective student council organization. At the undergraduate level, the Student Council of Liberal Arts & Professional Studies (SCOLAPS) elects representatives. The York University Graduate Student Association (YUGSA) elects graduate level reps.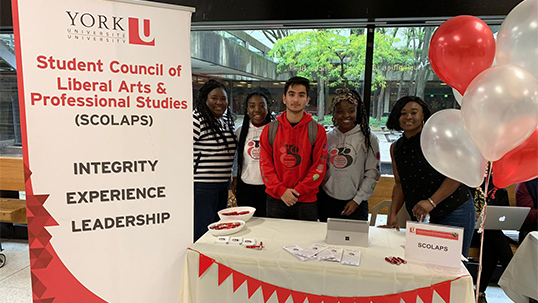 As an undergraduate student, you can become a member of Council (35 positions), Senate (6 positions) and/or one of the following Council standing committees:
Executive (3 positions);
Academic Policy and Planning (2 positions);
Curriculum, Curricular Policy and Standards (2 positions);
Tenure and Promotions (6 positions);
Research Policy and Planning (2 positions);
Teaching, Learning and Student Success (3 positions);
Student Academic Petitions & Appeals (8 positions).
As a graduate student in a program affiliated with the Faculty of LA&PS, you can be become a member of Council (4 positions) and/or the Graduate Committee (4 positions).
There are also two graduate teaching assistant membership positions on the Committee on Teaching, Learning & Student Success.
LA&PS College Councils
Every LA&PS college also has their own council which organizes programs and events to improve your university experience. This can be a great opportunity for undergraduate students to get involved in their home college. Find out more and get involved by exploring the council at your affiliated college.