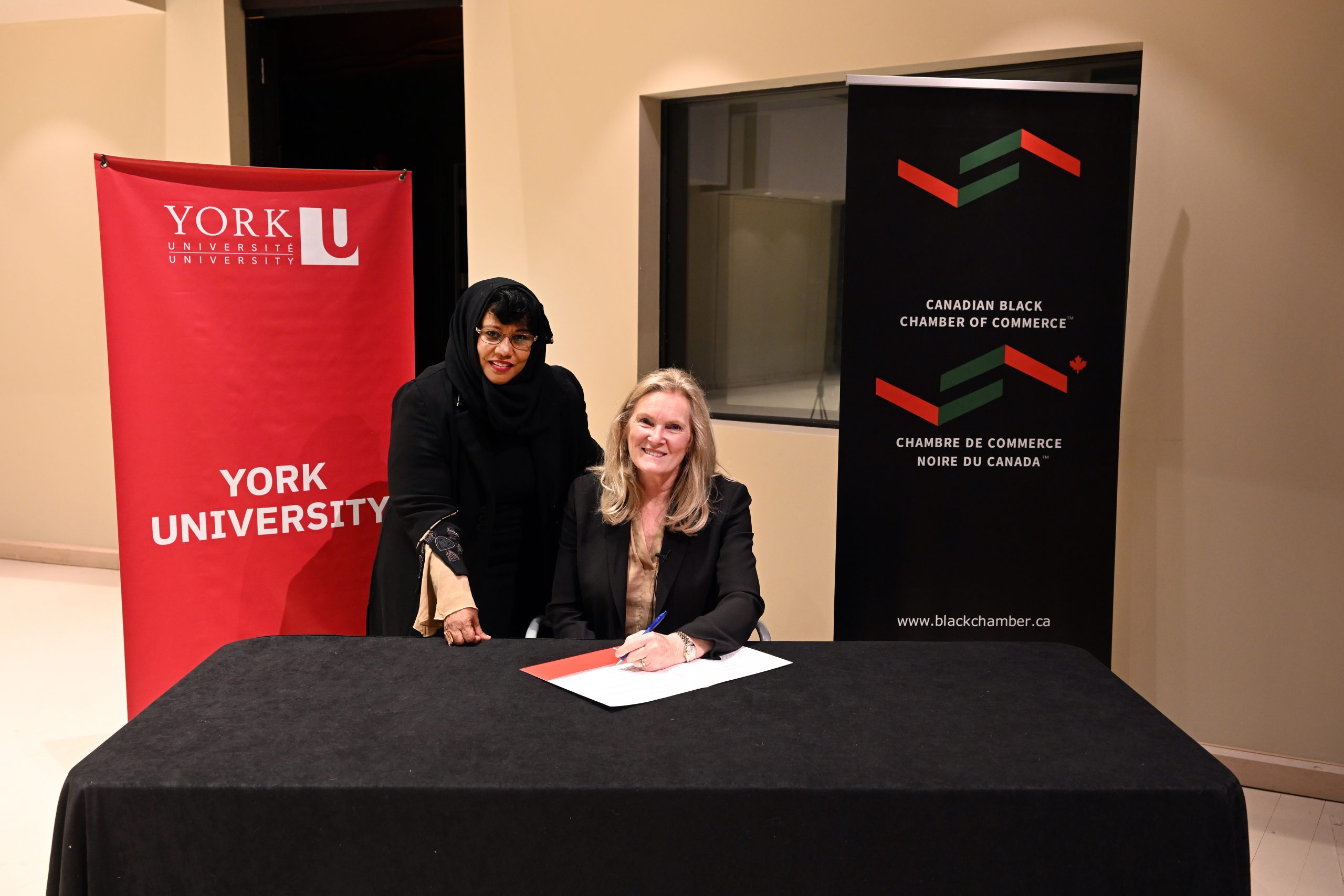 Home » Category Listing »
York U and Canadian Black Chamber of Commerce partner to create positive change for Black-owned businesses and social enterprises
New agreement will leverage purchasing power of Canada's third-largest university to reduce barriers and enhance equity
TORONTO, March 13, 2023 – Earlier today, York University and the Canadian Black Chamber of Commerce (CBCC) signed a Memorandum of Understanding (MOU) to create positive change for Black-owned businesses and social enterprises by reducing barriers to commerce and driving inclusive economic growth.
A first between York and the CBCC, the MOU recognizes the important work the chamber does in supporting Black-owned businesses – creating a pathway for CBCC members to fast track their applications in York's first-of-its-kind Social Procurement Vendor Portal. The new agreement also commits both organizations to share knowledge and best practices to break down barriers.
Social procurement seeks to increase community benefit by being intentional about how an organization buys its goods and services. Recognizing that way the University purchases goods and services can foster inclusive economic growth and has a positive impact on surrounding communities, York was one of Canada's first universities to establish a comprehensive Social Procurement Policy. By keeping community economic development as a core principle, social procurement helps create more sustainable and prosperous communities. The premise is simple: as York grows, local communities should share in the success.
In 2022, York launched its Social Procurement Vendor Portal, becoming the first university in Ontario – and one of the first in Canada – to open its procurement process to non-third party certified diverse vendors and social enterprises. By actively identifying and contracting with diverse-owned businesses and social enterprises, and others who disproportionately experience unemployment or underemployment and discrimination, York has prioritized vendor diversity through both its Social Procurement Policy and its Social Procurement Vendor Portal.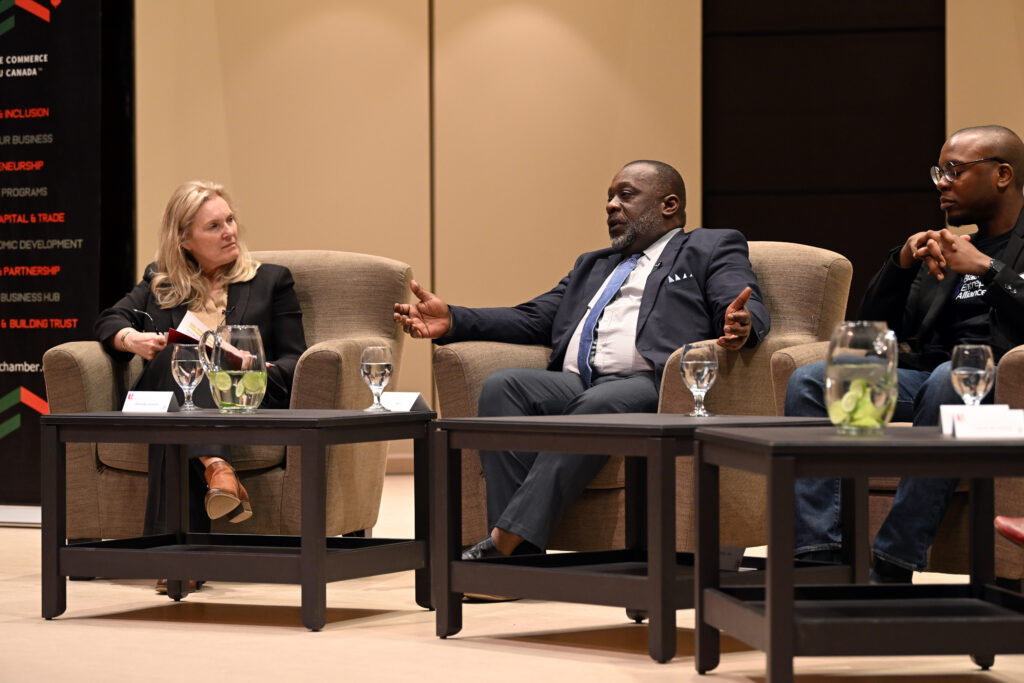 Diverse-owned businesses and social enterprises can choose one of two paths to register on York's Social Procurement Vendor Portal based on eligibility:
Recognized third-party certified diverse-owned businesses and /or social enterprises are eligible to register. They must include the name of their certification body and the expiry date of their certification on the registration form. Organizations can learn more about third-party certification here.

Non-certified diverse-owned businesses and/or social enterprises can register on the portal by identifying the equity-deserving group under which their organization falls. As part of the assessment process, they must also submit their proof of business ownership as part of the required documentation.
This innovative drive to change how the University buys goods and services is reflected in how York is building its new 10-storey, 400,000-square-foot Markham Campus, set to open in Spring 2024. Through the new policy, vendors are being drawn from across the community and so far, $5.8 million has been spent at businesses headquartered and operated in York Region in fields like concrete, building supplies and technical consultations. In response to the Social Procurement Policy, Stuart Olson and their subcontractors have hired 15 equity-deserving apprentices.
York's vision is to offer a broad demographic of students access to a high-quality university, that is research intensive and committed to driving positive change. At the centre of the University Academic Plan is a challenge to elevate York's contributions to the United Nation's Sustainable Development Goals, and we are proud of the fact that we ranked 33rd in the world in the Times Higher Education Impact Rankings for our contributions to advancing the SDGs. York's Social Procurement Policy is one of the ways the University is advancing its contributions to SDG 12: Responsible Consumption and Production, which is about sustainably managing natural resources, reducing and managing waste better, and promoting sustainable lifestyles and company practices.
Quotes
"York is a leader in creating positive change toward a more equitable, inclusive and sustainable future and we recognize the importance of academia in convening people and ideas for meaningful action. As an anchor institution, we have an opportunity and an obligation to lead by example and maximize our economic and social impact on the communities around us. I want to congratulate York's social procurement team and the Canadian Black Chamber of Commerce on this milestone agreement aimed at leveling the playing field for Black-owned businesses and social enterprises."
– Rhonda Lenton, President and Vice-Chancellor, York University
"CBCC is excited to sign the MOU with our natural partner York University. At CBCC we actively seek to promote, improve trade and commerce as well as the economic, civic and social welfare of Black and Afro-Canadians. Be a visible and effective organization for the expression of the views of our members and for the Black and Afro-Canadian business community, committed to the competitive market system. We develop programs aimed at creating a high level of economic awareness at all community, educational, and political levels for the benefit of our members."
– Jamila Aman, Executive Director, Canadian Black Chamber of Commerce
"Our leadership in social procurement reflects the York's longstanding values of equity, inclusivity and social justice, values which have propelled the University forward for more than 60 years. We are pleased to celebrate this milestone partnership with the Canadian Black Chamber of Commerce, and I look forward to deepening our relationship with the CBCC and its members, as we seek to ensure Black-owned businesses and social enterprises have equitable access to a wide base of potential customers in pursuit of economic opportunities with the University and its partners."
– Carol McAulay, Vice-President, Finance and Administration, York University
-30-
About York University
York University is a modern, multi-campus, urban university located in Toronto, Ontario. Backed by a diverse group of students, faculty, staff, alumni and partners, we bring a uniquely global perspective to help solve societal challenges, drive positive change and prepare our students for success. York's fully bilingual Glendon Campus is home to Southern Ontario's Centre of Excellence for French Language and Bilingual Postsecondary Education. York's campuses in Costa Rica and India offer students exceptional transnational learning opportunities and innovative programs. Together, we can make things right for our communities, our planet, and our future.
Media Contact:
Kayla Lewis, York University Media Relations, 416-452-0282, lewiskay@yorku.ca