YSpace, York's pan-university entrepreneurship hub, held one of its flagship events, the YSpace Technology Accelerator Demo Day, on the evening of Sep. 29th. At the invite only event, the top three startups in the accelerator program were awarded $30,000 total to be split among them, with AI technology startup NLPatent securing the top prize.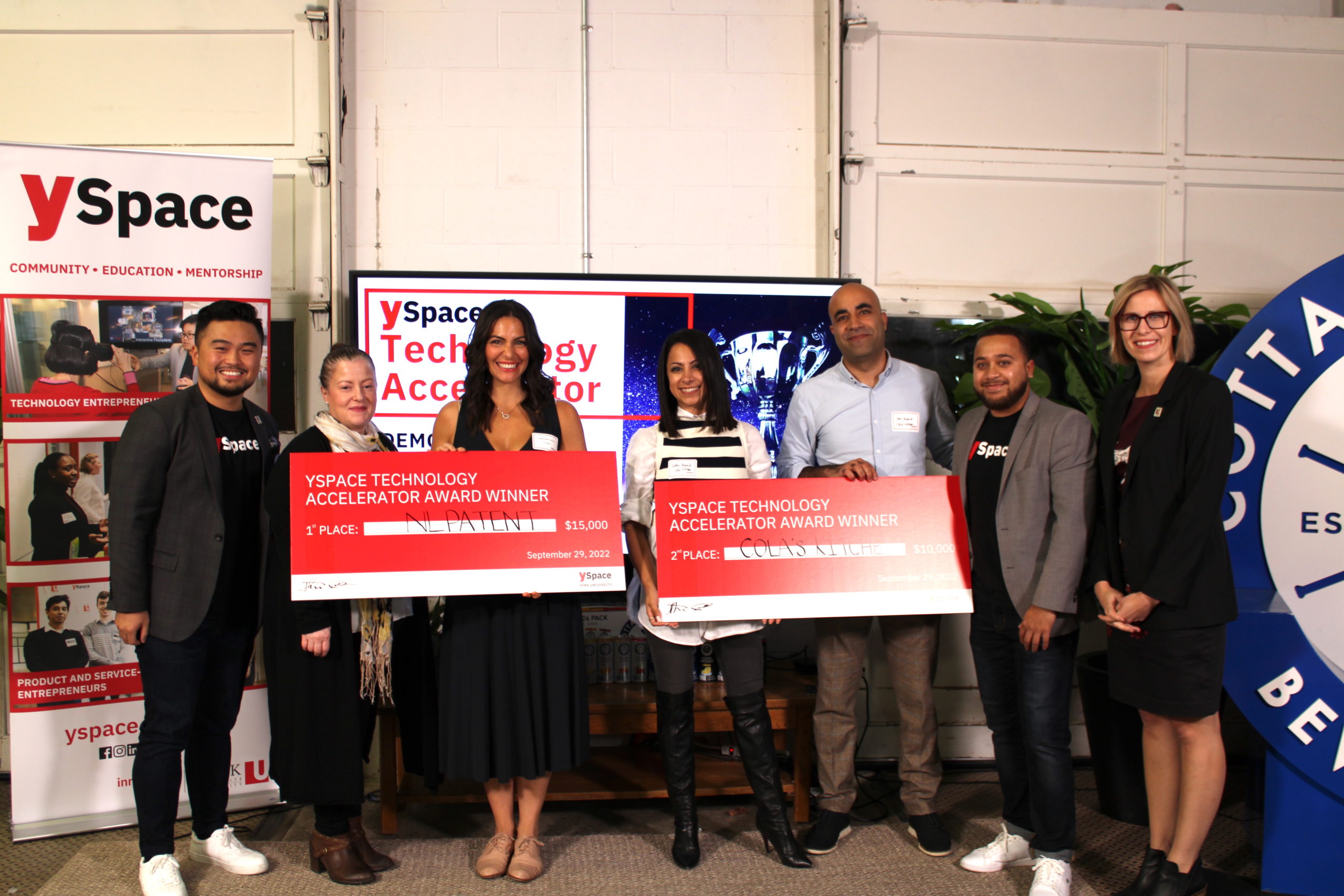 Five high performing finalists were chose from this year's cohort of 15 startups to participate in the Technology Accelerator Demo Day: Cola's Kitchen, NLPatent, Sn126, TechEasy and WayFast
The YSpace Technology Accelerator program is a 4-month intensive program focused on helping market-ready tech statups develop their growth playbook and capital strategies and helps tech startups gain access to dedicated mentorship from Entrepreneurs-in-Residence, growth coaches, and experts. They take part in workshop sprints, mastermind sessions to support their leadership developments, and curated mentorship support throughout the program.
"Accelerators and Incubators are a great resource for entrepreneurs who are looking to gain access to a network of mentors and tools to help grow their business. At YSpace, we are not only focused on providing strategic business support but also tactical support that focuses on what they need to do now to succeed. In addition to that, pitch competitions such as our Demo Days are a great way to showcase our companies to our community of investors and corporate partners, we hope that these competitions will create greater exposure for the companies and the cash prize is the cherry on top." explained David Kwok, Associate Director of Entrepreneurship.
The Demo Day, sponsored by York University, the City of Toronto, Ace Beverage Group and Houser, Henry & Syron consisted of a pitch competition, a panel Q&A and an evening of networking and socializing for those who attended.
As for our winners, taking the top prize of $15,000 cash was NLPatent, an AI tech startup whose platform is dedicated to aiding IP professionals and R&D teams.
NLPatent co-founder Stephanie Curcio shared her experience working with YSpace and being part of the Tech Accelerator program.
"YSpace has been super supportive of our business. We learned a ton from the various workshops that ran throughout the program on topics perfectly suited for companies at our stage, like developing a sales process, raising capital, and setting the business up to scale. We were also matched with a dedicated mentor who has been tremendously helpful in helping us attain our goals and position us to succeed. Last, but not least, the YSpace staff genuinely care about the startups in the program and have gone above and beyond for us during the program and continue to support us as new alumni. We are grateful to have had the opportunity to participate in the YSpace Tech Accelerator program!"
Securing the second-place prize of $10,000 was Cola's Kitchen, a personalized, fresh food solution for dogs and their owners.
The third-place prize worth $5,000 went to Sn126, a tech startup dedicated to building the future of API testing.
"The Tech Accelerator is a flagship program at YSpace, laying the foundations for high growth market ready startups to build and execute on their roadmap to scale. The Demo Day is an exciting opportunity to celebrate these startups, and particularly showcase some of the top performers in the program, creating exposure to investors and industry networks as they grow into the next phases of their companies." said Nafis Ahmed, Entrepreneurship Manager at YSpace.
Congratulations to our winners and a huge shoutout to all finalists and participants of the Tech Accelerator program.