Centre for Bee Ecology, Evolution and Conservation (BEEc) Associates are a network of interdisciplinary researchers and community members with the purpose of pushing the limits in bee research, education, public outreach, and policy. Ultimately, our goal is to apply our collaborative efforts to the development of policies and environmental management for the long-term sustainability of bees and the vital ecosystem services they provide.
There are numerous ways in which researchers, students and community members can be part of the work that we do. BEEc Associates have access to numerous benefits, including:
Knowledge mobilization - we can help with the dissemination of your work with an established network of researchers, students, and organizations, across a variety of platforms including our monthly newsletters, our annual BeeCon conference, the BEEc website, various social media platforms, and more!
Grant application support - such as editing, budget preparation, and other general administrative activities
Project management - such as fulfilling reporting requirements, paying students and staff, etc
Access to the BEEc network - including bee researchers and non-profit organizations across the globe, building opportunities for collaborative partnerships, diverse research methods, and higher-tier grants.
Read about the membership categories below and consider applying. If you feel that you do not fit within one of these categories, please contact us to find out other ways to get involved.
BEEc's Faculty Associates are part-time, full-time, or emeritus faculty members engaged in research at York University, or at an external university. Their participation in events such as BEEc Meetings, relevant grant-related activities, and contributions to research are invaluable additions that drive our success.
---
---
---
---
---
---
---
---
---
---
---
---
---
BEEc's Research Associates are post-doctoral fellows, visiting scholars, research assistants, or other non-faculty researchers who are engaged in research in a relevant field. Their expertise and involvement in the research and intellectual life of BEEc, and participation during workshops and conferences support the future of BEEc. These individuals are in addition to our Executive Committee members.
Syed Abbas Bukhari
Postdoctoral Fellow, Rehan Lab, York University
---
Sandara Brasil
Postdoctoral Fellow, Rehan Lab, York University
---
Katherine Chau
Postdoctoral Fellow, Rehan Lab, York University
Research focus: wild bee conservation genomics
---
---
Sarah French
Postdoctoral Researcher, York University
I am an ecologist working with Dr. Zayed and the BeeCSI team to assess how hive-scale and landscape-scale factors and stressors interact to impact honey bee health in agricultural regions across Canada. My research interests include behavioural, community, and landscape ecology, and how these fields can be applied to conservation efforts. My past research has focused on invertebrate responses to environmental heterogeneity, spanning aquatic, terrestrial, and linked aquatic-terrestrial systems.
---
Liam Graham
Packer Lab Manager, York University
---
Kennedy Halvorson
Research Assistant, Finding Flowers Project, York University
Kennedy completed her research in the Native Pollinator Research Lab, focusing on pollination systems of Nicotiana rustica, a wild species of tobacco that has cultural and traditional significance to many Indigenous peoples across Canada.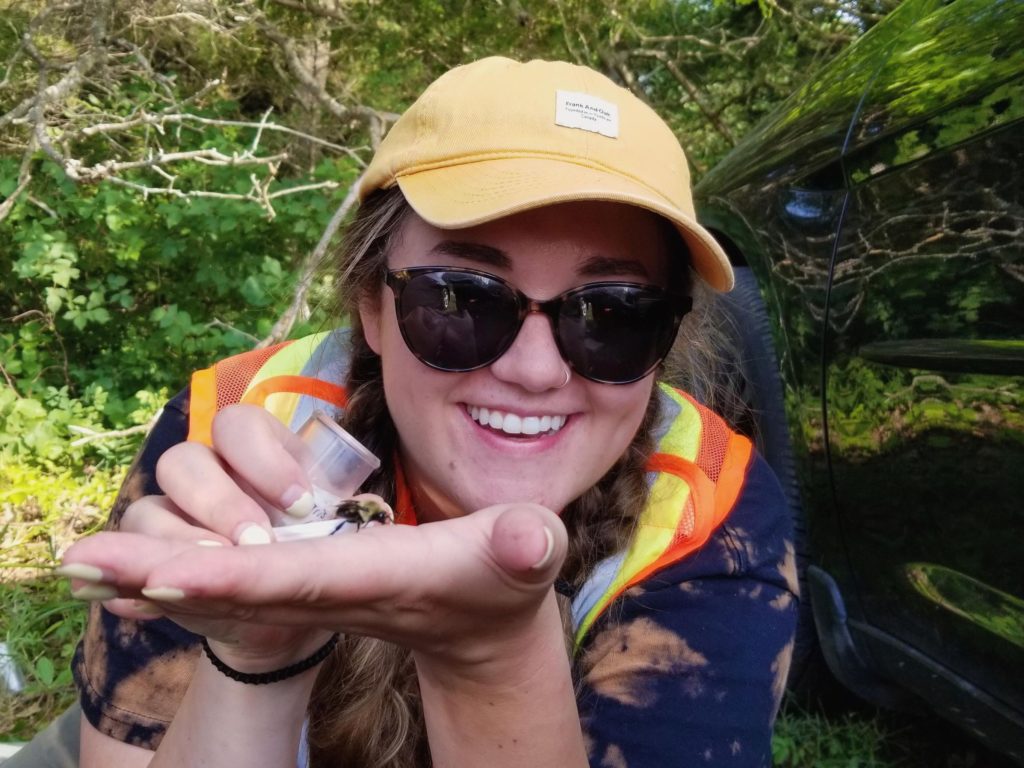 ---
Sydney Jordan
Postdoctoral Fellow, Zayed Lab, York University
---
Victoria MacPhail
Coordinator, Centre for Bee Ecology, Evolution, and Conservation
Former Postdoctoral Researcher, Colla Lab, York University
Victoria has been conducting research related to pollinators since 2002. She took over the BEEc Coordinator position in August 2022. She most recently wrote a proposed clean stock certification program for Canadian commercial bumble bee stock. Her PhD (YorkU 2021) involved assessing the value of community (citizen) science programs for conservation. She helped to launch and is still an administrator with the BumbleBeeWatch.org program.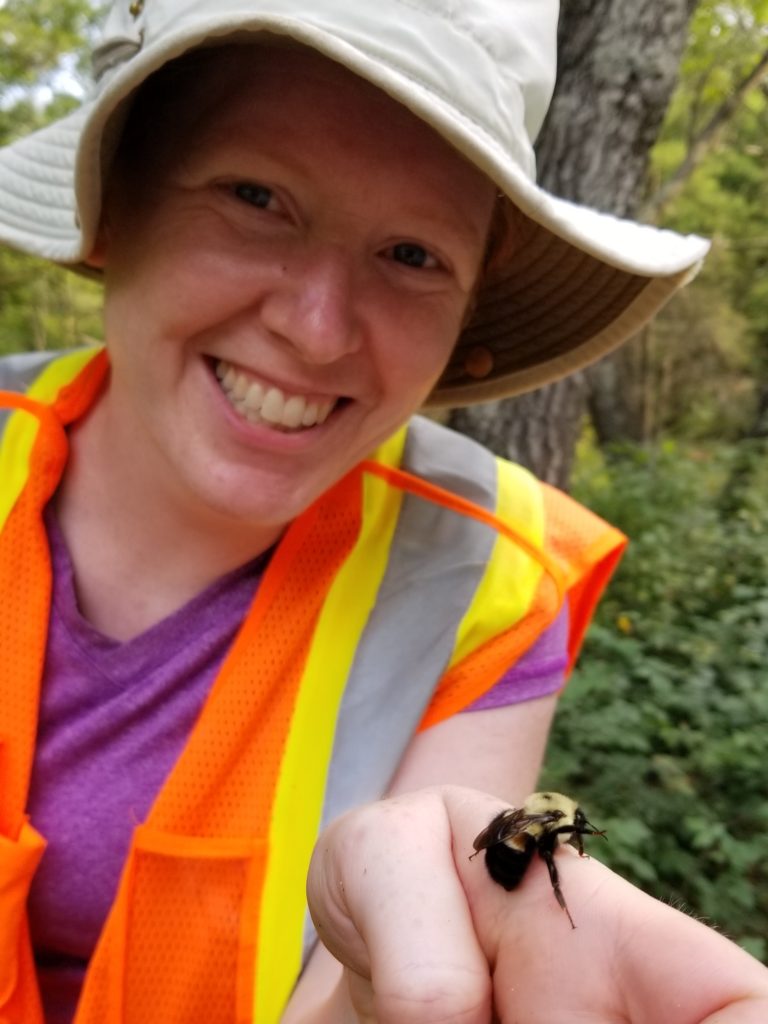 ---
Michael Mikát
Postdoctoral Fellow, Rehan Lab, York University
Research focus: microbial ecology of wild bees across urbanization gradients
---
Rachel Nalepa
Post Doctoral Fellow, Colla Lab, York University
Rachel is social scientist researching the human dimension of pollinator conservation. Rachel's research with the Colla lab was funded through a Mitacs fellowship with the Nature Conservancy of Canada and support from The W. Garfield Weston Foundation.
---
Laura Newburn
BeeCSI Research Associate, Zayed Lab, York University
---
Thomas Onuferko
Postdoctoral Fellow, Packer Lab, York University
---
Mateus Pepinelli
Lab Manager, Zayed Lab, York University
---
---
Benjamin Pyenson
Postdoctoral Fellow, Rehan lab, York University
---
Farida Samad-zada
Research Technician, Rehan Lab, York University
Farida has a background in bioinformatics, conservation genomics, and molecular ecology. Her current research focus in the Rehan Lab includes population genomics of wild bees across eastern North America and developing genomic and transcriptomic databases to support wild bee conservation efforts.
---
Trevor Sless
Postdoctoral Fellow, Rehan lab, York University
---
Mathilde Tissier
Liber Ero Fellow, Colla Lab, York Univeristy & Bishop's University
I am a researcher interested in the effects of nutrition on the performance of terrestrial animals. I obtained my PhD in ecology and biodiversity conservation in agricultural landscapes from the University of Strasbourg (France) in 2017, after completing a BSc and MsC in exchange between France, Quebec and British Columbia. As a Liber Ero fellow, I am now working on bumblebee nutritional ecophysiology and conservation in collaboration with ENGOs, beekeepers and agricultural producers in QC and ON.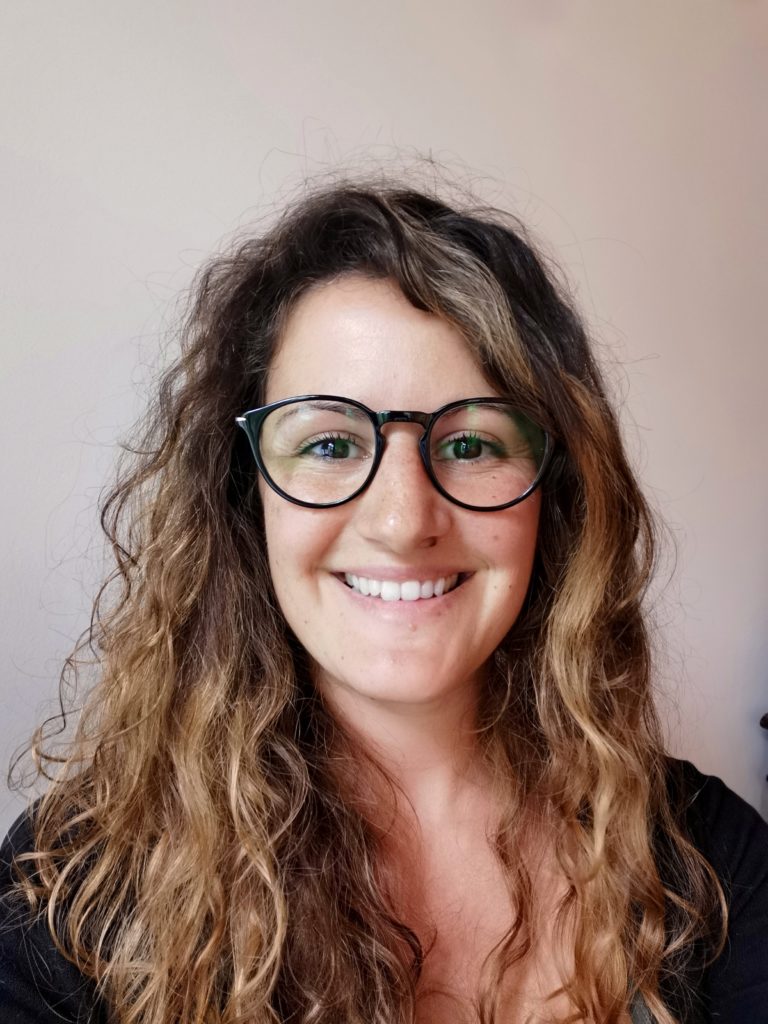 Nadia Tsvetkov
Postdoctoral Fellow, Zayed lab, York University
---
I am an ecologist and evolutionary biologist who is broadly interested in beneficial insect behavior, community ecology and conservation. Sometimes this means watching bees in observation nests, sometimes it means using molecular markers to understand population structure, and sometimes it means driving all over to see what insect species we find in different landscapes. While I have primarily worked with wild bees, recently the lab has started to include other beneficial insects such as carabid beetles and even springtails (not technically an insect, I know!). Since 2019, I have been located in Fredericton, New Brunswick, where I am a research scientist for Agriculture and Agri-Food Canada.
---
BEEc's Student Associates are undergraduate or graduate students who are supervised or co-supervised by a BEEc Faculty Associate. Their contribution to research and BEEc activities by attending, participating in and/or supporting the organization of workshops, conferences and other events, drives BEEc's ability to create a hub of bee research.
---
Patrick Arteaga, MES Candidate, Colla Lab
Research focus: bees, ecomusicology, & policy
Anthony Ayers, MSc Candidate, Rehan Lab
Research focus: the ecology and conservation of native bees within urban landscapes
Katie Dogantzis, PhD Candidate, Zayed Lab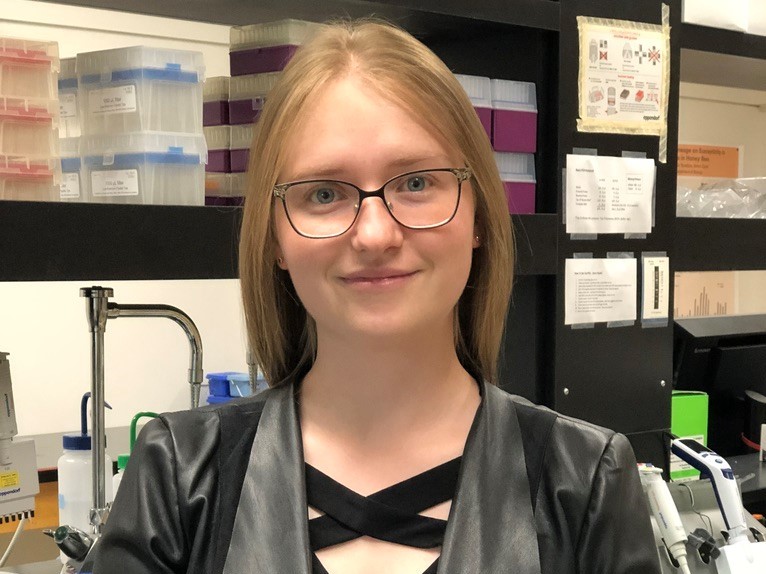 Research focus: adaptive radiation of the European Honey bee (Apis mellifera)
Briann Dorin, PhD candidate, Colla Lab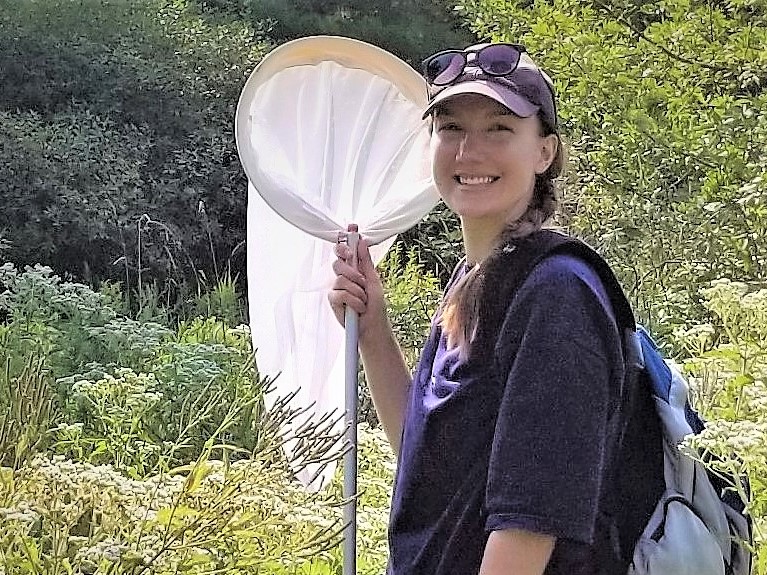 I am interested in interdisciplinary approaches to addressing wildlife conservation research questions in agricultural landscapes. My research looks at the impact of landscape (surrounding land-uses) and local (vineyard management) variables on native bee communities within vineyard agroecosystems. This research also aims to understand grape grower motivations, concerns, and needs within the adoption of pollinator-friendly vineyard management practices. Through collaborating with growers, I hope to determine agricultural practices, policies, and initiatives that best support our native pollinators in Canadian vineyards.
Hadil Elsayed, PhD Candidate, Colla Lab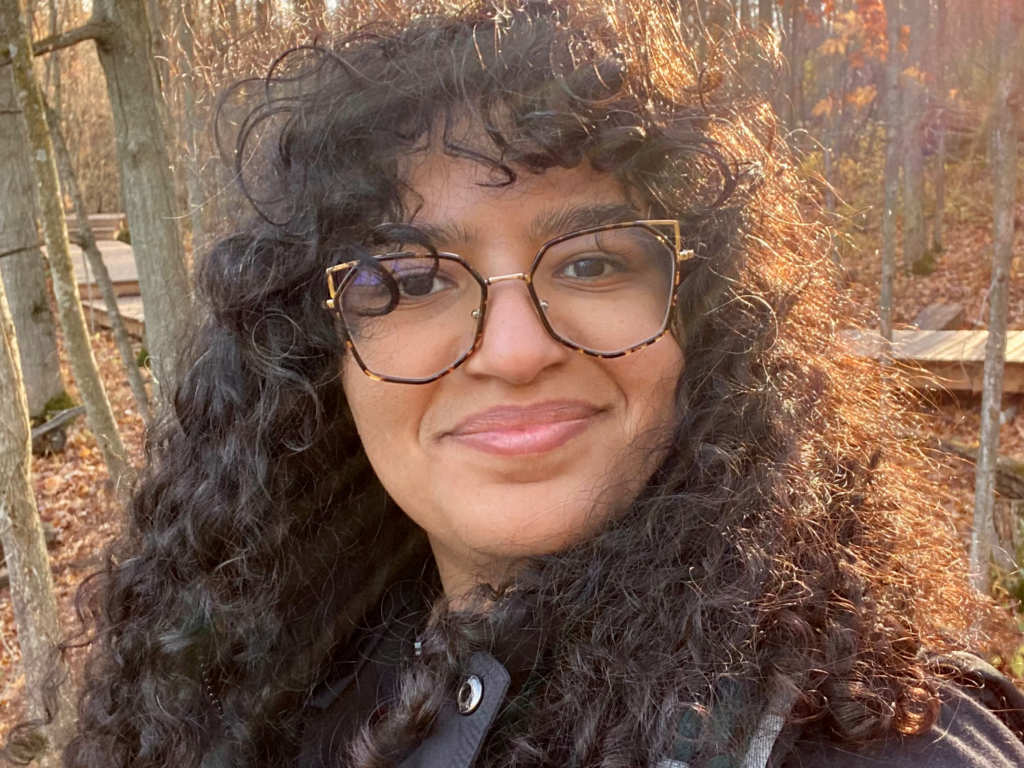 Research focus: the impact of managed honey bees on wild bees in urban landscapes
Shelby Gibson, PhD Candidate, Colla Lab
Research focus: understanding how sustainability policies and programs can influence the ability to conserve biodiversity in a particular landscape
Jesse Huisken, PhD Candidate, Rehan Lab
Research focus: plasticity in foraging behaviour in the small carpenter bee (Ceratina calcarata) using experimental manipulation of observation colonies combined with transcriptomics
Aidan Jamieson, MSc Candidate, Zayed Lab
Research focus: development of diagnostic tools for neonicotinoid exposure in the western honey bees (Apis mellifera) using transcriptomics
Taylor Kerekes, MSc candidate, Colla Lab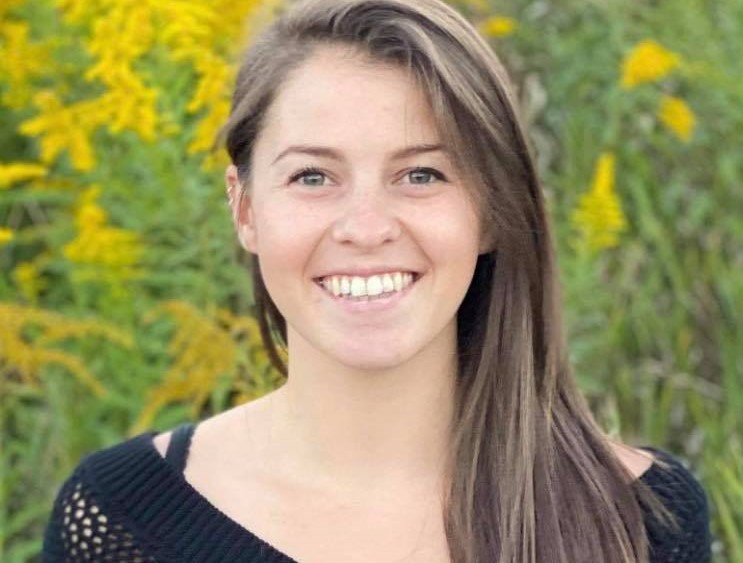 My research looks at possible competition between wild bees and honeybees in a shared urban setting by identifying pollen collected from the bees. This pollen will then give information on if there is resource overlap and can also give insight into which flowers are favoured by these communities. I will also be looking at the change in floral use, abundance and diversity of the bumblebee community in southern Ontario by comparing current data to previous studies.
Sam Luik, MSc Candidate
Mathematic & Statistics, Co-supervised by Dr. Zayed & Dr. Heffernan
Kat Lunn, PhD Candidate, Clare Lab
Alessia Mole, MES Candidate, Colla Lab
I will be supervised by Dr. Sheila Colla during my Masters project. I will be looking at pollinator plants in northern Italy and conducting interviews with community members on the protection mechanisms around traditional medicinal plants.
Phuong (Cindy) Nguyen, MSc Candidate, Rehan Lab
Katherine Odanaka, PhD Candidate, Rehan Lab
Research focus: cleptoparasitic bees, especially Nomada, examining in their systematics, taxonomy, and ecological roles
Caroline Ritchie, UG thesis, Zayed Lab
Nora Romero, PhD candidate, Packer Lab
My research focuses on a taxonomic revision, systematics and biogeography of the Genus Liphanthus (Hymenoptera: Andrenidae). I will be using morphology in combination with Ultra Conserved Elements (UCEs) DNA sequences to provide insights on the diversification of the genus and distribution of species based on historical geological events.
Dova Suttner, PhD Candidate, Zayed Lab
Aishwarya (Aishu) Subramanian, MSc Candidate, Zayed Lab
Tanushree Tiwari, PhD Candidate, Zayed Lab
Taeyoon You, MSc Candidate, Zayed Lab
Current research topics: Identification of single nucleotide polymorphisms in Apis melifera associated with expression levels of protein levels. Bioinformatics and statistical methods are used to find correlative genetic locations using dataset gathered from apiaries across Canada. We hope that the result will improve our understanding of genetic regulators of protein expression in honey bees, which would help pave the way to better control in bee breeding and care.
The BEEc Industry Associate category recognizes the importance of the community outside of academia in supporting the mandate of BEEc. Industry Associates may be affiliated with a research project, mentor students, host graduate research, or make other valuable contributions towards the success of BEEc and are subject to approval by the Executive Committee.
---
Sarah MacKell
Lead Biologist, Native Pollinator Initiative, Wildlife Preservation Canada
Wildlife Preservation Canada (WPC) is dedicated to saving species at-risk by using multi-faceted approaches, including conservation breeding, population surveying, and community outreach. The Native Pollinator Initiative is mainly focused on conserving at-risk bumble bees, but they also have projects working with multiple butterflies (i.e. Taylor's Checkerspot, Karner Blue and Mottled Duskywing).
Sarah's main role at WPC is leading conservation breeding of at-risk bumble bees, which is related to multiple research areas being investigated at BEEc, such as pests and pathogens and monitoring and identifying source populations and suitable habitat for at-risk bees.
Sarah collaborates with BEEc on priority research projects to conserve pollinators, especially bumble bees. WPC often co-supervises graduate student projects with BEEc researchers.
Sarah's graduate research was supervised by Dr. Sheila Colla and investigated whether urban honey bee hives negatively impact wild bees.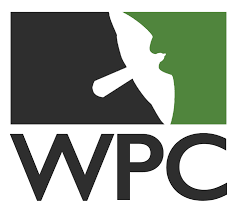 ---