What is BeeBST?
Bee Biogeography and Systematics Talks (BeeBST) is a series of monthly webinars on bee systematics, taxonomy and biogeography. It is aimed at a general audience of people interested in bees and pollinators, and especially with those interested in bee classification and biogeography.
The taxonomy of giant honey bees, biogeography of bumble bees, cleptoparasitic nomandine bees, Anthophorinae, the adaptive radiation of the western honey bee, mining bees, integrating fossil evidence, floral associations in Eucerine bees... and we are just getting started!
Please see the list below for the most current information and links to register for each event
Talks will generally be held at 11:00am (EST) on the last Wednesday of each month. We are hoping that many of the talks will be recorded and made available on the Centre for Bee Ecology, Evolution and Conservation's YouTube channel, so please subscribe to stay up-to-date!
If you would like to add your name to the list of potential speakers for 2023 or 2024 please contact Laurence Packer at geodiscelis@mail.com
We hope the series will continue indefinitely...
Upcoming Events in the Bee Biogeography and Systematics Talks series:
(completed events and any associated recordings are listed at the bottom of the page)
June 28, 2023 @ 11am EST
Dr. Trevor Sless
Phylogenetics, biogeography, and the evolution of parasitism in cuckoo bees (Nomadinae)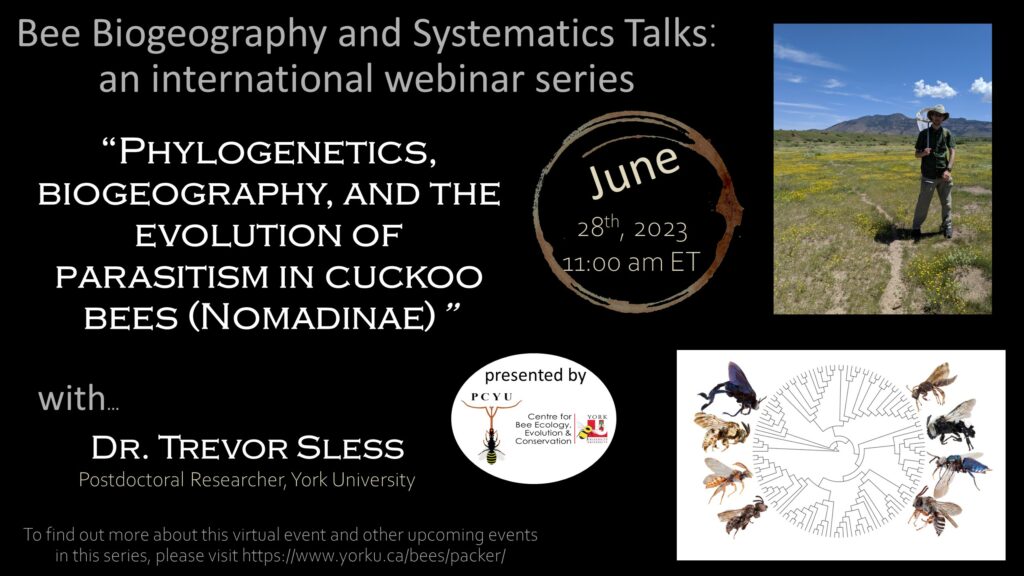 Stay tuned for more events in the Bee Biogeography and Systematics Talks series...
---
Past events are listed below and linked to the YouTube Recording (as available)
January 2023
February 2023
March 2023
April 2023
May 2023
---
January 2022
February
March
April
May
June
July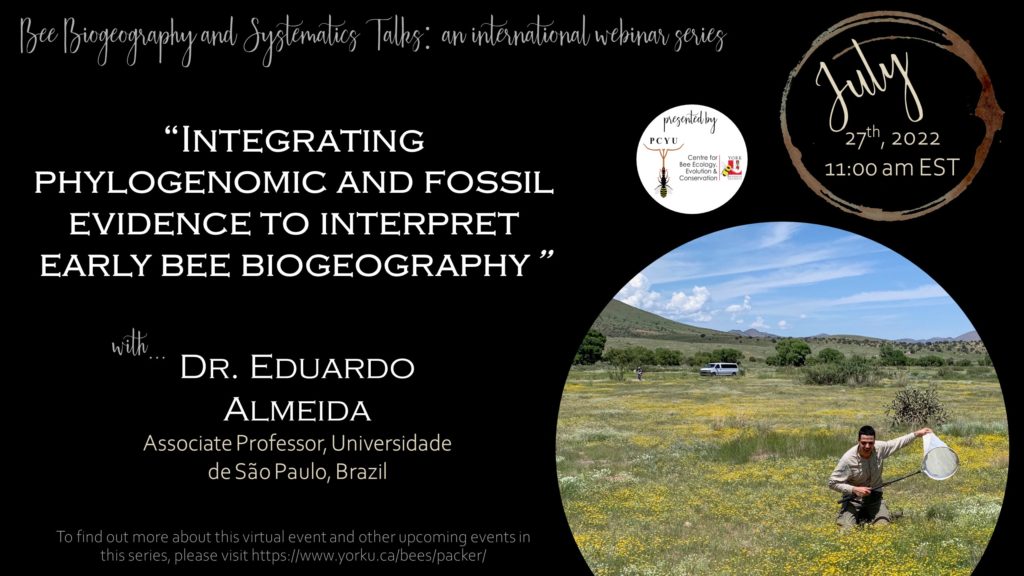 August
September
October
November
December 2022
There was no presentation in December 2022.