The goal of the Centre for Bee Ecology, Evolution and Conservation (BEEc)'s Speaker Series is to provide opportunities for BEEc associates and invited guests to learn from each other. While only open to BEEc associates, we often are able to record presentations for others to view - please see below for those recordings, or subscribe to our YouTube Channel to receive the most up-to-date notifications on new recordings!
We have been busy organizing the 2022/23 speaker series. At 11am Eastern Time, on the second or third Friday of every month, we will feature a different topic related to bees. These will be presented through a private Zoom meeting: please check your e-mail for the meeting link, which will be sent out to all Associates each month. Check out the line-up of speakers who will be joining us: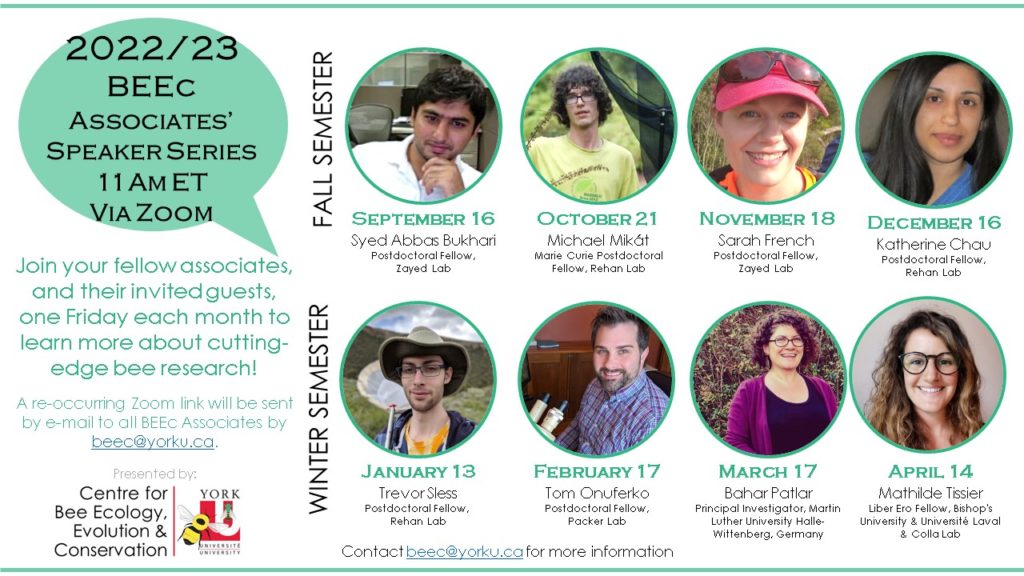 ---
Upcoming Talks (all at 11am Eastern Time)
Fri, February 17, 2023 - Dr. Tom Onuferko, CERA Postdoctoral Research Fellow, University of Toronto Scarborough / Research Associate, Zoology, Canadian Museum of Nature, "Effects of dune stabilization on bees and aculeate wasps in the southern Canadian prairies"
Abstract: Active sand dunes in the Great Plains represent a unique habitat that sustains diverse communities of psammophiles—species that require or prefer sandy areas. In the northern Great Plains, including the southern Canadian prairies, these unique inland dunes are threatened by vegetative stabilization, which is the fixation of sand in place by plants and eventual conversion into grassland. Dune activity has greatly declined in this region since European settlement, and the dunes that remain are islands of biodiversity home to various taxa of conservation concern within Canada.
Bees and wasps (Hymenoptera: Aculeata) are conspicuous and diverse insects inhabiting these dunes, but the species present in this habitat have not been extensively surveyed previously. Additionally, the effects of dune stabilization on the resident aculeate fauna have not yet been methodically investigated. In a cross-sectional study, 13 dunes at various stages of succession into grassland were surveyed between southeastern Alberta and southwestern Manitoba. A total of 12,313 specimens were collected representing 373 species and morpospecies of bees and wasps.
Bees and wasps responded differently to dune stabilization. Additionally, the effects of vegetative cover on bees and wasps differed between dunes where the dominant plants were grasses and those dominated by dune scurfpea, an early successional forb on sand dunes, which may be a useful indicator of habitat quality. Most notably, species of wasps that are open sand specialists were adversely affected by increased vegetative cover, indicating they may be at risk of extirpation from areas where dune activity is in decline. Bees and wasps, especially open sand specialist species, serve as a promising tool for monitoring the effects of dune stabilization.
Fri, March 17, 2023 - Dr. Bahar Patlar, PI, Martin Luther University Halle-Wittenberg, Germany (past PDF, Zayed lab), "The evolution of protein soup in male ejaculate"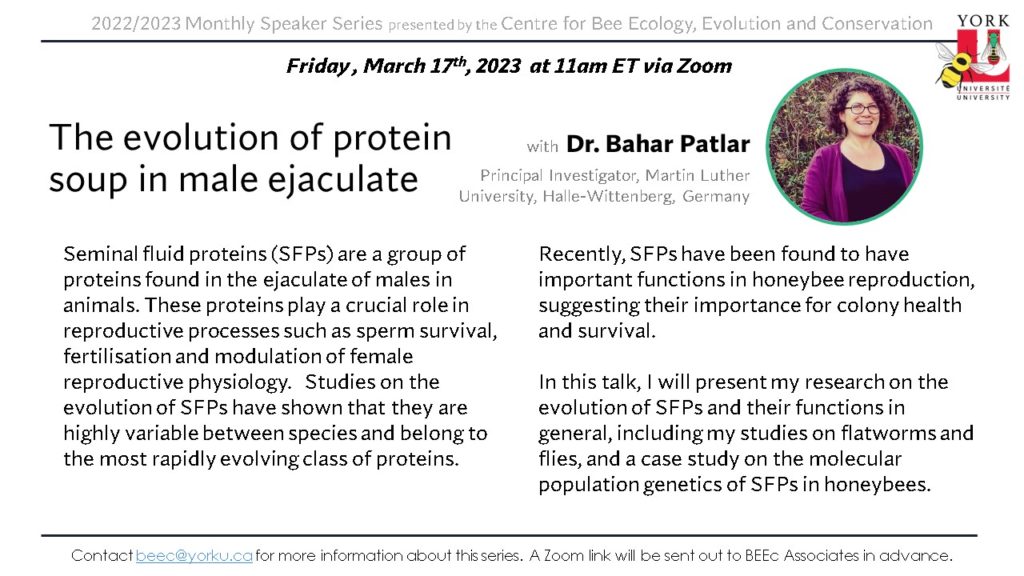 Abstract: Seminal fluid proteins (SFPs) are a group of proteins found in the ejaculate of males in animals. These proteins play a crucial role in reproductive processes such as sperm survival, fertilisation and modulation of female reproductive physiology. Studies on the evolution of SFPs have shown that they are highly variable between species and belong to the most rapidly evolving class of proteins. Recently, SFPs have been found to have important functions in honeybee reproduction, suggesting their importance for colony health and survival. In this talk, I will present my research on the evolution of SFPs and their functions in general, including my studies on flatworms and flies, and a case study on the molecular population genetics of SFPs in honeybees.
Fri, April 14, 2023 - Dr. Mathilde Tissier, Liber Ero Fellow, Bishop's University & Université Laval (also supervised by Colla, York U), "From knowledge to action: how can nutrition ecophysiology be combined with farmer interests to support bee conservation?"
Poster: Not Yet Available
Abstract: Not Yet Available
Watch your e-mail for a private Zoom meeting link to view these presentations live.
---
Join our Public "Bees" ListServ!
Looking to stay informed on BEEc's public news, general, research activities and events? Send an email to LISTSERV@YORKU.CA with the following command in the body of the email:
SUBSCRIBE BEES YourFirstName YourLastName
---
Join our Internal "BEEC-Associates" ListServ!
Are you on our Internal BEEc Associates Listserv? This list is used for sharing our newsletters, upcoming events and opportunities. If you are not a Member of BEEc already, please fill out the Associates Application form at https://www.yorku.ca/bees/about-us/membership/application/. Already a member? Contact beec@yorku.ca.
---
Scroll down for Past Presentations, Videos of Selected Presentations
Keep scrolling down the page to see the list of past presentations and recordings (where permissions were given for public posting). Or visit our YouTube Channel to see the recordings from all our speaker series, webinars, conferences.
Past events:
2022-2023 Speaker Series Events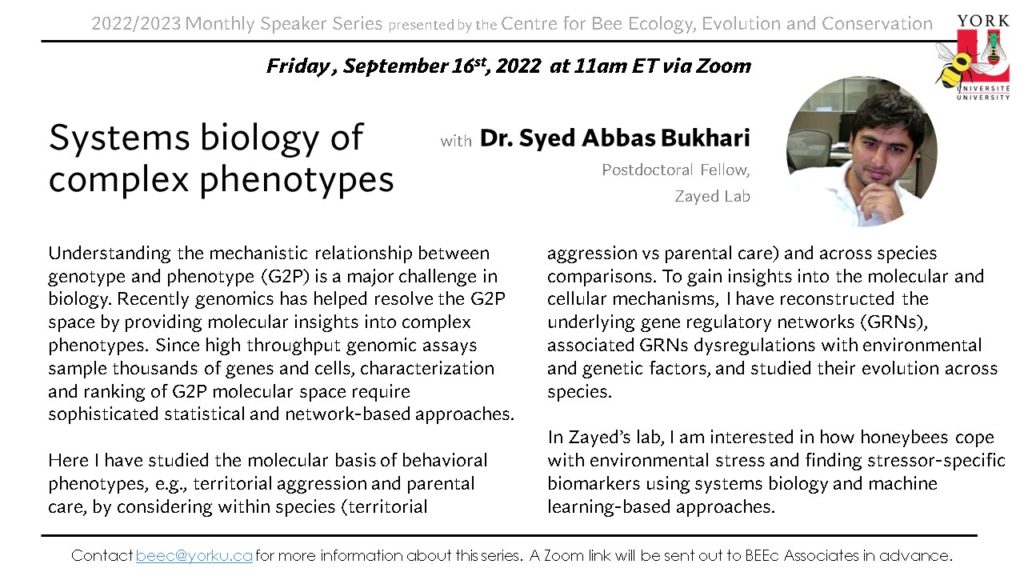 September 16, 2022: Systems biology of complex phenotypes, with Dr. Syed Abbas Bukhari (No Recording Available)
October 21, 2022: Evolution of sociality and parental care in Ceratina bees, with Dr. Michael Mikát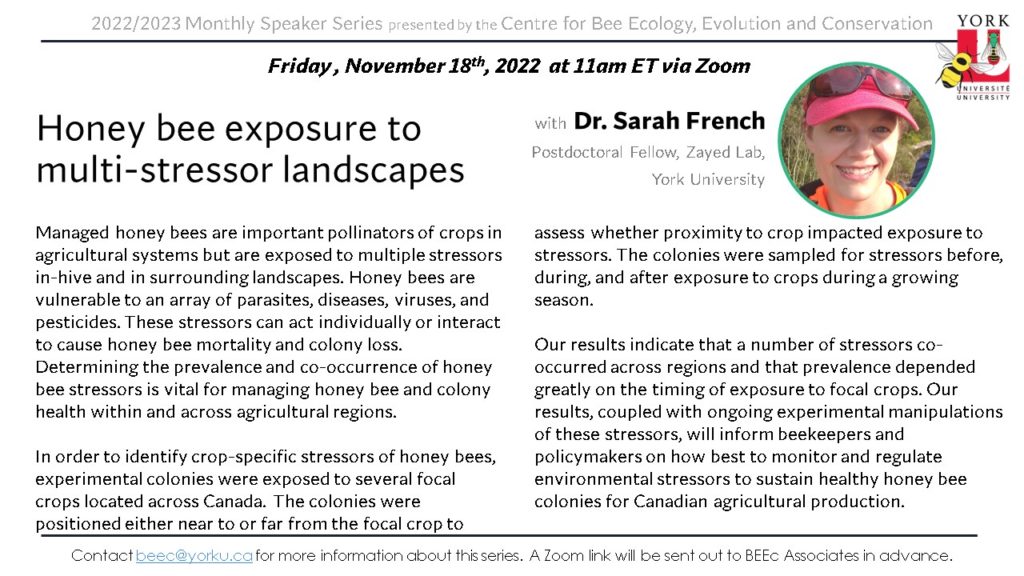 November 18, 2022: Honey bee exposure to multi-stressor landscapes, with Dr. Sarah French (No Recording Available)
December 16, 2022: Metagenomics and metatranscriptomics of small carpenter bees (Ceratina calcarata), with Dr. Katherine Chau
January 13, 2023: The Evolution of Bee Brood Parasitism, with Dr. Trevor Sless
2021-2022 Speaker Series Events
The talks below were those where the speakers gave us permission to record and share their presentations. We thank the other speakers who shared their knowledge with us as well.
April 1, 2022: Rare Plants in Southern Ontario's Woodlands: Where Are They, What Limits Them and Who Pollinates Them?
with Dr. Jenny McCune, Assistant Professor, University of Lethbridge - view the poster
March 4, 2022: The Role of Heterogeneity in supporting Wild Bee Biodiversity in Canadian Agroecosystems
with Dr. Jess Vickruck, Research Scientist, Agriculture and Agri-Food Canada - view the poster
Dec 3, 2021: Recommendations for Canada's First National Pollinator Strategy
with Dr. Rachel Napela, York University - view the poster
Nov 5, 2021: Bees, Math, & Collaborations
with Drs. Jane Heffernan and Amro Zayed, York University - view the poster
Oct 1, 2021: Early Insecticide Controversies and Beekeeper Advocacy in the Great Lakes Region
with Dr. Jennifer Bonnell, York University - view the poster
Summer 2021 - Beyond the Buzz: Examining Bees Through an Interdisciplinary Lens
Bees, People, Science & Others
July 9, 2021 with Kathleen Law, Pollinator Partnership Canada, and Dr. Clement Kent, York University - view the poster
Bees, Land & Food Justice
June 4, 2021 with Dr. Sheila Colla, York University, Adrianne Lickers Xavier, McMaster University, Dr. Sarah Rotz, York University - view the poster
2020-2021 Speaker Series Events