The goal of the Centre for Bee Ecology, Evolution and Conservation (BEEc)'s Speaker Series is to provide opportunities for BEEc associates and invited guests to learn from each other. While only open to BEEc associates, we often are able to record presentations for others to view - please see below for those recordings, or subscribe to our YouTube Channel to receive the most up-to-date notifications on new recordings!
The 2022/23 speaker series has wrapped up but we are now planning for 2023/24. If you would like to present, please reach out to beec@yorku.ca.
At 11am Eastern Time, on the second or third Friday of every month, we will feature a different topic related to bees. These will be presented through a private Zoom meeting: please check your e-mail for the meeting link, which will be sent out to all Associates each month. Check out the line-up of speakers who will be joining us: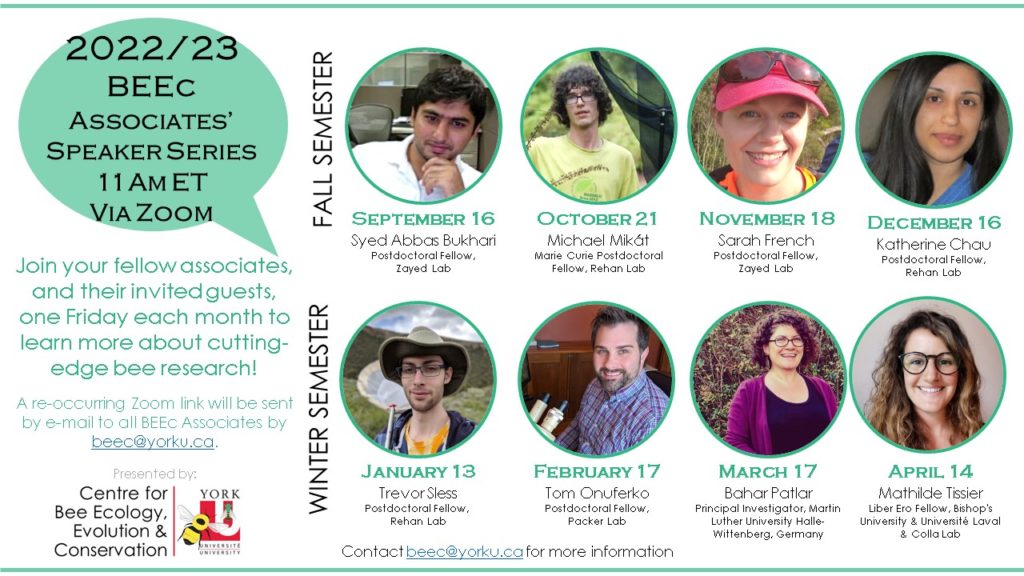 ---
Upcoming Talks (all at 11am Eastern Time)
Fri, September 15, 2023 - Dova Brenman-Suttner, Regulatory changes underly the transition to social behavior in Ceratina calcarata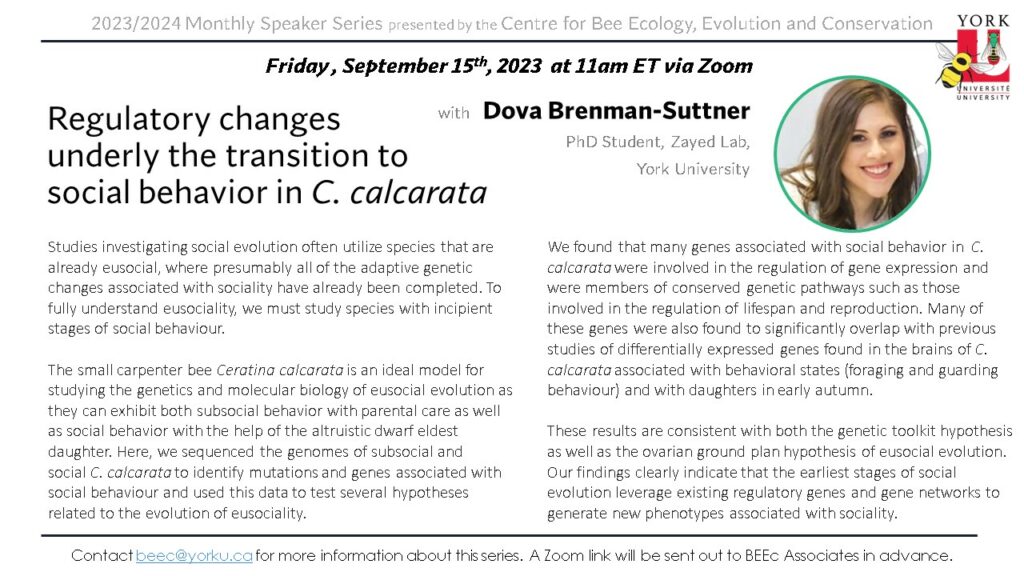 Abstract:
Studies investigating social evolution often utilize species that are already eusocial, where presumably all of the adaptive genetic changes associated with sociality have already been completed. To fully understand eusociality, we must study species with incipient stages of social behaviour. The small carpenter bee Ceratina calcarata is an ideal model for studying the genetics and molecular biology of eusocial evolution as they can exhibit both subsocial behavior with parental care as well as social behavior with the help of the altruistic dwarf eldest daughter.
Here, we sequenced the genomes of subsocial and social C. calcarata to identify mutations and genes associated with social behaviour and used this data to test several hypotheses related to the evolution of eusociality. We found that many genes associated with social behavior in C. calcarata were involved in the regulation of gene expression and were members of conserved genetic pathways such as those involved in the regulation of lifespan and reproduction. Many of these genes were also found to significantly overlap with previous studies of differentially expressed genes found in the brains of C. calcarata associated with behavioral states (foraging and guarding behaviour) and with daughters in early autumn. These results are consistent with both the genetic toolkit hypothesis as well as the ovarian ground plan hypothesis of eusocial evolution.
Our findings clearly indicate that the earliest stages of social evolution leverage existing regulatory genes and gene networks to generate new phenotypes associated with sociality.
Watch your e-mail for a private Zoom meeting link to view these presentations live.
---
Stay tuned for more information on the 2023-2024 Speaker Series, Beginning September 15, 2023
Join our Public "Bees" ListServ!
Looking to stay informed on BEEc's public news, general, research activities and events? Send an email to LISTSERV@YORKU.CA with the following command in the body of the email:
SUBSCRIBE BEES YourFirstName YourLastName
---
Join our Internal "BEEC-Associates" ListServ!
Are you on our Internal BEEc Associates Listserv? This list is used for sharing our newsletters, upcoming events and opportunities. If you are not a Member of BEEc already, please fill out the Associates Application form at https://www.yorku.ca/bees/about-us/membership/application/. Already a member? Contact beec@yorku.ca.
---
Scroll down for Past Presentations, Videos of Selected Presentations
Keep scrolling down the page to see the list of past presentations and recordings (where permissions were given for public posting). Or visit our YouTube Channel to see the recordings from all our speaker series, webinars, conferences.
Past events:
2022-2023 Speaker Series Events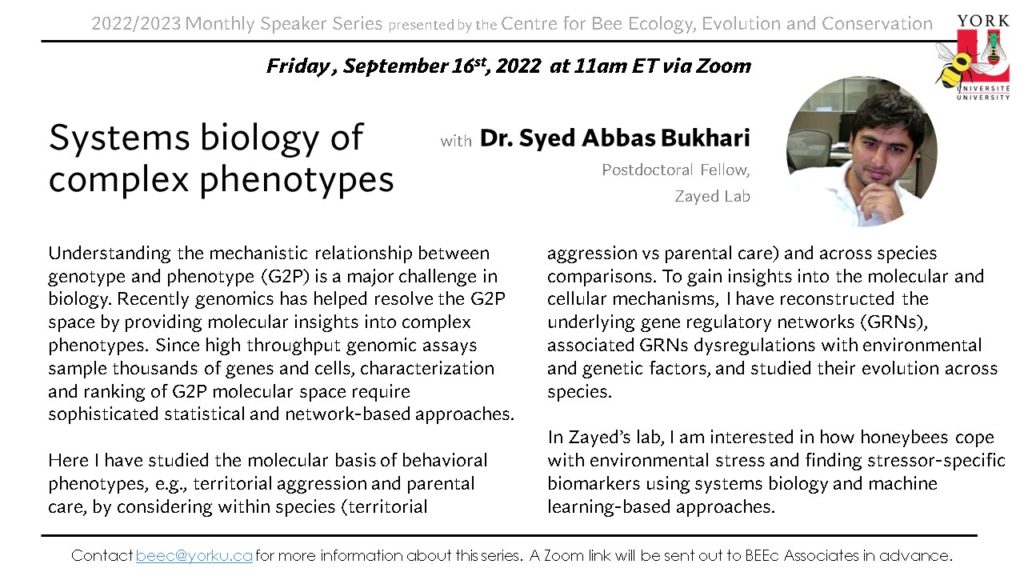 September 16, 2022: Systems biology of complex phenotypes, with Dr. Syed Abbas Bukhari (No Recording Available)
October 21, 2022: Evolution of sociality and parental care in Ceratina bees, with Dr. Michael Mikát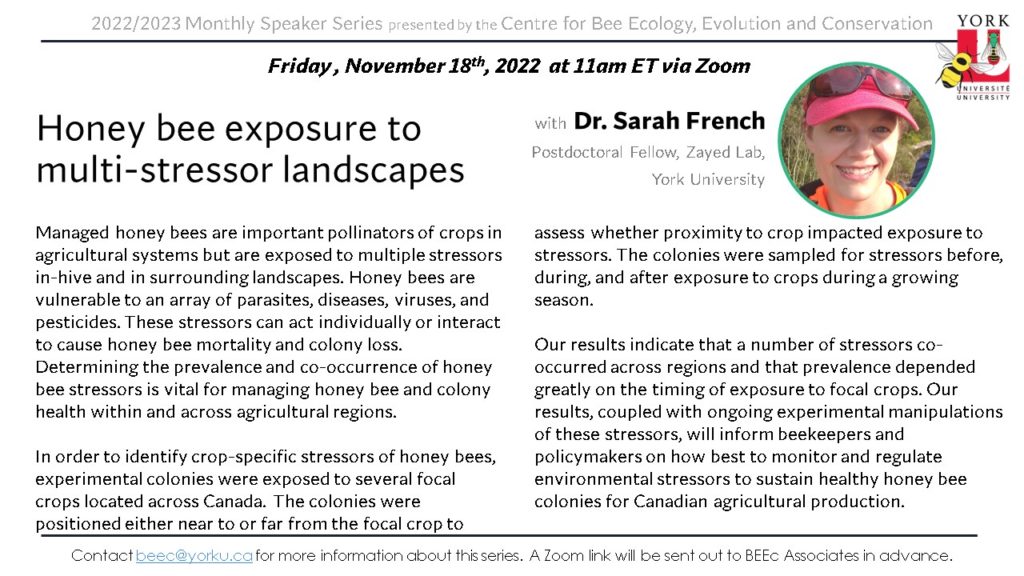 November 18, 2022: Honey bee exposure to multi-stressor landscapes, with Dr. Sarah French (No Recording Available)
December 16, 2022: Metagenomics and metatranscriptomics of small carpenter bees (Ceratina calcarata), with Dr. Katherine Chau
January 13, 2023: The Evolution of Bee Brood Parasitism, with Dr. Trevor Sless
February 17, 2023: Effects of dune stabilization on bees and aculeate wasps in the southern Canadian prairies, with Dr. Tom Onuferko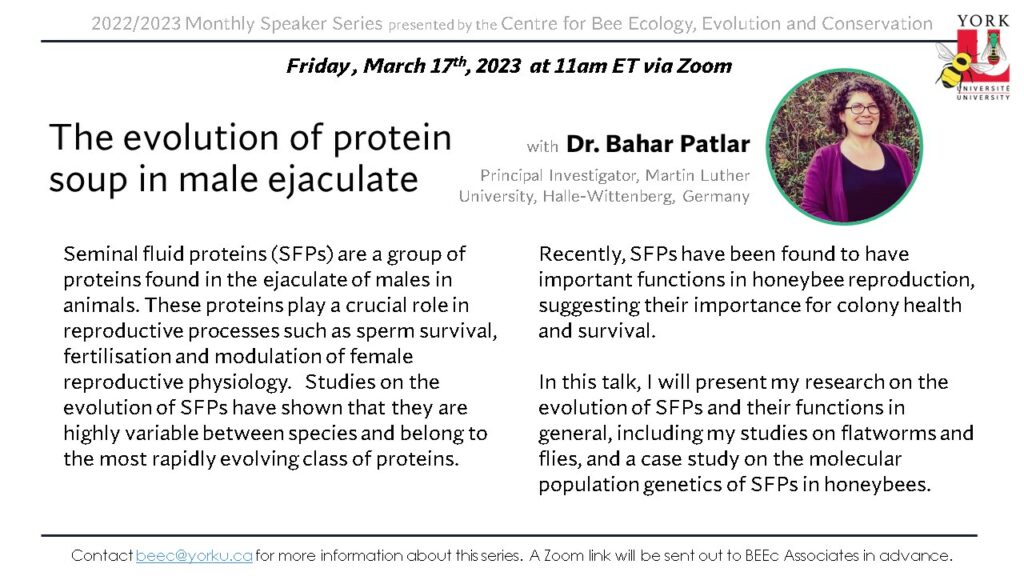 March 17, 2023: The evolution of protein soup in male ejaculate, with Dr. Bahar Patlar. (Note: recording will not be made public until results discussed are published).
April 14, 2023: Solutions for Farmers and Food for Bees : From knowledge on bee nutrition to actions promoting bee conservation, with Dr. Mathilde Tissier
2021-2022 Speaker Series Events
The talks below were those where the speakers gave us permission to record and share their presentations. We thank the other speakers who shared their knowledge with us as well.
April 1, 2022: Rare Plants in Southern Ontario's Woodlands: Where Are They, What Limits Them and Who Pollinates Them?
with Dr. Jenny McCune, Assistant Professor, University of Lethbridge - view the poster
March 4, 2022: The Role of Heterogeneity in supporting Wild Bee Biodiversity in Canadian Agroecosystems
with Dr. Jess Vickruck, Research Scientist, Agriculture and Agri-Food Canada - view the poster
Dec 3, 2021: Recommendations for Canada's First National Pollinator Strategy
with Dr. Rachel Napela, York University - view the poster
Nov 5, 2021: Bees, Math, & Collaborations
with Drs. Jane Heffernan and Amro Zayed, York University - view the poster
Oct 1, 2021: Early Insecticide Controversies and Beekeeper Advocacy in the Great Lakes Region
with Dr. Jennifer Bonnell, York University - view the poster
Summer 2021 - Beyond the Buzz: Examining Bees Through an Interdisciplinary Lens
Bees, People, Science & Others
July 9, 2021 with Kathleen Law, Pollinator Partnership Canada, and Dr. Clement Kent, York University - view the poster
Bees, Land & Food Justice
June 4, 2021 with Dr. Sheila Colla, York University, Adrianne Lickers Xavier, McMaster University, Dr. Sarah Rotz, York University - view the poster
2020-2021 Speaker Series Events