Affectionately known as BeeCon, this FREE, annual event has been organized and hosted by York University researchers since 2010 (except for 2011 and 2013, when none were held). The Centre for Bee Ecology, Evolution and Conservation is now the host. BeeCon began as a small, local symposium, aimed at sharing the recent findings of southern Ontario bee researchers. It has since grown tremendously, and we are thrilled to provide this unique opportunity to connect melittologists (bee biologists), industry professionals and other researchers on an international scale!
In 2022, BeeCon returned to York University's campus as part of a two-day hybrid event. Thursday, October 13, 2022 was a virtual-only event hosted on Zoom, while Friday, October 14, 2022 was both virtual and in-person. We enjoyed being able to network in-person again over the breaks and the optional afternoon social! Visit our BeeCon 2022 Conference Page for more information, including videos from the event
The Full Program is available here, and the Final Schedule is available here.
Registration for BeeCon 2022 is now closed. The deadline to register was September 30, 2022. Missed out on registering? Subscribe to our YouTube Channel to watch some of the videos after the event.
There was no cost to register thanks to our sponsors: the Faculties of Science and Environmental and Urban Change and the Office of the VPRI. Please note that this event is intended to be for researchers actively involved in a field related to bees.
More about BeeCon...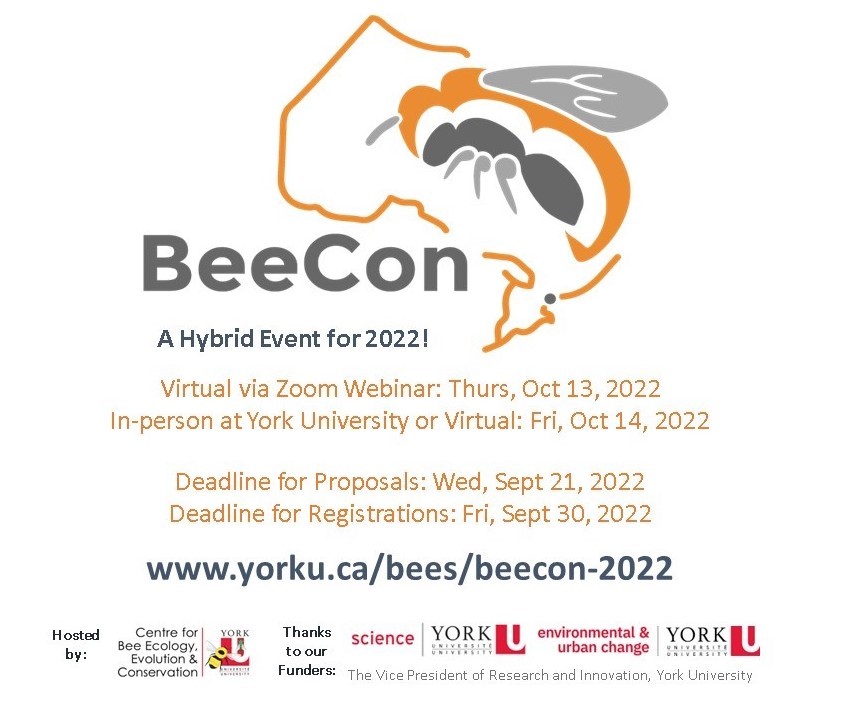 ---
Recordings
Want to view recordings of our past BeeCon or BEEc events? Check out our YouTube channel for recordings from bee researchers across the globe!

---
Past BeeCon Events:

BeeCon 2021 - Featuring keynote speaker Dr. Shalene Jha!
We welcomed bee researchers and interested community members from 25 countries for BeeCon 2021 and expanded the conference into a day and a half to allow for even more researchers to present their work. Find out more about this event &watch recorded talks on the conference website.
BeeCon 2020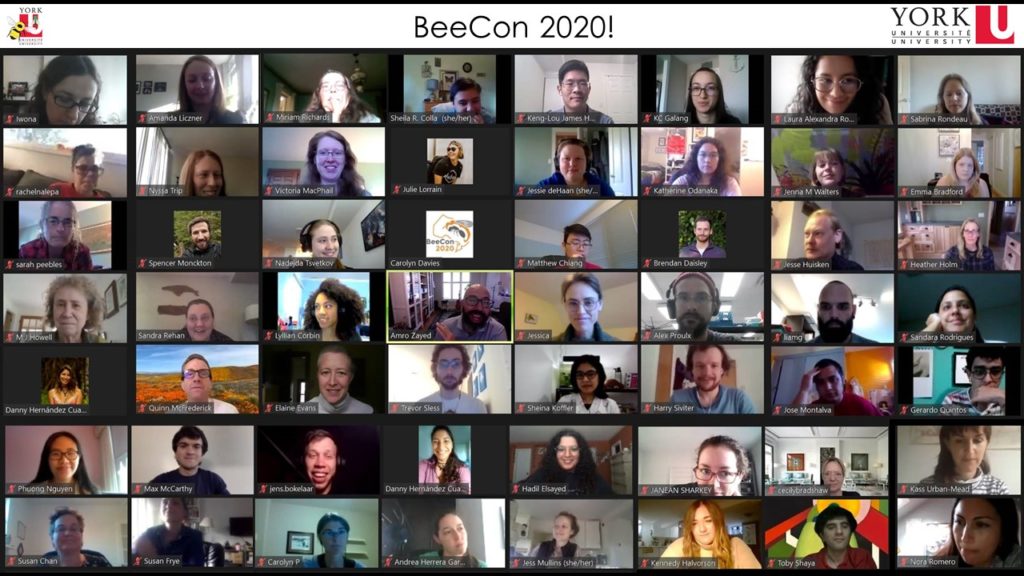 Our first virtual BeeCon was attended by nearly 300 people from 19 countries, and featured Dr. Quinn McFrederick from the University of California.
BeeCon 2019
Our keynote speaker, Dr. Ricardo Ayala Barajas from the Universidad Nacional Autónoma de México joined us!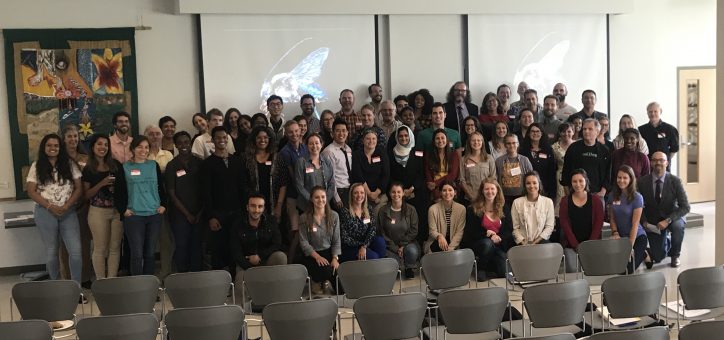 BeeCon 2018
This year, Dr. Margarita Lopez-Uribe, Assistant Professor in the Department of Entomology at Penn State, USA, was our keynote speaker.
BeeCon 2017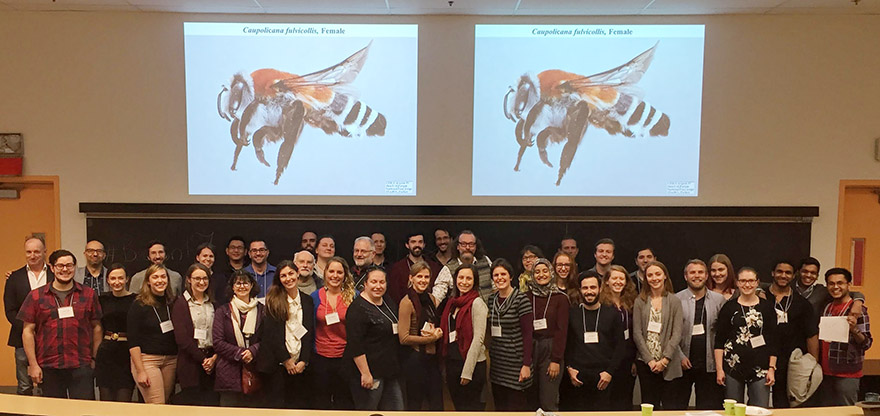 The keynote speaker was Dr. Andrew Barron, from Macquarie University, Sydney, Australia who presented "What makes a good forager honey bee?"
BeeCon 2016
This year's event featured presentations by colleagues from Brock University, Western University, the Universities of Guelph, Fleming College, and the University of Toronto.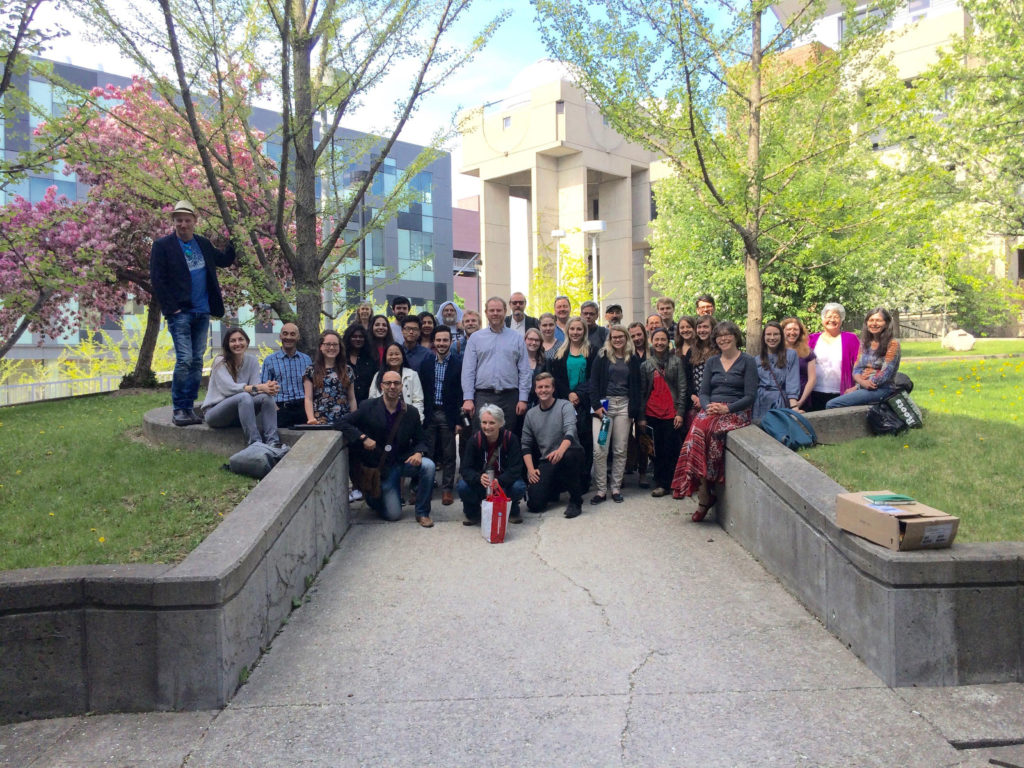 BeeCon 2015
Welcome to the 4th Southern Ontario Bee Researchers Symposium!
BeeCon 2014
Sophie Cardinal joined us to speak on the "Evolution of buzz pollination in bees"
Follow us on Twitter or Instagram to get the most up to date on information from BEEc.