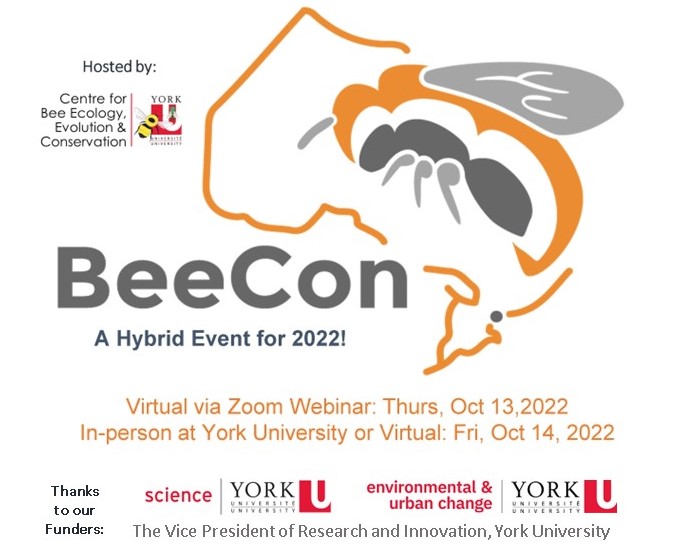 BeeCon returned in 2022 with a hybrid event: virtual only (via Zoom Webinar) on Oct 13 and an in-person option at York University (Life Sciences Building, Room 105, First Floor) on Friday, Oct 14 as well as the virtual option. We had over 400 attendees in total, both locally and globally. More details, including the schedule, a full program and location details, are posted below.
Please note that this event was intended to be for researchers who are currently involved in a field related to bees. Other interested persons were invited to watch the recordings after the event. These are now online for speakers who gave permission to share their talks (see below).
Videos Now Available - See Further Down this Page
Watch the full playlist of BeeCon 2022 videos at https://youtube.com/playlist?list=PLqd6mHtBSv-H-lFoOTLroEVIVfmy87gDJ or see below for individual videos.
Subscribe to our YouTube channel to get notifications of when other videos become available: https://www.youtube.com/c/BeeEcologyEvolutionandConservation/.
---
---
---
Registration Deadline Was Fri, Sept 30, 2022 - Now Closed, Stay Tuned for 2023!
Applications for Presenters Were Due Wed, Sept 21, 2022 - Now Closed, Stay Tuned for 2023!
---
Keynote Speaker: Dr. Hollis Woodard, "The Ontogeny of Sociality in Bumble Bee Queens"
Dr. Woodard is an Associate Professor, Department of Entomology, University of California Riverside and Lead PI, US National Native Bee Monitoring Network. Watch her presentation here.
---
Thanks for our sponsors!
BeeCon 2022 was a hybrid in-person and online event, which was completely free for all participants thanks to our generous sponsors!
Support for this event was provided by York University's:
---
---
Thursday morning talks (8am-12noon, Oct 13, 2022)
Thursday afternoon talks (1-5:30pm, October 13, 2022)
Friday talks (9am-1pm October 14, 2022)
---
Instructions for BeeCon 2022 Speakers:
Speakers will be allowed a maximum of 12 minutes of presentation time, with a 2-3 min Q&A period at the conclusion.
For those presenting virtually: We will be using Zoom's webinar feature as the platform. Each speaker will be added as a webinar panelist for the day on which you will be presenting. Please join the webinar using that link and not the general attendee link for the day of your presentation.
For those presenting in person: We will be using Microsoft PowerPoint run on a Windows-based computer. Please bring your presentation on a USB or send to beec @ yorku.ca in advance so we can pre-load the presentations.
More information for speakers can be found in the October 11, 2022 e-mail sent to them or by clicking here.
---