We were thrilled with the continued expansion of BeeCon in 2021. In fact, so many researchers submitted abstracts for the conference that we decided to turn it into a day and a half event to fit in even more bee science!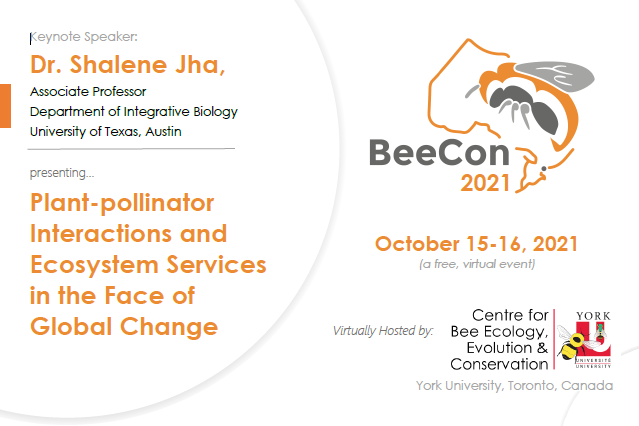 Dr. Shalene Jha, Associate Professor in the Department of Integrative Biology at the University of Texas, Austin joined us as the keynote speaker and 300 other bee researchers, students, industry professionals, non-profit organizations, and members of the public from 25 countries registered!
---
Conference Recordings:
Thank you to all the researchers who shared years of innovative research and analysis in 15 brief presentation minutes! For even more bee related videos, please visit our YouTube channel.
BeeCon 2021 was a virtual event, completely free for all participants! Support for this event is provided by York University's VPRI, Faculty of Environmental and Urban Change, & Faculty of Science.
Instructions for BeeCon 2021 Speakers:
Speakers will be allowed a maximum of 12 minutes of presentation time, with a 2-3 min Q&A period at the conclusion. We will be using Zoom's webinar feature as the platform for this year's conference. Each speaker will be added as a webinar panelist for the day on which you will be presenting - registration will be required if you wish to attend the other day's event.
Recording Waiver: As with last year, we hope to post recordings of most talks on our YouTube channel, which is a great way to share your findings with your colleagues and engage with the general public beyond academia! Please complete the waiver and send to Carolyn Davies. For inspiration for developing your talk, check out the recordings from BeeCon 2020!
Can you help us make a better BeeCon 2022??
BEEc Feedback
We want to know how we can do things better for you!