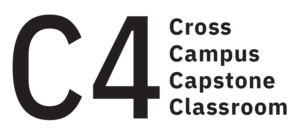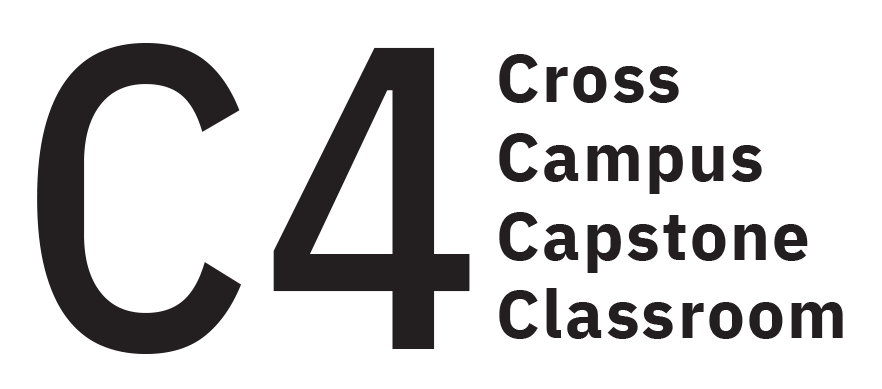 Frequently asked questions about C4
We've listed some of the most frequently asked questions here. If your question isn't answered, leave us a comment below. Ask us anything. We are here to help.
The purpose of this experience is to provide students with an opportunity to work effectively in interdisciplinary teams on real-world challenges with social impact. Throughout this journey, students will develop and hone transferrable skills while learning the value of multiple perspectives and approaches to research, design, and problem solving.  This experience will help students to recognize what they can offer the world and thus prepare them for their future. 
C4 (The Cross-Campus Capstone Classroom) is a unique space on campus that brings together upper-year undergraduate and MA students from across the university to work together in multi-disciplinary teams on pressing, "real-world" challenges, which are posed by organizations operating in both the for-profit and not-for-profit worlds. Supported by a team of York professors from several faculties, C4 students work together to mobilize and hone their critical, creative, and strategic thinking skills, in collaboration with their teammates, by researching and designing effective solutions to their chosen challenge. It is a high-impact experiential education course intended to uniquely prepare students for the next phase of their career as well as the diverse work life that awaits them.
C4 students come from every Faculty at York and therefore dozens of different disciplines. We match them into teams of 5 to 10, with representation of ideally three different Faculties.
They are ambitious, creative, curious, and passionate. They want to end their degree with an impact on the world.
C4 is run by a Director, overseen by two curriculum leaders, and delivered by instructors from almost every Faculty at York.
Every team of students will have a pair of instructors within C4 that they get to know well and a whole group of instructors that they can turn to with questions and receive support from.
It is a full-year course with weekly class sessions. Each class is 3 hours long and broken up into smaller sessions. Sometimes just the team is meeting. Sometimes a pair or group of teams is together. Other times, the whole class is together.
To learn more about the C4 co-teaching model, download this PDF.
The professors match the students into multidisciplinary teams after the first class. We, first of all, prioritize student passion. We ask students for their top five project preferences and use that data to guide us. Then, we assess the project's needs and strive to achieve disciplinary balance, which is crucial for a strong team.
2019-2020 partners were:
Markham Arts Council
Glendon Globally Networked Learning
Canobi Tech
CooperLab
Yonge Street Mission
Artheart Community Arts Centre
Foundation for Environmental Stewardship
Jane-Finch Resident Community Engagement Table
More than Marks Tutoring
Oakville Arts Studio
YuRide
EDMCubed
L'Arche Daybreak
Namar Limited
Pollution Probe
bIOTASphere
We spend the summer looking for the most exciting, open-ended, relevant projects for students to work on. Here are some examples of the challenges pitched to students last year:
How might community art engage the public in environmental responsibility?
How might a digital platform enable international students to feel connected to local students before and during studying abroad?
How might wastewater recycling technology from the cannabis industry be adapted to facilitate urban food growing?
How might solar energy technology be made cheaper and more accessible in developing areas?
How might cutting-edge research into experiential trauma become more accessible to frontline social workers?
Students do not pay additional fees for C4, although it is possible that the course they register in to access C4 has some course fees attached.

Students have until the first class to pre-register and register for C4.
Partners have until the end of August to pitch us a new project.
But we are always looking for project mentors that can offer our students expertise.
In addition, we have sponsored capstone awards we offer every April. Last year's awards were for Sustainability, Interdisciplinarity, and Social impact. You can sponsor one of those or design an award yourself that is in alignment with your values.
Pitch Week is when students get acquainted with the projects that are available and the partners that are behind them.

All faculties at York are participating this year. Students need permission from their programs to participate. Any prerequisites would be determined by their programs.
a)    Students will learn to work effectively within diverse, interdisciplinary teams and engage professionally with partners and professors as they develop their collaborative projects. 
b)    Students will gain and hone a variety of personal and professional skills, identified by the professors, supervisors, and students themselves. 
c)    Students will integrate diverse approaches, perspectives, and knowledge as part of their teamwork processes.
d)    Students will deepen their sense of social and ethical responsibility. 
Through its multidisciplinary teams, C4 prepares students for the diverse work life that awaits them after graduation.
It brings students together with partners who can serve as professional mentors, providing career advice and perhaps letters of recommendation.
This transformational experience helps students recognize what they can offer the world and thus provides crucial information that can help them steer their career.
Because C4 is not a traditional course, registration involves a two-step process. Students need to "pre-register" through this link.
And they also need to register in a course within a department. Many departments have designated courses as C4 gateways. Here is the most up-to-date list of those.
Some of the gateway courses require permission from the Department. If you need help finding the right person to write to, you can try emailing the person listed as the C4 liaison for that Department.
Students often can choose to either take C4 as an elective or within their major, which gives them a lot of flexibility. But, if a student doesn't see a course listed she/he/they can take, don't give up—contact us, so we can try to get your program on board.
It is absolutely possible that C4 can count towards a certificate program. Reach out to the director of your certificate as well as C4 to discuss this possibility. In our experience, most are open and excited to include C4 as an option.
It is crucial that students attend class regularly, to get the tools they need to succeed in their teams and projects.
We do not recommend students sign up for C4 who will have a regular conflict with class time.
Occasional absences, for understandable / excusable reasons, can absolutely be discussed with the Teaching Team, so that an accommodation can be designed.
Students choose their projects. They give us their top five choices and we use that information to guide us as we put the teams together.
All the projects we offer to students are interdisciplinary in nature. They are designed so that multiple disciplines can contribute to them.
That said, we do not categorize projects according to majors or even Faculties. We categorize them by themes which cross-cut disciplines.
In our mind, almost any discipline has something of value to contribute to any of these projects.
Yes, C4 is graded and for-credit, but how you are graded and get credit is determined by what course you register in to access C4.
The assignments in C4 are marked pass/fail and for letter grades. For some students, the final letter grade is turned into a pass or fail, because of the nature of the course they registered in. Other students get a letter grade on their transcript.
This is a low-impact commitment for the partners, with high returns. Only 10-20 hours over the whole school year is expected. Normally, partners connect with students for at least one hour per month.
The job of mentors is to inspire the students as they pursue their projects. Students run the projects themselves.
A great project is open ended, engaged with contemporary issues, and will challenge the students in a multifaceted way. 
However, it shouldn't be intrinsic to the running of your department, office, or organization--students need room to fail, constructively.
Students do get to choose their own projects, which may mean that a challenge may not be chosen in a given year. However, this does not mean that they are lost! They can be stored in the Capstone Project Bank, for other York capstone courses to take up. Last year, we were able to place 90% of the available projects within a few weeks.
In addition, projects can be revisited the following year in C4.
Ask us a question below