---
Book Launch: Living with HIV in Post-Crisis Times: Beyond the End Game, edited by Dr. David A.B. Murray (Virtual Event)
Date: Thursday, October 21, 2021
Time: 1:00pm - 2:30pm EDT
Registration: https://yorku.zoom.us/meeting/register/tJUudequpjIjGdI1c4Cwle8n7GyHd5f29fQ5
Over the past decade, effective prevention and treatment policies have resulted in global health organizations claiming that the end of the HIV/AIDS crisis is near and that HIV/AIDS is now a chronic but manageable disease. These proclamations have been accompanied by stagnant or decreasing public interest in and financial support for people living with HIV (PLHIV) and the organizations that support them, minimizing significant global disparities in the management and control of the HIV pandemic. The contributors to this edited collection explore how diverse communities of PLHIV and organizations that support them are navigating physical, social, political, and economic challenges during these so-called "post-crisis" times.
Join us to hear from the editor and contributors:
Dr. David A.B. Murray, Department of Anthropology and School of Gender, Sexuality and Women's Studies, York University.
Dr. Robert Lorway, Institute for Global Public Health, University of Manitoba
Dr. Adia Benton, Department of Anthropology and African Studies Program, Northwestern University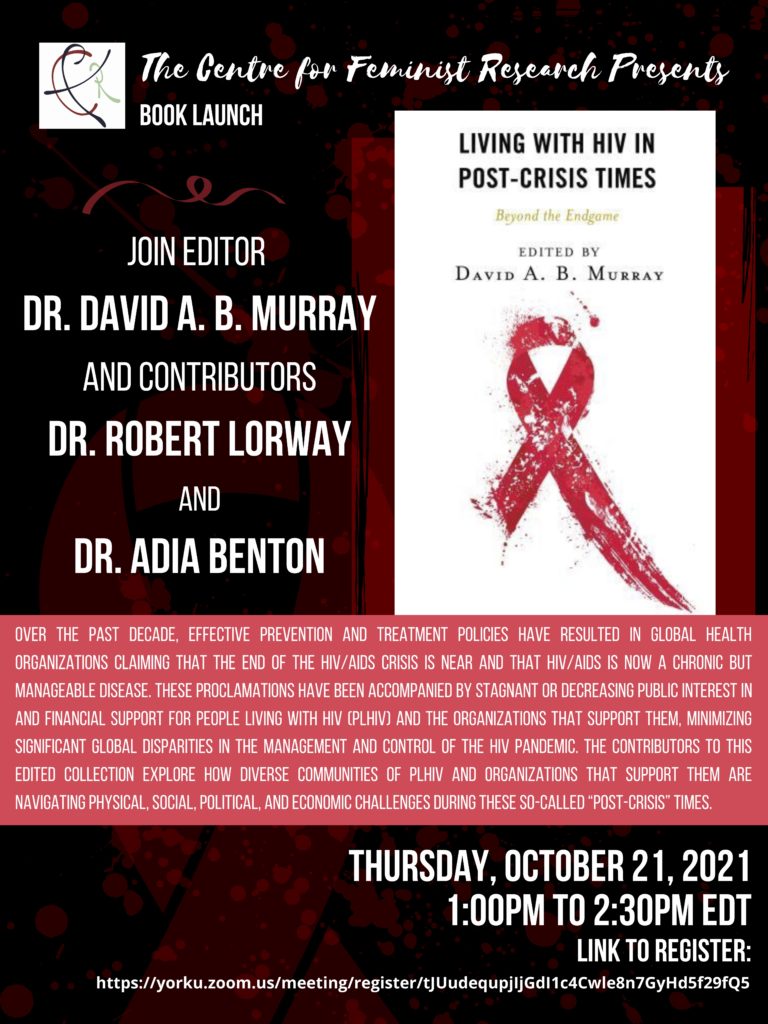 ---
Book Launch: Frontiers of Feminism: Movements and Influences in Québec and Italy, 1960-80, by Dr. Jacinthe Michaud
Co-Sponsored by the Robarts Centre for Canadian Studies
Date: October 26, 2021
Time: 4:00pm - 5:30 pm EDT
RSVP: www.tinyurl.com/FrontiersOfFeminism
From the mid-1960s to the mid-80s, feminist activism in North America and Europe reached its peak, animated by a disparate array of issues and ideas. Frontiers of Feminism compares Québécois and Italian feminisms, revealing both the synergy between feminism and the left and the influence of American and French women's movements on those in Québec and Italy.
This astute study combines feminist materialism and social movement theories to explore the principal ideological concerns of Québécois and Italian feminists, including Marxism, nationalism, Third World liberation discourse, and counter-cultural narratives. Identifying the convergences in and differences between these themes, Jacinthe Michaud shows how feminist responses to key topics of the time highlight the complexity of this multifaceted political movement. Her careful examination of the ways Italian and Québécois feminists perceived their respective societies as racially homogeneous – and how they represented whiteness – also elucidates the mechanisms by which their approaches to racialization created hierarchies among women.
Revisiting struggles such as the right to abortion, health and sexuality, wages for housework, and the quest for complete autonomy from masculine thought, Frontiers of Feminism brings new insight and depth to the recent history of feminist movements and an international perspective to major themes, modes of organizing, and strategies for action.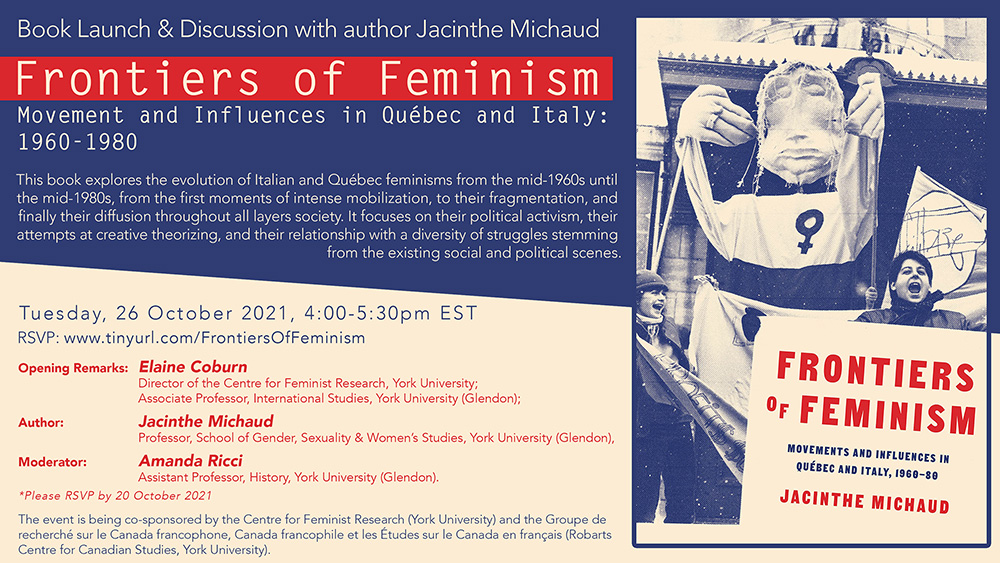 ---
Indigenous Women's Speakers Series: "Mapping Urban Communities of Care in Cartographic Art Practices" with Dr. Mishuana Goeman (Virtual Event)
Co-Sponsored by the Faculty of Health
Date: October 27, 2021
Time: 2:30pm - 4:00pm EDT
Registration: https://yorku.zoom.us/meeting/register/tJIpc--uqD8vHdVKeN2hqmyLk8Yfo0BIk5jT
Recently Indigenous artist have used cartographic tools in an artistic way to reinvision the colonial landscape, to speak to and against the mass development of Native land, uproot white supremacist architecture and create awareness of original peoples ongoing caretaking in the cityscape. Creating Indigenous Visibility in Urban Spaces is a necessary remapping of the city. Making visible Indigenous landscapes unsettle a visual settler terrain that structures ongoing dispossession. These powerful mappings are key as faceless mass development of tribal lands continue to threaten the ecologies and landscapes of Indigenous homelands, indeed all our homelands. Indians are the beautiful "graffiti," in the words of Leeanne Betasamosake Simpson, denying settler permanence. Our art, bodies and actions are embodied sovereignty on the settler landscapes meant to erase and eradicate Indigenous forms of relationality. Artistic renditions of the relationship between the human, more-than-human, and landscapes are affective in nature and thus deep in mapping larger communities of care. We will explore the recent artistic maps of Cara Romero's collaborative Tongva Land project, River Garza's commissioned work for UCLA, and Mercedes Dorame's installation at the Fowler's The Map and the Territory alongside more traditional maps that depict the urban development of Los Angeles.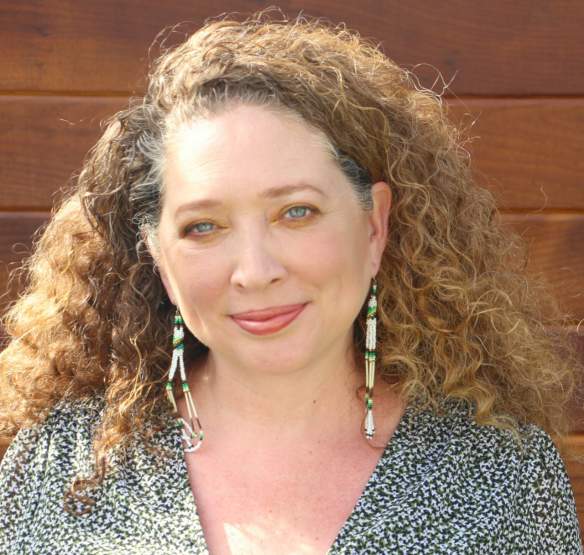 Dr. Mishuana Goeman, Tonawanda Band of Seneca, is a Professor of Gender Studies and American Indian Studies, and affiliated faculty in Community Engagements and Critical Race Studies in the Law School, UCLA. She is also the inaugural Special Advisor to the Chancellor on Native American and Indigenous Affairs. She will be the associate director of the Center for the Study of Women 2021-2022. Along with several journal and book chapters, she is also the author of Mark My Words: Native Women Mapping Our Nations (University of Minnesota Press, 2013), part of Keywords in Gender and Sexuality Studies (2021) editorial collective, and a Co-PI on three community based digital projects, Mapping Indigenous L.A (2015), Carrying Our Ancestors Home (2019), California Native Hubs (2021).
---
Femme Scholars Series: Rust Belt Femme Book Talk with Dr. Raechel Anne Jolie
Co-Sponsored by the Gender, Feminist, and Women's Studies Graduate Program, the Culture and Communication Studies Graduate Program, and the Sexuality Studies Program
Date: Wednesday, November 10, 2021, Virtual event
Time: 11:30am - 1:00pm EST
Registration: https://yorku.zoom.us/meeting/register/tJIld-ysqD8vG9OkS55pHBUyDzdjtg38IL7M
The Femme Scholars Series enters its second year with a book talk by Dr. Raechel Anne Jolie.
Raechel Anne Jolie (she/they) is a writer and educator based in Cleveland, Ohio. She holds a PhD in Critical Media Studies, with a minor in Feminist & Critical Sexuality Studies from the University of Minnestoa. Her writing has appeared in The Baffler, Bitch, Teen Vogue, In These Times, among other publications. Jolie is also the editor and co-creator of The Prison Arcana tarot zine, made in collaboration with incarcerated artists. Rust Belt Femme is their first memoir and received recognition in NPR's Favorite Books of 2020, was a finalist in the Heartland Bookseller's Award, and was the winner of the Independent Publisher Book Award in LGBTQ Nonfiction.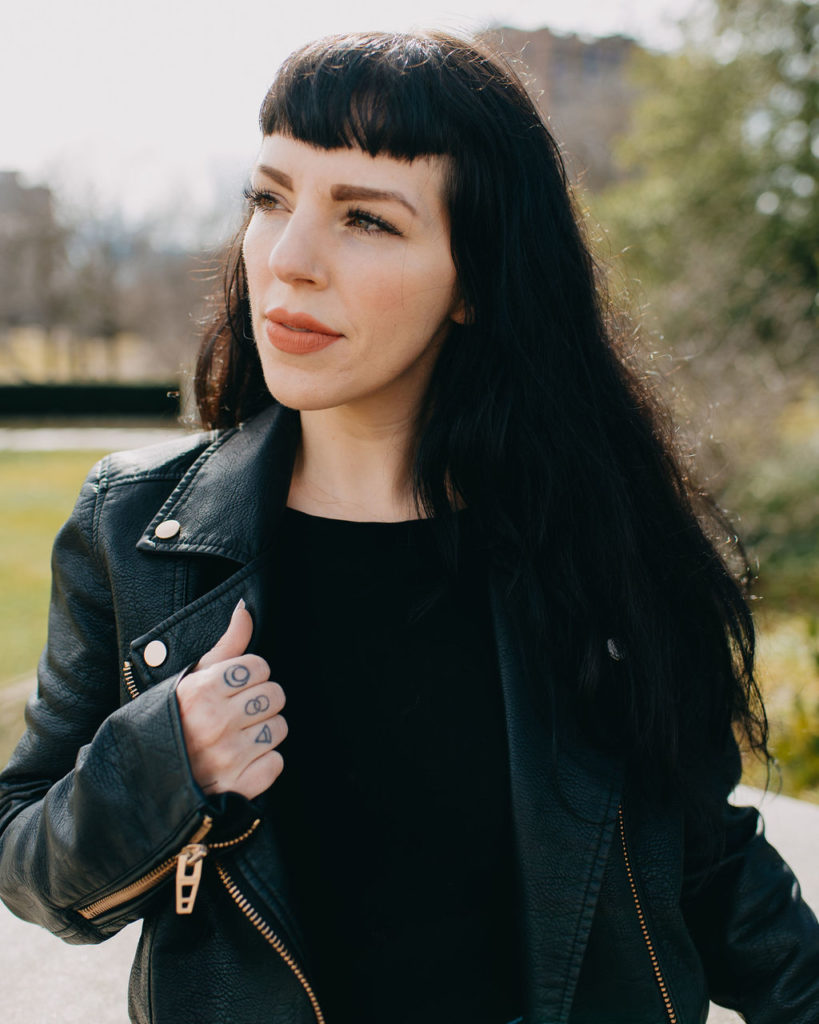 Roundtable: "Empowering Solidarities: Sharing Women's Experiences from War Zones and Beyond"
Date: November 15, 2021, Virtual event
Time: 11:00am – 2:00pm EST
Register: https://yorku.zoom.us/meeting/register/tJYod--gqzIqHNfUrShuRTr6MytSHtODM8jh
Join CFR Visiting Scholars Dr. Zahra Hojati & Dr. Fazileh Dadvar-Khani as they host a roundtable discussion of women's experiences in war zones, from Afghanistan, Iraq, Syria, Bosnia, Somalia, and Iran.
Speakers:
Alina Haidary has a Master degree in immigration settlement study at Ryerson university who she also was the recipient of Merit fellowship. Alina was the recipient of many awards, included Afhgan Professionals of Ontario in 2017,& Zonta International, in Netherlands in 2015 as a Recipient of the Excellence in Advocacy Award, just a few of name. Alina has over 10 years of working experience for immigrant and refugee settlements with many organizations. She has also the knowledge and experience in negotiation, development, and management and she is also an integration officer at Immigration, Refugees and Citizenship of Canada (IRCC) with various settlement service providers in Toronto.
Asma Faizi has a Juris Doctor degree from the University of Toronto. She is currently General Counsel at a not-for-profit organization that represents hundreds of thousands of Canadian and foreign writers, visual artists and publishers, and their works.  Asma became a Board member with the Afghan Women's Organization in 1998 and has been the President and Chair of the Board of Directors since 2008. For over twenty years, domestically and internationally, she has been advocating on issues related to the plight of Afghan women, challenges faced by newcomers to Canada and on human rights issues for refugees worldwide.
Adela Jusic holds a MA in Democracy and Human Rights in Southeast Europe. She is an artist who presented her work in more than 100 international exhibitions and is an award winner of the Henkel Young Artist Price Central Eastern Europe in 2011 as a few of name. She is a co-founder and worked on cultural projects at the Association for Culture and Art Crvena from 2010-2019, and is one of the 2 creators of the Online archive of the Anti-fascist struggle of women of Bosnia and Herzegovina and Yugoslavia.
Narges Abyar has a Master degree in Persian literature; she started writing books in 1997. Up to the present, she has written more than thirty story and fiction books for children, young adults and adults. She was selected as an Oscar Academy member in 2020. She has written and directed five drama films. Her recent film is called, Pinto. She had also made several short and feature-length documentaries since 2005. Her first experience was a fiction film called "The Kind Dead-End". She pursued her directing career further with seven features and documentaries and four cinema films.
Khanim Raheem Latif is the founder and the director of Asuda Organization (2001 – 2018), an independent NGO for combating violence against women based in Sulaimaniyah with offices in Erbil, Duhok. After one year, she founded the Asuda's Women Shelter, which was the first women's protection shelter in Iraq. Despite the religious, cultural, social, and political constraints and the absence of a law about women's shelters and women's rights violations in Iraq, Ms. Lateef was able to stand for survivors of Gender –based Violence to protect and support women in Iraq.
Khawlah Mousa M. Ali Al-Khazraji has worked as Chairwomen of Women Empowerment Committee in Mayoralty of Baghdad from 2012-2015. She attended many activities and training courses outside and inside Iraq related to human rights, women's rights, gender equality, strategic planning, time management, human development, public relations and human resources. She also has worked as a director of foreign affairs, translator and editor, relation with the media committee, and as chairwomen of women empowerment committee with Mayoralty of Baghdad and other organizations.
Fatina Ahmad Jameel has attended many certificate programs and received appreciation for her work and efforts for gender equality, women empowerment, development programs, civil society engagement and human rights from national and international organizations.  She also has attended provincial reconstruction programs and projects with the Baghdad provincial council. She conducted advocacy programs for both women and youth, mainly violence against women and youth development projects in Baghdad.
Istar Ahmad holds BA in Social Work and Master in international Relations with specific focus on peace and development. Istar is a researcher, advocate and Social Development Specialist with a commitment and passion to advancing gender equality, education, and empowerment for social transformation at all levels.  As a former UN staff, volunteer and social policy activist, Istar played critical role in advocating Education as a vehicle for sustainable development at all levels. Istar works with Humanitarian HR as Gender & Policy Advisor for the Horn of Africa Program.
Mania Elendari has a bachelor's degree in media from the University of Damascus. Mania is the founder and director of the Sabbara organization in Syria. She has work experience with community organizations to support newcomers, their settlement needs, provide information and workshops for them. She also worked as a journalist and researcher with the Syrian magazines. In her work she helped refugees' women and children in conflict areas and has an effective role to advocate their right of education.
Mayson Al-Misri has a BA in media from Damascus University . She has the experience of training children in war zone, as well as being a journalist for diverse media from 2009-2018. She providedthe agencies with news reports, news coverage and television reports.
---
Book Launch: Demanding Equality: One Hundred Years of Feminism in Canada by Joan Sangster
Date: November 18, 2021, Virtual event
Time: 3:00pm - 4:30pm EST
Register: https://yorku.zoom.us/meeting/register/tJwtceyoqzwjHdACexAqaz8JGdrUDrfBx3nq
"For one hundred years women fashioned different dreams of social transformation in their search for equality, autonomy, and dignity; yet what is Canadian feminism?
Demanding Equality offers illustrations of feminist thought and organizing from mid-nineteenth-century, Enlightenment-inspired writing to the multi-issue movement of the 1980s. Broadening our definition of feminism – and recognizing that its political, cultural, and social dimensions are entangled – Joan Sangster explores the different pathways pursued to gain equality. She challenges the popular "wave" theory, concluding that feminist activism was continuous, despite changing significantly across decades.
Demanding Equality presents a picture of a heterogeneous movement characterized by both alliances and fierce internal debates. This comprehensive rear-view look at feminism in all its political guises encourages a wider public conversation about what Canadian feminism has been, is, and should be."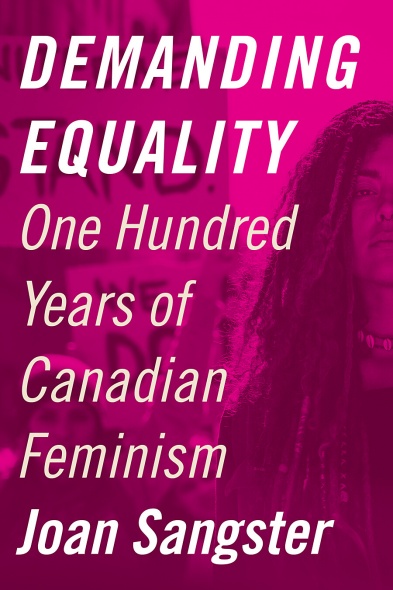 ---
---
Excess: An Interdisciplinary Open Access Critical Femininities Conference
Co-Sponsored by Sexuality Studies
Date: August 19 - 22, 2021
Registration: https://yorku.zoom.us/meeting/register/tJ0vde6opj8sHdIWxdPjcMhsWv9YlA5IeLLd
The theme of the first annual York University Critical Femininities Conference is "Excess." The conference is hosted by the Centre for Feminist Research and Sexuality Studies at York University and will take place virtually from August 19-22, 2021. We invite graduate students and emerging scholars in critical femininities, artists, and community actors to draw on critical femininities frameworks, especially intersectional approaches, to consider excess in both its disciplining and emancipatory possibilities. More details to come.
---
Naming a Transnational Black Feminist Framework: Writing in Darkness – Visiting Scholar Talk by Dr. K. Melchor Quick Hall
Date: July 6, 2021
Time: 3:00pm - 4:30pm EDT
Registration: https://laps.apps01.yorku.ca/machform/view.php?id=1162892

At the beginning of 2020, Naming a Transnational Black Feminist Framework: Writing in Darkness was released. Shortly after the release, Hall posted the following "COVID-19 & Movement Rising Re-Alignment" message at www.writingindarkness.org: "With recognition that Black life is so much more than the absence of Black death, the book tour is going online and off campus in a 1-year series that features monthly conversations with Black feminist artists and activists about their work and the transnational Black feminist guiding principles." Special guests were invited to engage in conversations about five transnational Black feminist guiding principles: intersectionality, scholar-activism, solidarities, attention to borders/boundaries, radically transparent positionality. Hall will discuss the transformative year of conversations, following the June 2021 release of the paperback version, Naming a Transnational Black Feminist Framework.
---
Femme Scholars Series - Elianne Renaud:
Queer femme selfie practices as strategies for recognition
Co-Sponsored by Sexuality Studies
Date: May 19, 2021
Time: 5:30pm - 6:30pm EDT
Registration: https://yorku.zoom.us/meeting/register/tJcrc-uorTwpHd20obQ-60H093xmKA5nLt3T
Elianne Renaud is a postgraduate research student in the Department of Sociology and Anthropology, at the University of Newcastle. Elianne does research in queer subjectivities, critical femininities and social media as an intertextual site for reimagining the feminine subject. Her current project is 'Queer Femme Selfies: Instragram selfies as an intertextual site for critically imagining alternative femininities and queer subjectivities'.
---
Unpacking Narratives around Witchcraft Accusations in Ghana
Date: April 15th, 2021
Time: 1:00-2:30PM GMT/9:00AM-10:30AM EST
Registration: https://yorku.zoom.us/meeting/register/tJ0pceqsrTsiH9cWvpl5sswscn7k-9NxPeIy
Speakers:
Prof. Agnes Atiah Apusigah, Vice President, the Regentropfen College of Applied Sciences, Kansoe-Bongo, Ghana
Dr. Isaac Dery, Lecturer, SD Dombo University of Business and Integrated Development Studies, Ghana

Clara Beeri, esq. Lecturer, University of Ghana Law School and Senior Partner at Kasser Law, Ghana.

Dr. Constance Akurugu, Lecturer, SD Dombo University of Business and Integrated Development Studies, Ghana

Moderator: Dr. Wunpini Fatimata Mohammed, Assistant professor of global media in the College of Journalism and Mass Communication at the University of Georgia, USA
Convenors: Dr. Sylvia Bawa, York University, Canada
Dr. Jarpa Dawuni, Howard University, USA
Professor A. Atia Apusigah is a Professor of Development Sociology and Vice President of the Regentropfen College of Applied Sciences, Kansoe-Bongo, near Bolgatanga in Ghana. She holds a PhD in Cultural Studies with Curriculum Studies from Queen's University at Kingston, Ontario, Canada. Her research is in Education, Cultural and Gender/Women Studies. She is a scholar-activist, member of the women's movement of Ghana and active in civil society governance.
Dr. Isaac Dery is a lecturer and researcher in the Department of African and General Studies at the Simon Diedong Dombo University of Business and Integrated Development Studies, Ghana. Isaac holds a PhD in Gender Studies from the University of Cape Town, South Africa. His research interest focuses on constructions of masculinity and femininity, gender-based violence, peacebuilding, and African feminism(s). Isaac's publications have appeared in Social Science and Medicine, Journal of Interpersonal Violence, Gender, Place and Culture, NORMA, etc.
Clara Kasser-Tee is the founder and current Head of Kasser Law Firm. She is a member of the Ghana Bar Association and has publications on Oil and Gas Law, Environmental Law and Regulation, Taxation, Business Law, Institutional Assessment and Anti-Corruption. Clara Kasser-Tee graduated at the top of her class at the Ghana School of Law and is a recipient of the prestigious John Mensah Sarbah Prize given to the best overall graduating law student. She also won the award for the best student in the Law of Taxation in 2009. She is currently editorial member of the Legon Journal of International Affairs and Diplomacy and Board Member of the Centre for Democratic Development (CDD), among others. Clara contributes to legal education, political and institutional development through several engagements with the media and the Ghana Revenue Authority on relevant national issues. She has earned the respect and trust of the public, (including members of the judiciary, the Ghana Bar, other public and private institutions and the general public) who openly praise her in- depth knowledge of the law, and professionalism.
Dr. Constance Awinpoka Akurugu is lecturer in sociology and gender studies. She obtained her PhD in Sociology from the Newcastle University in the UK. Dr Akurugu is interested in transnational feminist discourses and women's empowerment praxis. Her research also focuses on cultural translation of theory and decoloniality. In terms of empirical research, Dr Akurugu is an ethnographer and focuses on gendered power relations more broadly. Specifically, she focuses on gender justice research and advocacy, gender-based violence and gendered cultural practices in Ghana and sub-Saharan Africa. Dr. Akurugu also researches on the mystical world of the ethnicities in northern Ghana, particularly, the way in which the belief in the pervasiveness of other-than-human entities such as witchcraft, magic power and the ancestors inflect human sociality in these settings. Dr Akurugu's work has been published in Feminist Theory and Feminist Review and so on.
Dr. Wunpini Fatimata Mohammed is an assistant professor of global media in the College of Journalism and Mass Communication at the University of Georgia. She is co-editor of the book "African Women in Digital Spaces: Redefining Social Movements on the Continent and in the Diaspora" (forthcoming 2021). She currently serves on the editorial board of the Communication Culture and Critique journal and serves as a board director at the West African Research Association. Her research which focuses on feminisms, decolonization and broadcast media have appeared in the Howard Journal of Communications and other reputable journals. She has worked as a radio journalist in Ghana for several years and some of her work has been published on Al Jazeera, Africa is a country, Global Voices and Okay Africa. She has appeared on several Ghanaian media platforms including the Ghana Broadcasting Corporation.
Sponsors:
Centre for Feminist Research, York University https://www.yorku.ca/cfr/
Canada-Africa Human Rights Engagement (CARRISSA, SSHRC PDG) https://e-cassare.org/policy-brief-on-canadian-african-human-rights-engagements-literature-review-and-agenda-for-research/
Institute for African Women in Law https://www.africanwomeninlaw.com/
Kasser Law Firm, Ghana (http://www.kasserlawonline.com/about.html
S.D. Dombo Univ of Business and Integrated Studies, Ghana (https://ubids.edu.gh/) and
Regentropfen College of Applied Sciences, Ghana (https://recas.edu.gh/)
---
Stripping Away the Body:
Prospects for Reimagining Race in International Relations
Date: April 14th, 2021
Time: 12:00pm - 1:00pm
Join Zoom Meeting
https://yorku.zoom.us/j/91267712551?pwd=Ri9ENGRwbDA3bHRtcDU2K1Fqcm1qUT09
International relations has yet to reckon with its colonial and racist foundations, with few exceptions (Hall 2020; Persaud and Sajed 2018; Persaud and Walker 2001; Persaud and Walker 2015). Analyses of race in IR are rare, although tacitly informing the field from its inception (Vitalis 2017; Harper-Shipman and Gordon 2020; Anievas, Manchanda, Shilliam 2015). When present, formulations of race have been particularly wedded to the somatic, leaving analyses of dispossessing structures and the agents that support them difficult to discern. Configurations of race have also been divorced from their origins at the root of capitalism, in favor of more U.S.-centric renderings of race as identity. The panelists engage formulations of race as the concomitant othering and rank-ordering of groups that translates into material conditions. In this discussion, we demonstrate how a re-reading of IR with race as its central tenet, offers a more generative avenue for explorations of class, gender, security, and power, writ-large.
E(racing) Africa in IR
T.D. Harper-ShipmanDavidson College
"Multicultural" Recolonization of the First Black Republic
Mamyrah A. Dougé-Prosper
University of California, Irvine
Fear the Child:
Racial and Sexual Regulation along the US-Mexico Border
Gavriel Cutipa-Zorn
Yale University
Developing Methodology for the Exploration of Gendered Racialization: Introducing a Plural Capabilities Approach
K. Melchor Quick Hall
Fielding Graduate University
Visiting Scholar, York University Centre for Feminist Research
---
Femme Scholars Series – with Laura Brightwell Resistance and Reinvention: Femmes' Negotiations of Cultural Discourses About Femininity
Date: April 14, 2021
Time: 3:30pm – 4:30pm
Registration: https://yorku.zoom.us/meeting/register/tJcrduqoqD0qE9TirSbjeZiFVBojHDPW0f1i
Laura Brightwell is a PhD candidate in Gender, Feminist, & Women's Studies at York University. She is a recipient of the Provost Dissertation Scholarship and a SSHRC Doctoral Fellowship. She researches femme marginalization through the lens of storytelling. Laura is interested in the intersections of queer theory and lived experiences and bridging the gap between academic and non-academic knowledge production. Her work has been published in Feminist Media Studies, Journal of Lesbian Studies, feral feminisms, and Gender Hate Online: Understanding the New AntiFeminism.
Co-Sponsored by Sexuality Studies
---
Spotlight on Islamophobia Series - Islamophobia and Anti-Blackness
Date: April 1, 2021
Time: 2:30pm - 4:30pm
Registration: https://yorku.zoom.us/meeting/register/tJYrdemvrDgvHNG_ezbjvFz43gDRyaGmo7iW
Speakers:
Na'ima Robert
A trail-blazing speaker, coach and best-selling author of 'From My Sisters' Lips', as well as over 25 other books that have been translated into over 14 languages. She is the recipient of several literary awards and is a respected author and the author of the newly released 'Show Up: A Motivational Message for Muslim Women.' She has appeared on BBC's Newsnight, GMTV and on several BBC radio stations. Her work has been published on Thrive Global, in The Guardian, The Times and The Telegraph. She was also the organizer and host of the Black Muslim Festival in 2020.
Mohamed Duale
Ph.D. Candidate at York University (Faculty of Education), and a Graduate Research Fellow with the Centre for Refugee Studies (CRS) at York University. Duale is an interdisciplinary scholar of youth, education and community in refugee and forced migration contexts, particularly in East Africa and the Horn of Africa. He taught in the Borderless Higher Education for Refugees (BHER) project and helped build the capacity of refugee and local teachers in the Dadaab refugee camps of north-east Kenya. Duale is currently an African and African Diaspora Studies (AADS) Dissertation Fellow at Boston College.
Moderator:
Hannah Ali
MA Candidate in Anthropology at York University (Faculty of Liberal Arts and Professional Studies). Ali is second-generation Somali-born Canadian. She completed her MA in Gender, Feminist and Women's Studies in 2019 with a focus on interconnecting psychoanalysis, psychoanalytical feminism, anthropology, decolonized psychiatry and Somali Canadian studies. She has also studied Malcolm X and the complexities of his legacy within Muslim communities. Her current research looks at ethics & morality, Muslim societies, family relations, and migration amongst Somali Canadian families.
Description:
Following from the deep insights gained at CFR's 2019 Spotlight Series' seminar on "Anti-Blackness, Islam and Islamophobia", the 2020 webinar draws upon the perspectives of community-engaged writers, scholars, and activists to explore and give voice to the personal, institutional and community experiences of Islamophobia and Anti-Blackness. The speakers will address ways in which Muslim communities of colour are responding to issues of racialization, profiling, and systemic discrimination in different local, national and international contexts and how they and other Muslims of colour are working to shape new narratives with communities impacted by Islamophobia and Anti-Blackness, and mitigating the impacts of these harmful discourses and enactments.
---