Faculty Fellow, Faculty of Health
Faculty Fellow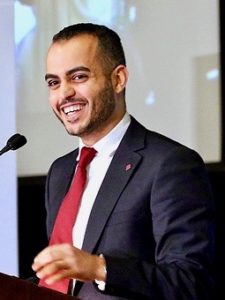 Ahmad Firas Khalid is a medical doctor, a health policy and system researcher and lecturer, and a knowledge translation professional. Firas completed his medical degree at St. George's University School of Medicine and his PhD in health policy at McMaster University. Firas worked as a senior research manager at Evidence Aid, working on creating a World Health Organization (WHO) Knowledge Hub on emergency disasters research management and with the Pan-American Health Organization (PAHO) on the creation of a Resilient Health Systems collection to advise member states. He is also a CIHR Health System Impact Fellow and a Mitacs Elevate Training Fellow working on "Implementation of efforts to support real-time evidence use in humanitarian practice at the Canadian Red Cross." Firas is a board member for Doctors Without Borders, where his responsibility is to set the strategic direction for the entire Canadian branch of the organization.
In the past, Firas worked as a senior research and learning consultant at the Canadian Red Cross, working on epidemic prevention and control of COVID-19 research. Firas also previously worked as a health policy researcher at the Research Unit on Humanitarian Stakes and Practices (UREPH) at Médecins Sans Frontières (MSF) in Geneva, Switzerland, and in the department of Child and Maternal Health at the World Health Organization, also in Geneva, Switzerland. Firas is the founder and executive director of Knowledge Translation Hub – a knowledge synthesis hub designed to meet the demands of decision-makers and organizations.
Research keywords:
Knowledge translation; health policy; global health; humanitarianism
You may also be interested in...