Research Fellow, Global Food System & Policy
Research Fellow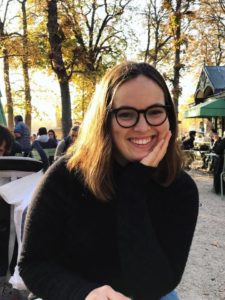 Chloe is a postdoctoral researcher in the School of Global Health at York University. Before coming to York, Chloe completed her PhD in epidemiology at the University of Cambridge, focusing on home food preparation and its relevance and potential for improving diet quality at the population level. This work was awarded the Milo Keynes Prize for Outstanding Dissertation in the School of Clinical Medicine. Chloe also holds a BA in anthropology and an MPH from the University of Cambridge. She has previously worked with Public Health England, WHO-Europe, and in the UK Parliament.
Chloe is interested in the transition to a healthier, fairer, and more sustainable food system through integrated food system policy across food production and agriculture, processing, trade, and public health. She is also interested in how the food system intersects with food practices and lived experience. Her current work focuses on the application of systems thinking to food system policy and governance for the prevention of both communicable and non-communicable diseases.
You may also be interested in...