Post
Published on September 9, 2022
The Dahdaleh Institute for Global Health Research is delighted to announce and congratulate the recipients of the 2022-2023 Dahdaleh Global Health Graduate Scholarships.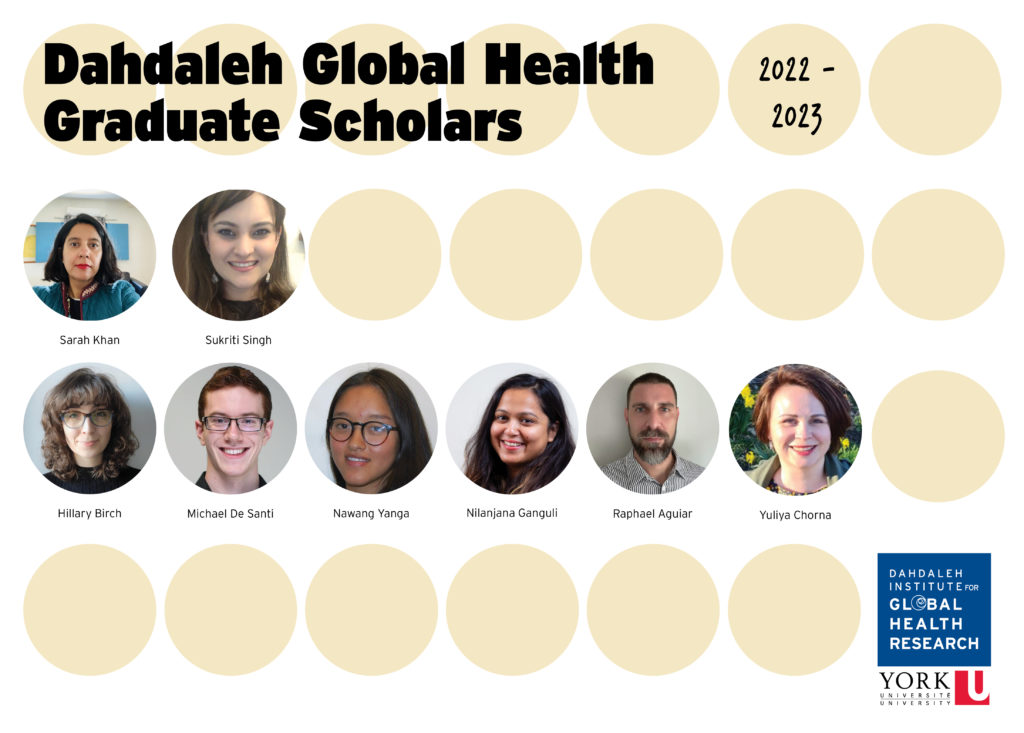 DI associate director and committee Chair, Mary Wiktorowicz, says, "We are impressed with the calibre of these students and early career researchers who bring so much life to the Institute. We are delighted to support their mentorship and development as emerging leaders in global health." The eight recipients of the 2022-2023 Dahdaleh Global Health Graduate Scholarships: Sarah Khan, Sukriti Singh, Hillary Birch, Michael De Santi, Nawang Yanga, Nilanjana Ganguli, Raphael Aguiar, and Yuliya Chorna.
Master's level
Sarah Khan, MALD
The Canadian Military's Views and Approaches to Protection of Civilians: Need for a Protection of Civilians Policy for Canada?
Sarah is a lawyer by training, with a BA LLB Hons. Degree from the National Law School at India University and a Master of Arts in law and diplomacy (MALD) from the Fletcher School of Law and Diplomacy at Tufts University. She has worked for more than 12 years with the United Nations High Commissioner for Refugees (UNHCR) on the international protection of human rights and on refugee and international humanitarian law in displacement contexts of conflict/post-conflict and natural disasters. As one of the inaugural Dahdaleh Global Health Graduate Scholarship recipients, Sarah is working on two pieces of research: i) examining the evolution of the concept of the protection of civilians as a foreign and security policy consideration for Canada and asking whether the Canadian government should develop a policy for the protection of civilians and ii) examining the current legal and policy framework being applied to the harm of displacement in situations of violence in light of the North Atlantic Treaty Organization's protection of civilians policy, which fails to reference this harm specifically in policy.
Sukriti Singh, MBBS
Building a Model of Global Mental Health Governance to Support the Mental Health of Health Professionals
Sukriti is a medical doctor interested in mental health and its governance issues among health professionals. Her work is aimed at better understanding the dynamic and potent interaction of mental health and policy. She hopes to advance the capacity of global organizations like the World Health Organization, the World NCD Federation, the Post Graduate Institute of Medical Education and Research, and York University to create meaningful impact with an understanding of feasibility and implementation issues.

Doctoral level
Raphael Aguiar, MSc
Mobilizing Urban Political Ecologies of One Health to Inform Global Governance of Antimicrobial Resistance and Other Emerging Global Health Threats
Raphael is a PhD candidate in the Health Policy and Equity program at the Faculty of Health. He has worked in crisis risk management and international development and has over a decade of field experience in Africa, Southeast Asia, Europe, and the Middle East. His current interests revolve around the design and management of global health programs and interventions and the global health impact of recent patterns of urbanization, the climate crisis, and accelerated human activity. Raphael has a bachelor's degree in physiotherapy from Brazil and an MSc with honours in social and cultural anthropology from the Katholieke Universiteit Leuven in Belgium.
Michael De Santi, MASc
Producing Risk-Based Water Safety Guidance During Humanitarian Crises with Artificial Intelligence
Michael is a PhD candidate in the Department of Civil Engineering at the Lassonde School of Engineering. Michael is developing new modelling tools to predict water quality in refugee and internally displaced person settlements. His team is working to develop and deploy a first-of-its kind water risk modelling tool for humanitarian response, keeping water safe from the source right up to when it is consumed. His current research focuses on developing tools for holistically assessing water safety risk in humanitarian response settings. Prior to joining the Safe Water Optimization Tool team, Michael obtained a BASc in civil engineering from the University of Toronto and worked for several years as a water design specialist.
Hillary Birch, MSc
More than Access: Governing Health and Water Quality in African Cities
Hillary is a PhD student in the Faculty of Environmental and Urban Change. In her doctoral research, she explores how projects of global health intersect with processes of urbanization that govern flows of water in a city and change its quality, drawing new connections between human activity, environmental health, and global health practice. She aims to better understand how urban water sanitation and hygiene (WASH) interventions are intrinsically linked to both ecological and population health so that such activities can contribute to more holistic urban water management to safeguard water quality, particularly in an era of climate change. She has a master's degree in urban governance at Sciences Po and a master's degree in political science from McGill University. Outside of academia, she has worked in various roles in global health concerning sexual and reproductive health and early child brain development.
Nawang Yanga, MA
A Qualitative Study of the Perspectives and Understandings of Tuberculosis in Tibetan Refugee Settlements in India
Nawang first joined the Dahdaleh Institute as a global health intern and went on to complete an MA. Now, she is returning to York University as a PhD student in the Health Policy and Equity Program in the Faculty of Health. Her research uses a critical social science lens to examine the understandings and perspectives of tuberculosis in Tibetan refugee settlements in India using a community-based participatory research approach. While taking into consideration the historical events that transpired during the 1950s, including the annexation and subsequent displacement of Tibetans into India from Tibet, she considers the social, political, historical, and cultural factors that may provide insight into the high prevalence of tuberculosis in this pocketed community in India.
Yuliya Chorna, MSW
Policy-Making and the Sites of Practice of the Global Tuberculosis Response
Yuliya is a PhD student in social anthropology at the Faculty of Liberal Arts and Professional Studies. She has been a member of the Social Science and Health Innovations Network for Tuberculosis at the Dahdaleh Institute since its inception in 2020. She has an academic background in social work and extensive work experience in the field of global health policy and practice, including in senior leadership positions for not-for-profit non-government organizations focused on social equity and rights in the fields of tuberculosis (TB) and HIV/AIDS. Yuliya's current research idea and plan of action is to problematize the way in which TB is being addressed, on a global level, using critical methods and lenses of social anthropology. She will study how the global health agenda around TB is driven, set, administered, and experienced at the local level, with a focus on politics and power; historical, cultural and social perspectives of decisions and knowledge; and experiences of various actors from policymakers to community members.
"I am very happy that as the Dahdaleh Global Health Graduate Scholar I will have plenty of opportunities for networking with researchers and fellow students to share ideas and co-create knowledge to address existing and emerging global health challenges. The Dahdaleh Institute's weekly global health seminars and research symposia provide an excellent platform for collaboration and professional development. The financial security offered by this graduate scholarship really creates an enabling environment to focus on learning and pursue my aspirations in global health research. I hope that my contribution to this field of research will further advance a notion of health as a human right in policy and decision-making processes and serve to promote equity through universal health coverage and social protection as a response to infectious diseases."
Nilanjana Ganguli, MES
Modelling the Health Impacts of Climate Change on Gender
Nilanjana is a PhD student at the Faculty of Environmental and Urban Change. She has a master's degree in environmental studies and a bachelor's degree in biotechnology from York University, as well as biotechnology research technologist training from Seneca College. Nell has worked in the mining industry for six years in gold and lithium mining in West Africa and Argentina, where she was involved in multiple facets of the business including human resources, communications, and corporate social responsibility. While working in the mining industry, she recognized a need for a better integration of health into corporate social responsibility plans, which inspired her to return to academia to learn about the intricate relationships between the environment and human health. She is passionate about global health equity and environmental sustainability and is currently applying the ecosystem approach through community-participatory methods to model the gender-specific health impacts of climate change in the Lake Chilwa basin in Malawi.
Stay tuned for updates from our graduate scholars throughout the year.
---
The Dahdaleh Global Health Graduate Scholarship was created to attract exceptional incoming and continuing domestic and international graduate research students to the Dahdaleh Institute for Global Health Research. These scholarships will support graduate research and related scholarly and creative activities in line with the three themes of the Institute—planetary health, global health and humanitarianism, and global health foresighting. The scholarship will be granted annually to graduate students who demonstrate outstanding academic achievement in global health research. The scholarships will be granted to new or returning students based on research excellence or promise of excellence, and applications will be evaluated using the student's past performance and potential in their graduate program.
Based on the availability of funds and the excellence and needs of applicants, annual scholarships for individual students will range from $5,000 to $25,000 CAD. Scholarship recipients will:
be designated as "Dahdaleh Graduate Global Health Scholars" at the Dahdaleh Institute;
attend and participate in the Dahdaleh Institute's weekly global health graduate seminars;
present their work once in the Fall and once in the Winter term as part of the Dahdaleh Institute's Current Global Health Research at the Dahdaleh Institute Seminar Series
receive occasional invitations to participate in workshops and special events at the Dahdaleh Institute; and
have access to the Dahdaleh Institute open workspace.
For more information, please visit the Dahdaleh Global Health Graduate Scholarship Program webpage.
---
Themes

Global Health & Humanitarianism, Global Health Foresighting, Planetary Health

Status

Active

Related Work

N/A

Updates

N/A

People

Yuliya Chorna

, Dahdaleh Global Health Graduate Scholar, Global Health & Humanitarianism

Sukriti Singh

, Dahdaleh Global Health Graduate Scholar, Global Health & Humanitarianism

Sarah Khan

, Dahdaleh Global Health Graduate Scholar, Global Health & Humanitarianism

Raphael Aguiar

, Dahdaleh Global Health Graduate Scholar, Global Health & Humanitarianism

Nilanjana Ganguli

, Dahdaleh Global Health Graduate Scholar, Planetary Health

Michael De Santi

, Dahdaleh Global Health Graduate Scholar, Global Health & Humanitarianism

Hillary Birch

, Dahdaleh Global Health Graduate Scholar, Planetary Health
You may also be interested in...