Post
Published on 9 August 2022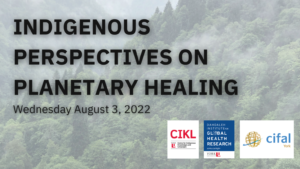 The Dahdaleh Institute for Global Health Research co-hosted a fascinating and insightful gathering on Indigenous Perspectives on Planetary Healing with the Centre for Indigenous Knowledges and Languages in collaboration with CIFAL York.
We are grateful to our two presenters—Dr. Lewis Williams (associate professor, Indigenous Studies, University of Western Ontario) and Dr. Nicole Redvers (assistant professor, Indigenous Health, Family & Community Medicine, University of North Dakota)—who shared their research, experience, and knowledge with us.
A recording of the August 3 event is available here:
You can dive deeper – Lewis and Nicole have provided the following resources:
This event was held in honour of the International Day of the World's Indigenous Peoples, which is today, August 9. This year we are called to celebrate and reclaim the role of Indigenous women in preserving and sharing traditional knowledge. Take the time to learn more and listen to the stories of Indigenous people around the world: Stories - Indigenous Peoples | United Nations
You may also be interested in...