Post
Published on April 30, 2021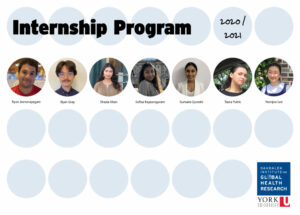 Over the 2020-2021 academic year, the Dahdaleh Institute worked with exceptional students through our Internship Program, which is founded in an experiential education approach. Students completed program practicums with us, were hired through the Research at York program, or volunteered.
Congratulations and thank you to all the trainees for jobs well done!
---
2020/2021 Interns
Ryan Jeevanayagam
Ryan Gray
Shazia Khan
Sofiaa Rajasengaram
Sumaire Qureshi
Tiana Putric
Yeonjoo Lee
---
Learnings & Doings
Mentored by Faculty and Research Fellows, student interns learned firsthand about today's priority global health challenges and how to address them through excellence in research. The internship program is coordinated by Theresa Dinh, who matched trainees with researchers and guided them throughout the experiential learning experience.
Hear from the Interns themselves. These presentations were made at the 2021 Dahdaleh Institute Intern Symposium on April 22 in which the Interns were able to share what they did and learned at the Dahdaleh Institute, and what they plan to do next. The event was attended by Dahdaleh Institute fellows, faculty members, research team and staff.
Click here to view the full event containing all of the presentations:
Time stamps and Title for presentations:
Ryan Jeevanayagam: "COVID Portal and State of Humanitarianism", 00:07:12
Yeonjoo Lee: "Global Women's Health Networks: Enhancing Access to Maternal and Child Healthcare", 00:19:37
Ryan Gray: "The Regulatory Environment of Wildlife Trade", 00:24:05
Tiana Putric: "The Digital Global Health and Humanitarianism Lab", 00:30:02
Sumaire Qureshi: "Digitalization In Agriculture", 00:59:23
Sofiaa Rajasengaram: "Implementing an Advocacy Narrative in Climate-Related Humanitarian Organizations", 01:12:38
Themes

Global Health & Humanitarianism, Global Health Foresighting, Planetary Health

Status

Active

Related Work

Updates

N/A

People

Ryan Gray

, Research Associate, AMR-Environmental Stewardship

Yeonjoo Lee

, Global Health Intern [W21; S21; FW21-22]

Tiana Putric

, Research Assistant, Digital Global Health & Humanitarianism Lab [FW20-21;S21;FW21-22]

Sumaire Qureshi

, Practicum Student, Global Health [W21]

Sofiaa Rajasegaram

, Practicum Student, Global Health [W21]

Shazia Khan

, Research Assistant, Decolonizing Planetary Health [FW20-21]

Ryan Austin Jeevanayagam

, Research Assistant, Planetary Health [S20; FW20-21; S21; FW21-22]
You may also be interested in...