2021 Events
June, 2021 - LaMarsh Annual Graduate Student Symposium
Coordinated by LaMarsh Leadership Award recipients: Annie Mills, Benjamin Diplock, and Samantha Chan
LaMarsh Speakers:
Dr. Nazilla Khanlou: "Mental health support for racialized women at risk of gender-based violence during Covid-19 pandemic"
Dr. Vivian Lee: "The impact of Covid-19 restrictions on the mental health and well-being of families and caregivers of autistic youth"
Dr. Heather Prime: "5 tips for surviving (and thriving) in graduate school"

Graduate Student Presentations:
Nisha Vashi: "Associations Between Transdiagnostic Symptoms and Parent-Child Relationship Quality in Families of Children with Neurodevelopmental Disabilities"
Meaghan Hall: "Fluoride exposure and hypothyroidism in a Canadian pregnancy cohort"
Khadija Bint Misbah: "Examining the influence of spousal and social supports on parenting stress in a Syrian refugee population"
Katerina Dismino: "Physical activity support behaviours among parents of children with intellectual disabilities: Evaluating an online messaging intervention"
Kathryn Pierce: "Qualitative Study of Mechanisms of Change in School-Based Day Treatment for Children in Kindergarten and Grade 1"
Megis Oskalns: "A Two-Eyed Approach to Evaluating an e-Intervention for Inuit Youth Using an Inuit Qaujimajatuqangit Framework"
Jenna Barnhardt: "I-SPARX: Development of Intervention Strategies for Indigenous Youth"
Marette Abdelmaseh: "Making I-SPARX Fly In Nunavut: A mixed-method investigation of Cognitive Behavioural Therapy with Inuit Youth"
Teresa Sellitto: "What Aspects of Sport Participation are Related to Thriving Among Youth with Intellectual Disability?"
Flora Roudbarani: "Parent Perspectives on the Shift to Remote Delivery of CBT in Response to COVID-19"
Bianca Bondi: "Maternal and Adolescent Mental Health and Family Stress During COVID-19: The Role of Attachment"
2019 Events
June, 2019 - LaMarsh Annual Graduate Student Symposium
June, 2019 - LaMarsh Annual Graduate Student Symposium: "Innovative Research Methodologies: Enhancing well-being of children and youth, their families and communities." Coordinated by LaMarsh Leadership Award recipients: Bianca Bondi, Attia Khan, and Justeena Zaki-Azat.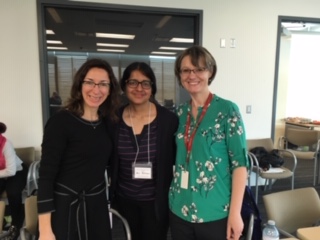 Keynote Speaker: Dr. Thanujeni Pathman, Psychology "Children's Learning & Memory in Lab-based & Naturalisitc Settings".
Faculty Panel Discussion:
"Creative & innovative approaches to child and youth research", with Dr. M. Angeles Cerezo, Visiting Scholar, University of Valencia, Madrid, Spain; Dr. Alison Macpherson, Kinesiology and Health Sciences and Dr. Desmond Ellis, Sociology Department, York University.
Graduate Student Presentations:
Samantha Chan, Psychology: "Exploring the associations between quality of a previous romantic relationship, emotion regulation and post-breakup depressive symptoms in adolescence"
Amanda McKinnon, Kinesiology: "Positive Youth Development: Adopting a new perspective for understanding the developmental outcomes associated with sporty participation among youth with disabiities"
Vrati Mehra, Kinesiology: The association between Alcohol, Marijuana, Illegal Drug Use and Current use of E-cigarettes among Youth and Young Adults in Canada: Results from Canadian Tobacco, Alcohol and rugs Survey 2017"
Elizabeth Wanstall, Psychology: "Estimations of competence in neurodevelopmental conditions: A review.
Marette Adbelmaseh, Psychology: "I-SPARX: Using Inuit Qaujimajatuqangit to Engage Nunavut Youth in Designing their own e-Wellness Tools"
Poster Presentations
Mariami Bimm: "The digital shift: Examining the evolution of mobile devices"
Tracy Lauren Fabri: "Psychological Effects of Concussion Among Varsity Athletes"
Vanessa Foot-Seymour: "Using cognitive strategies to enhance learning of statistical concepts"
Asvini Keethakumar: "Identifying the prevalence and predictors of utilizing cannabis among middle and older aged adults in Canada: A cross-sectional analysis from the Canadian Tobacco, Alcohol and Drug Survey"
Annie Mills: "Program evaluation of a peer to peer group counseling program for parents of children with autism in the South Asian community"
Monica C. O'Neill: "Can parent and infant behaviors during vaccination tell us about preschool attachment status?"