Faculty Fellow, Faculty of Science
Faculty Fellow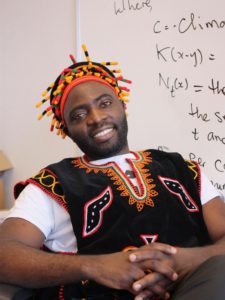 Jude Kong is an assistant professor at York University and the founding director of the Africa-Canada Artificial Intelligence and Data Innovation Consortium (ACADIC). He is also the leader of the One Health Modelling Network for Emerging Infections (OMNI) Early Warning Signals Network and a member of the Canadian Black Scientist Network, the Scientific Advisory Committee of the Mathematics for Public Health Network, the Canadian Centre for Disease Modelling, and the Canadian COVID-19 Modelling Rapid Response Task Force. He is an expert in data science, artificial intelligence, and infectious disease modelling. His principal research interest is the impacts of climate and environmental changes on disease transmission and identifying populations at risk. During the COVID-19 pandemic, he has been leading an interdisciplinary team of more than 52 researchers from key academic and government institutions in nine African countries that have been using artificial intelligence to help government and local communities to contain and manage the spread of COVID-19. In 2020, he won a York Research Leader Award. In 2021, he was spotlighted among Canadian Innovation Research Leaders 2021 for his work with ACADIC. In 2022, he was spotlighted as a Change Maker by "People of YU" for his work helping others learn mathematical concepts and encouraging them to find their passion and achieve more than they thought was possible.
Research keywords:
Infectious disease modelling; artificial intelligence; population dynamics; data science; self-medication; cholera; malaria; COVID-19; early warning; emerging infectious diseases; one health; data fitting; gender vulnerabilities; populations at risk; impact of anthropogenic disturbance; citizen science; community engagement; pandemic preparedness; digital health
You may also be interested in...