Post
Published on September 15, 2023
York's call for proposals receives overwhelming response from Africa, Asia and Latin America to create AI solutions to fight new and re-emerging infectious diseases
TORONTO, Sept. 12, 2023 – A York University-led program is helping bolster health care in the Global South by providing more than $5.8 million in funding for 16 projects in as many countries, including polio surveillance in Ethiopia and helping Indigenous communities in the Philippines.
"We have led the call to strengthen the health-care system in low- and medium-income countries (LMIC) in the Global South for more than a year now," says York University Assistant Professor Jude Kong, executive director of the Global South Artificial Intelligence for Pandemic and Epidemic Preparedness and Response Network (AI4PEP). Originally from Cameroon, Kong understands the strains faced by health-care systems in LMIC and the importance of southern-led solutions.
"Funding these projects will help strengthen capacity and support prevention, early detection, preparedness, mitigation and control of emerging or re-emerging infectious disease outbreaks in LMIC countries in Africa, South Asia, Southeast Asia, Latin America, the Caribbean and the Middle East, which, as we know, can make their way to every country in the world."
Incidents of disease outbreaks are expected to increase in severity and frequency as more viruses, bacteria and parasites jump from animals to people.
AI4PEP received $7.25 million in funding from the International Development Research Centre in 2022 to develop a multi-regional, interdisciplinary network to use AI and big data to improve public health preparedness and response, and promote equitable and ethical solutions.
After a recent call for proposals, the team received 221 submissions from 47 countries with 142 of them from Africa, 40 from Asia, 26 from Latin America. The overall program framework centers around a gender, equity, inclusion and decolonization lens.
"AI4PEP at York University is deepening the understanding of how equitable and responsibly designed artificial intelligence can lead to southern-led solutions to strengthen public health-care systems in the Global South," says Vinitha Gengatharan, assistant vice-president, global engagement and partnerships. "This is just the start of a growing, multi-regional network to improve and strengthen public health preparedness and response to disease outbreaks that can make a real difference in the lives of people."
The projects are led by universities in collaboration with health-care system stakeholders in 16 regions of the Global South. They include AI and modelling for community-based detection of zoonotic disease with increasing climate change in Senegal; a Foundation for Medical Research-University of Mumbai project; an AI-powered early detection system for communicable respiratory diseases based on integrated data sets at Wits University in South Africa; an Al-Quds University project; and an AI and eco-epidemiology-based early warning systems to improve public health response to mosquito-borne viruses in the Dominican Republic. See full list of projects.
"The funding for our project, named AutoAI-Pandemics, will enable the development of a cutting-edge and user-friendly platform, driven by responsible artificial intelligence practices, to deal with the challenges of infectious diseases, in particular, control of epidemics and pandemics. Current advances in artificial intelligence have resulted in robust solutions for epidemiological analysis, bioinformatics, and misinformation detection, while actively combating biases and ensuring fairness," says Professor André C. Ponce de Leon F. de Carvalho of the Institute of Mathematics and Computer Sciences, University of São Paulo at São Carlos, Brazil.
"Thanks to this funding, we have the opportunity to contribute to the efforts to fight epidemics and improve human health. By collectively fortifying our defenses against infectious diseases, we can make a lasting impact on global health with increasing equity and equality. We also believe that this research will bring relevant scientific contributions in the areas of artificial intelligence and bioinformatics."
As diseases increasingly spreading from animals to people with continued human encroachment into natural landscapes, AI4PEP's One Health concept is designed to recognize and respond to the reality that human health is interdependent with the health of animals and the environment. Climate change is another huge factor.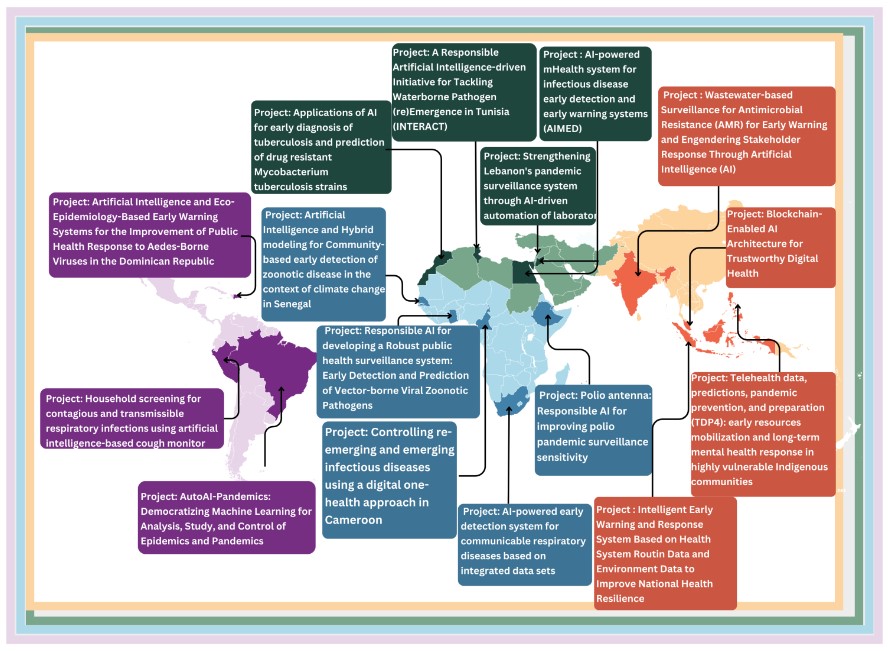 "Climate change is exacerbating existing health and social inequities by increasing the vulnerability of climate hotspots to the emergence and re-emergence of many infectious diseases, such as malaria, dengue fever and zika," says Associate Professor Ali Asgary of the Faculty of Liberal Arts and Professional Studies. "This is a huge initiative, but with the support of many of York's research institutes, including the York Emergency Mitigation, Engagement, Response and Governance Institute directed by Distinguished Research Professor Jianhong Wu, as well as CIFAL and the Dahdaleh Institute for Global Health Research, I believe we can all collaborate with this exceptional global network to respond to the increasing threat of infectious diseases."
AI solutions and data science approaches are increasingly being used across the globe to identify risks, conduct predictive modelling, and provide evidence-based recommendations for public health policy and action.
"Responding to the complex nature of these interactions in a timely way requires the ability to analyze large data sets across multiple sectors," says Kong of the Faculty of Science and director of the Africa-Canada Artificial Intelligence and Data Innovation Consortium.
But even with the promised good of these innovative tools to improve public health outcomes, the team recognizes there are important ethical, legal, and social implications that, if not appropriately managed and governed, can translate into significant risks to individuals and populations. AI4PEP intends to deepen the understanding of designing responsible AI solutions.
"Responsible AI entails intentional design to enhance health equity and gender equality and avoid amplifying existing inequalities and biases. We are working toward the realization of the United Nation's Sustainable Development Goals, in particular, three and five – good health and well-being, and gender equality," says Kong. "Colonialism and gendered oppression have enduring effects, disproportionately impacting the health and quality of life of formerly colonized people and vulnerable groups, including women, gender non-conforming people, people with disabilities, rural communities, and low-income households."
Projects within the initiative will work closely with governments, public health agencies, civil society and others to generate new knowledge and collaborations to inform practice and policies at subnational, national, regional and global levels.
Originally published by News@York (12 September 2023).
-30-
York University is a modern, multi-campus, urban university located in Toronto, Ontario. Backed by a diverse group of students, faculty, staff, alumni and partners, we bring a uniquely global perspective to help solve societal challenges, drive positive change and prepare our students for success. York's fully bilingual Glendon Campus is home to Southern Ontario's Centre of Excellence for French Language and Bilingual Postsecondary Education. York's campuses in Costa Rica and India offer students exceptional transnational learning opportunities and innovative programs. Together, we can make things right for our communities, our planet, and our future.
Media Contact:
Sandra McLean, York University Media Relations, 416-272-6317, sandramc@yorku.ca
You may also be interested in...