Post
Published on 7 September 2023
The Dahdaleh Institute is delighted to announce this year's recipients of the 2023-2024 Dahdaleh Global Health Graduate Scholarships. We would like to extend a warm congratulations to the following recipients: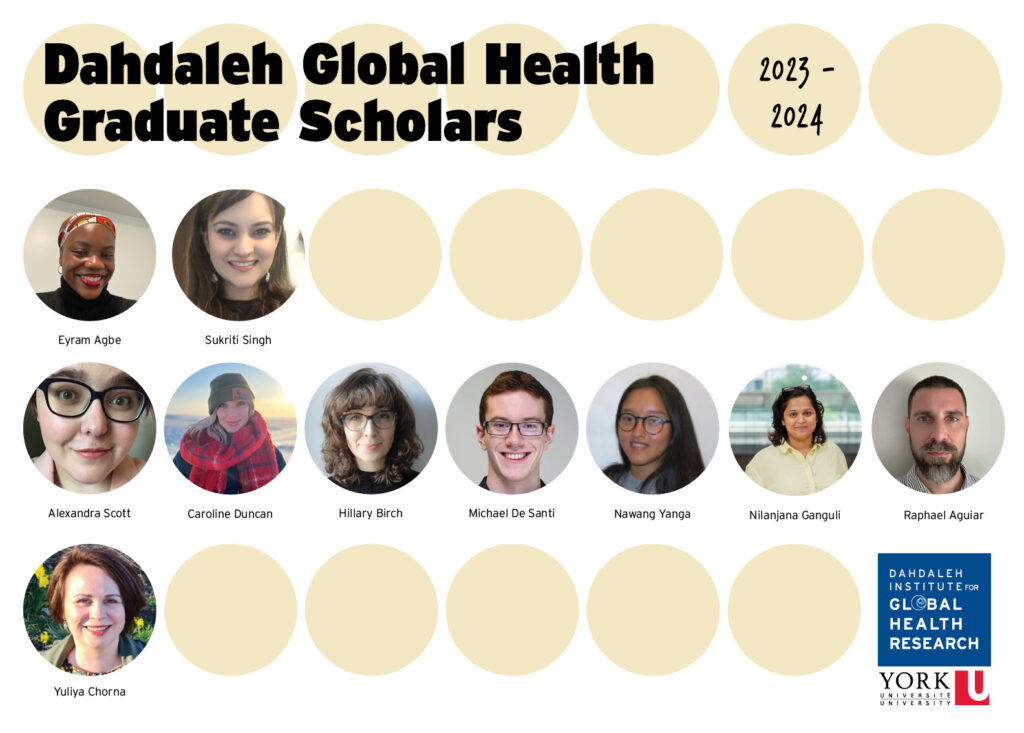 Master's level
Eyram Agbe
Digital deprivation: ICT education and social vulnerability in Ghana
Eyram is a masters student in the development studies program. Her research seeks to understand the diverse psychosocial impacts of Covid-19 on basic school teachers in Accra, and how these factors affect their ability to support new curriculum implementation as schools have returned to in-person classes. This study seeks to centre the critical role that social vulnerability plays in education, specifically how teachers' health outcomes are situated within contentions over techno-political visions by stakeholders.
Sukriti Singh
Building a Model of Global Mental Health Governance to Support the Mental Health of Health Professionals
Sukriti is a medical doctor interested in mental health and its governance issues among health professionals. Her work is aimed at better understanding the dynamic and potent interaction of mental health and policy. She hopes to advance the capacity of global organizations like the World Health Organization, the World NCD Federation, the Post Graduate Institute of Medical Education and Research, and York University to create meaningful impact with an understanding of feasibility and implementation issues.
Doctoral level
Alexandra Scott, BSc (Eng), JD, LLM
The Myth of "Good Enough": Law, Engineering, and Autonomous Weapons Systems
Alexandra is a PhD student, Dahdaleh Global Health Graduate Scholar, and SSHRC Doctoral Fellow at the Osgoode Hall Law School at York University. Alexandra's work explores the development and deployment of autonomous weapon systems (also known as "killer robots") under international law and the role that engineers play in both.
Beyond providing me with the financial means to pursue my PhD studies, my involvement with the Dahdaleh Institute has already allowed me to not only collaborate with, and learn from esteemed academics, but become involved with research areas I had long hoped to delve into, but could never quite figure out how. The Dahdaleh Institute has already opened several doors to me and I am thankful to be part of such a welcoming and supportive program.
Caroline Duncan, BSc (Hons), MSc
Optimizing Water Safety in Cambridge Bay using Participatory System Dynamics
Caroline is a PhD candidate in civil engineering with a strong focus on optimizing drinking water in the Arctic using participatory approaches to system dynamics modelling. As part of the Lassonde School of Engineering, and under the guidance of Professor Stephanie Gora, her research seeks to understand the complex factors that affect the quality and accessibility of drinking water in the Arctic using an interdisciplinary and participatory approach. Through her research, Caroline will work closely with the Municipality of Cambridge Bay, Nunavut, collaborating with community members, government, and NGO stakeholders involved with drinking water from source to tap. Through this collaboration, a model will be developed to test treatment and policy interventions to optimize drinking water safety.
Hillary Birch, MA, MSc
More than Access: The urban governance of water quality in Lusaka, Zambia
Hillary is a PhD candidate in environmental studies in the Faculty of Environmental and Urban Change at York University, where she is a SSHRC doctoral fellow. She holds a master's degree in urban governance from Sciences Po in Paris, France where she studied the urban governance of Ebola in Monrovia, Liberia. She also holds a master's degree in political science from McGill University where she studied social movements and health policy. Hillary has worked in various roles in global health concerning sexual and reproductive health and early child development and she has also worked in knowledge mobilization, connecting researchers and practitioners around questions of social innovation, urban planning, and child well-being.
Hillary's PhD explores how projects of global health intersect with processes of urbanization in Lusaka, Zambia, specifically how water, sanitation, and hygiene (WASH) interventions shape flows of water in the city and change its quality. Through her research she aims to support the execution of WASH projects that both improve immediate health outcomes and deliver safe WASH services for all by better contributing to urban water management. This includes ensuring WASH interventions support plans, institutions, and infrastructures that promote climate resilience in Lusaka.
My first year as a graduate scholar at the Dahdaleh Institute for Global Health Research was a pleasure and I can say with confidence that my time at the Institute has added great depth to my experience as a PhD student. The financial support from the Institute has provided me with a unique chance to focus on my studies in a way that would not be possible if I had to look elsewhere for funding. Receiving this scholarship again for the coming school year I look forward to continuing to build collaborations across the Institute. I hope to be able to share more of my work on the urban governance of water quality as I further develop my early theorizing and as I begin to make more concrete the plan for my dissertation in terms of methodology and case selection. I have begun to build connections with my graduate student peers and other research fellows and faculty members at the Institute and I know that engaging with the Dahdaleh community will continue to greatly benefit my work.
Michael De Santi, BASc, MASc, EIT
Improving Water Safety in Humanitarian Response with a Novel AI-Enabled Quantitative Microbial Risk Assessment Model
Michael is a PhD candidate in the Department of Civil Engineering at the Lassonde School of Engineering. Michael works as a researcher on the Safe Water Optimization Tool (SWOT) project at DIGHR where he develops new modelling tools to predict water quality in refugee and internally displaced person settlements. Prior to joining the SWOT team, Michael obtained a BASc in Civil Engineering from the University of Toronto and worked for several years as a water design specialist. His current research focuses on developing tools for holistically assessing water safety risk in humanitarian response settings.
Nawang Yanga, BSc (Hons), MA
Tuberculosis in Tibetan Refugee Settlements in India: Insights into Lived Experiences
Nawang is going into the second year of her Ph.D. at York University in Health Policy and Equity. Nawang's dissertation will focus on the lived experiences of Tibetan refugees with TB in Indian settlements. This is greatly motivated by her own experiences with TB, particularly as a family member, relative and friend to many people who have had TB or know someone who had TB. It is also motivated by the sheer lack of literature in this community, despite having some of the highest TB incidence rates globally. The aim of her project is to introduce a social perspective to TB discourse by highlighting the connections between social conditions and TB that are unique to Tibetan refugees in India. Nawang will be a Dahdaleh Global Health Graduate Scholar for the second year in a row.
Nilanjana Ganguli, MES
Assessing community resilience to the gendered health impacts of climate change in Malawi's Lake Chilwa Basin.
Nilanjana (Nell) Ganguli is a PhD student at York University's Faculty of Environmental & Urban Change. Her dissertation research applies a critical lens to studying gendered health implications of climate change in Malawi's Lake Chilwa basin by employing participatory methods informed by the concepts of critical systems thinking and intersectionality. Nell graduated from York University with a master's degree in environmental studies and a bachelor's degree in biotechnology. She also attended Seneca College for three years and received training as a biotechnology technologist.
Nell worked in the mining industry in West Africa for six years, where she was involved in many aspects of the firm, including human resources, communications, and corporate social responsibility. While working in the mining business, she recognised a need for improved integration of environmental health into environmental impact assessments, which motivated her to return to academia to learn about ecohealth. Since March 2022, Nell has been working as the project manager for the Dahdaleh Institute's project, Complex Adaptive Modelling of Climate Change's Health Impacts in Malawi led by Dr. Orbinski.
Nell has lived in India and Tanzania before settling in Toronto for her post-secondary education. She speaks Bengali and Hindi fluently and has basic knowledge of Kiswahili.
Raphael Aguiar, MSc
Urban Political Ecologies of AMR and other interdependent threats
With over a decade of experience in the field in Africa, Southeast Asia, Europe, and the Middle East, Raphael started working in international development as a project manager for the international NGO Humanity and Inclusion (Handicap International). There, he led projects in both humanitarian and development settings. Working with rights-based and field-based approaches, he advanced health and disability equity through primary healthcare delivery as well as adoption and implementation of international conventions and national policies.
Raphael then joined the UN Department of Peacekeeping Operations, where he led units focused on knowledge and information management of serious crimes, human rights violations, and administrative issues. Most recently, he worked in crisis risk management at the UN Resident and Humanitarian Coordination Office in Cameroon.
Raphael has a bachelor's degree in physiotherapy from Brazil and an MSc with honours in social and cultural anthropology from the Katholieke Universiteit Leuven in Belgium. He is currently a PhD candidate in the Health Policy and Equity program at York University. His interests revolve around the design and management of global health programs and interventions, and the global health impact of recent patterns of urbanization, the climate crisis, and accelerated human activity. His current research focuses on deploying an urban political ecology lens to inform governance of antimicrobial resistance and other emerging One Health threats.
Yuliya Chorna, MSW
Anthropology of global health policy-making and financing of Tuberculosis response
Yuliya is a doctoral student in York's Graduate Program in social anthropology. Professor Margaret MacDonald is a supervisor of Yuliya's PhD project. Yuliya has an academic background in social work, with a Master of Social Work degree from Syracuse University. She has extensive work experience in the field of global health policy and practice, including senior leadership positions for not-for-profit NGOs focused on social equity and rights in the fields of tuberculosis (TB) and HIV/AIDS. Yuliya is a member of the Social Science and Health Innovations Network for Tuberculosis (SSHIFTB) at the Dahdaleh Institute since its inception in 2020. Yuliya's research problematizes how TB is being addressed, on a global level, using critical methods and lenses of social anthropology. She is particularly interested in the anthropology of global health policymaking, funding and financing. Her research is supported by the dissertation committee members - Professor Margaret MacDonald, Professor Alexandra Widmer and Professor Amrita Daftary.
---
The Dahdaleh Global Health Graduate Scholarship was created to attract exceptional incoming and continuing domestic and international graduate research students to the Dahdaleh Institute for Global Health Research. These scholarships will support graduate research and related scholarly and creative activities in line with the three themes of the Institute—planetary health, global health and humanitarianism, and global health foresighting. The scholarship will be granted annually to graduate students who demonstrate outstanding academic achievement in global health research. The scholarships will be granted to new or returning students based on research excellence or promise of excellence, and applications will be evaluated using the student's past performance and potential in their graduate program.
Based on the availability of funds and the excellence and needs of applicants, annual scholarships for individual students will range from $5,000 to $25,000 CAD. Scholarship recipients will:
be designated as "Dahdaleh Graduate Global Health Scholars" at the Dahdaleh Institute;
attend and participate in the Dahdaleh Institute's weekly global health graduate seminars;
present their work once in the Fall and once in the Winter term as part of the Dahdaleh Institute's Current Global Health Research at the Dahdaleh Institute Seminar Series
receive occasional invitations to participate in workshops and special events at the Dahdaleh Institute; and
have access to the Dahdaleh Institute open workspace.
For more information, please visit the Dahdaleh Global Health Graduate Scholarship Program webpage.
Themes

Global Health & Humanitarianism, Global Health Foresighting, Planetary Health

Status

Active

Related Work

N/A

Updates

N/A

People

Sukriti Singh

, Dahdaleh Global Health Graduate Scholar, Global Health & Humanitarianism

Raphael Aguiar

, Dahdaleh Global Health Graduate Scholar, Global Health & Humanitarianism

Nilanjana Ganguli

, Dahdaleh Global Health Graduate Scholar, Planetary Health

Nawang Yanga

, Dahdaleh Global Health Graduate Scholar, Global Health & Humanitarianism

Michael De Santi

, Dahdaleh Global Health Graduate Scholar, Global Health & Humanitarianism

Hillary Birch

, Dahdaleh Global Health Graduate Scholar, Planetary Health

Eyram Agbe

, Dahdaleh Global Health Graduate Scholar, Global Health and Humanitarianism

Caroline Diana Duncan

, Dahdaleh Global Health Graduate Scholar, Global Health & Humanitarianism

Alexandra Scott

, Dahdaleh Global Health Graduate Scholar, Global Health and Humanitarianism
You may also be interested in...