---
---
Trainee Program: 2019-2020 Year In Review
Over the 2019-2020 academic year, the Dahdaleh Institute worked with exceptional students through our Trainee Program, which is founded in an experiential education approach. Students completed program practicums with us, were hired through the Research at York program, or volunteered.
Congratulations and thank you to all the trainees for jobs well done!
---
2019/2020 Trainees
Ameen Al-Gailani
Rebecca Babcock
Eunice Choi
Ariana Fathi
Amirhesam Gharahi
Sarim Hasan
Zarlasht Jamal
Ryan Jeevanayagam
Jenane Jeyaseelan
Rimaljit Kaur
Richie Ly
Hanan Moalim
Mackenzie Moody
Minutet Nima
Md Rafiur Rashid
Kanishk Singh
Soumiya Suresh
Katie Thomson
Nawang Yanga
Bryan Yau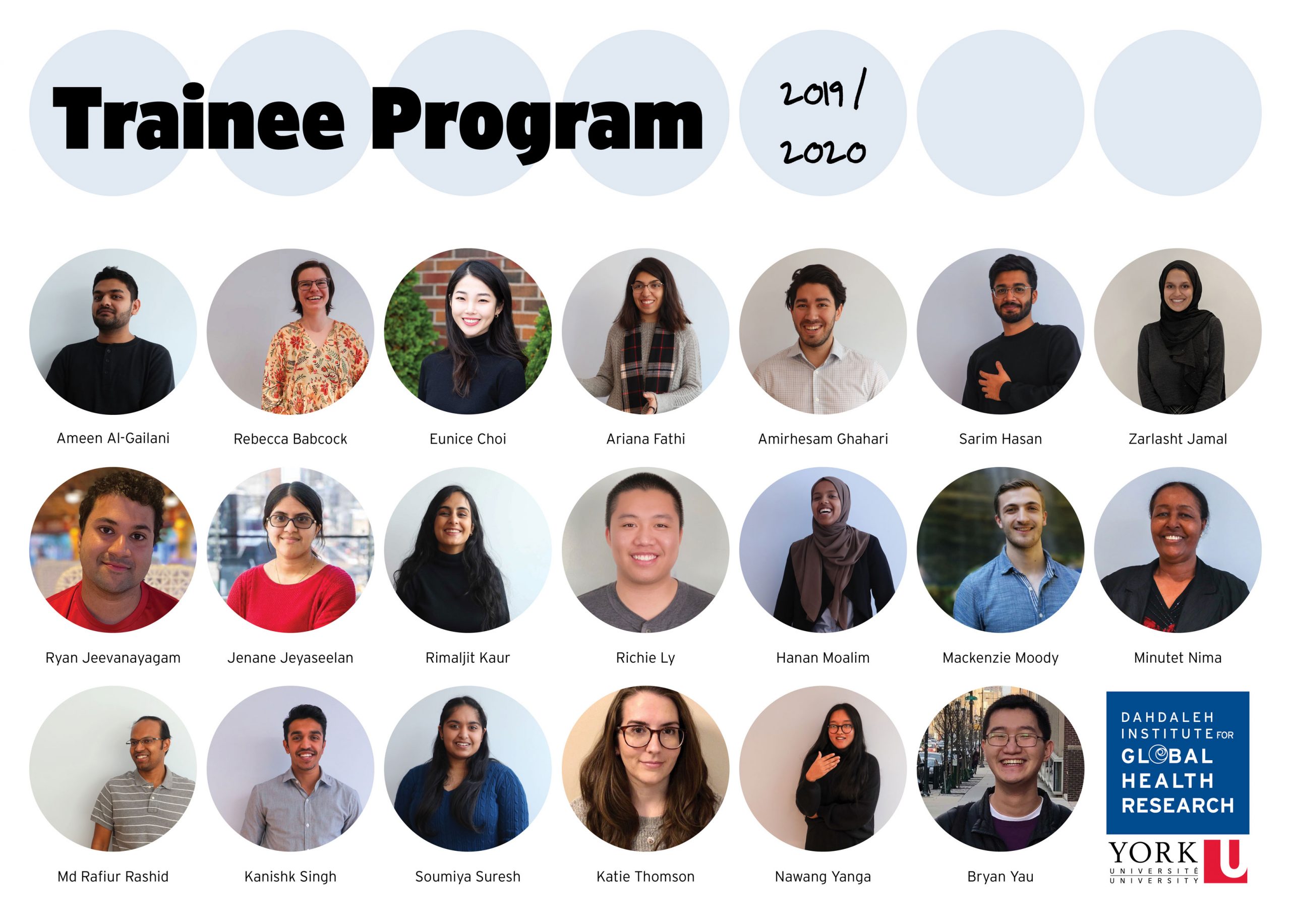 ---
Learnings & Doings
Hear from the trainees themselves. These presentations share what they did and learned at the Dahdaleh Institute, and what they plan to do next.
---
Themes

Topics

Contributors

Rebecca Babcock, MBHL

,

Eunice Choi, MPH, PhD(c)

,

Zarlasht Jamal

,

Sarim Hasan

,

Ryan Austin Jeevanayagam, BSc

,

Rimaljit Kaur

,

Richie Ly

,

Nawang Yanga

,

Minutet Nima, MSc, DVM

,

Md Rafiur Rashid

,

Mackenzie Moody

,

Katie Thomson

,

Kanishk Singh

,

Jenane Jeyaseelan

,

Bryan Yau

,

Amirhesam Ghahari, MSc

,

Ameen Al-Gailani

,

Status

Related Work

N/A

Updates

N/A
---
You may also be interested in...
N/A
---