The Jean Augustine Chair in Education, Community and Diaspora is an endowed Chair established by the Honourable Jean Augustine, the first black woman elected to the Parliament of Canada.
The Honorable Jean Augustine
In 1993, Canadian politician Jean Augustine became the first black woman elected to the Parliament of Canada. She has served on numerous boards including the Board of Governors of York University, the Board of Trustees for The Hospital for Sick Children and as National President of the Congress of Black Women of Canada. An energetic advocate of social justice, Augustine was an elementary school principal before entering federal politics. She was the Parliamentary Secretary to the Prime Minister of Canada, Chair of the National Liberal Women's Caucus, Secretary of State for Multiculturalism and the Status of Women, and Assistant Deputy Speaker. She holds an Honorary Doctor of Laws (LLD) from the University of Toronto. In 2007, Augustine was honoured by the University of the West Indies with a Caribbean Luminary Award, recognizing her significant contributions to the Caribbean diaspora, and was appointed Ontario's first Fairness Commissioner to advocate for foreign- trained professionals, to ensure the credentials of internationally – trained professionals are treated fairly.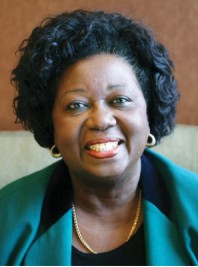 The Jean Augustine Fonds
In 2007, Jean Augustine donated her personal records to the Clara Thomas Archives and Special Collections at York University Libraries in Toronto, Canada.
Over 13.4 linear metres of administrative and personal records – in the form of textual documents, audio-visual material, artwork and objects – are available for research.
The materials in Augustine's fonds chronicle her four decades of public service and her advocacy on diverse issues, such as women's rights, urban education, Black youth, and the betterment of the Black community. Her private papers reveal much about her political sentiments and her sense of community.
The fonds include:
13.4 m of textual records
16.000 photographs
10,000 negatives
60 compact disks
15 computer disks
400 paintings and prints
670 objects: buttons, flags, cups, etc.
238 video cassettes
41 audio cassettes
Associates
---
Marcia Annisette
Associate Dean, Students
Schulich School of Business, York University
---
Warren Crichlow
Associate Professor
Faculty of Education, York University
---
Andrea Davis
Chair, Department of Humanities
LAPS, York University
---
Michele Johnson
Professor; former Director, Harriet Tubman Institute
Department of History, York University
---
Naomi Norquay
Associate Pofessor
Faculty of Education, York University
---
Leslie Sanders
University Professor
Department of Humanities, York University