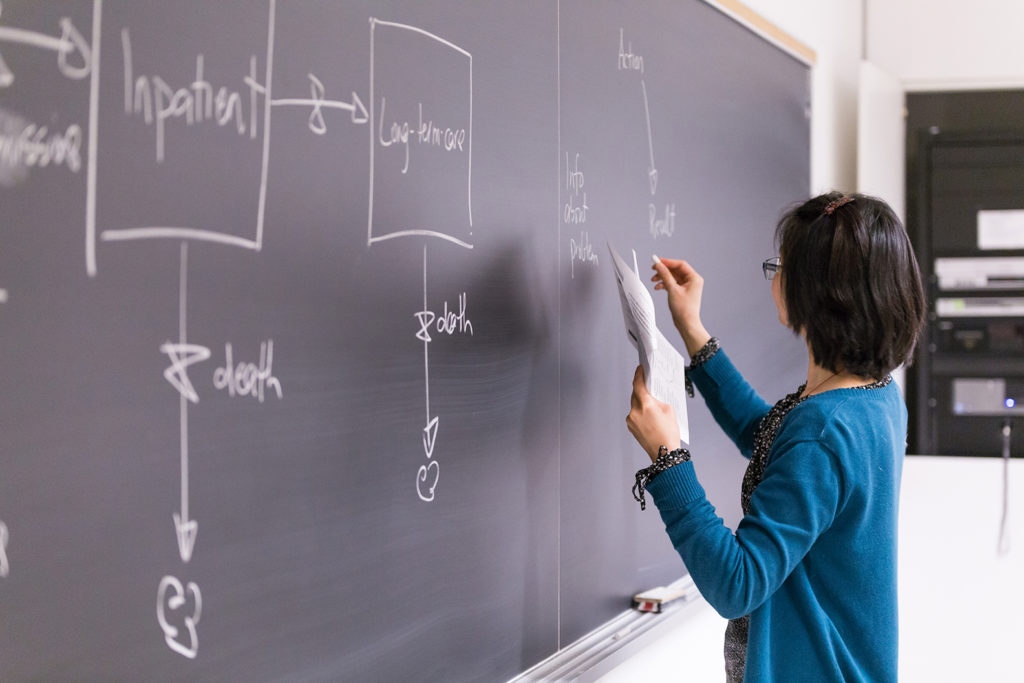 Discover Our PhD Program!
Interested in developing your expertise and conducting primary research in order to make a meaningful contribution to the fields of education, community, teaching and learning?
Completing a PhD in Education: Language, Culture and Teaching will provide you with the skills and knowledge to conduct research in order to positively impact teaching and learning.
Admission Requirements
In addition to meeting standard Faculty of Graduate Studies requirements, applicants to the Doctoral Program in Language, Culture and Teaching will have undertaken a Masters-level Program (with a B+ average) including a component based on original research at a recognized university. Applicants must submit evidence of relevant professional preparation and/or personal and career experience.
Applicants are required to submit a file of their academic, career, and life experience for admission to the doctoral Program. This file shall consist of:
Faculty of Graduate Studies admissions application form
One official copy of transcripts of each post-secondary institution attended
Three letters of reference (at least two must be from academic referees; the other may be from a professional referee)
- You will provide three names and email addresses of referees in your MyFile application, and referees will receive an automatic request for reference. They will have two weeks to complete the letter of recommendation online
A curriculum vitae
A statement of area of interest with a discussion of intended research (see details below)
Two samples of written work
English language test score (if applicable)
Applicants of interest to the Program may be interviewed in the final stages of selection. This interview will be arranged at the convenience of both the Program and the candidate. The purpose of the interview is to assess the overall suitability of candidates and to determine if there are faculty members available in their area of research interest.
Final admission will be offered to candidates only if faculty supervision is available.
The Statement of Interest
What Makes a Good Doctoral Statement of Interest? Tips for applicants.
The statement needs to reflect who you are, what research interests you have and what would make you an asset to the program in 500 words minimum (2 pages, double spaced, 12 font).
It must be brief, concise, direct and clear. Use headings if needed. Make it easy to read. Remember the admissions committee reads hundreds of applications. Your Statement must stand out in form and substance.
At the doctoral level your statement should include:
A brief comment of what you want to accomplish in the doctoral program, and what motivated you to choose your field and the particular program to which you are applying.
A brief summary of your intended program of research. You should include:

Research questions you are curious about
The kinds of theoretical framings you would like to engage in your research program
The existing research you hope to extend

Identify how your interests align with the expertise within the Faculty. You should write about:

Why you want to come to York's Faculty of Education (as opposed to elsewhere)?
Make an explicit connection between your interests and faculty expertise

We celebrate diversity amongst our students. You should discuss what you:

Have to offer the doctoral cohort you may potentially join
Bring to the program and your colleagues
Your active involvement in the field

Identify in the statement how your past studies and/or work or other experiences are relevant to your research program choice
Do not repeat or list what is already in your CV. The statement is a chance for you to make sense of your application, in a holistic way, for the Admissions Committee.
Students who work full-time are required to register as part-time students.
Program Description
This program starts each September.
Students will undertake a program of studies with a minimum of 21 credits plus a doctoral dissertation.
Required Courses
A compulsory Seminar on Research and Issues in Language, Culture, and Teaching (EDUC 5100) (6.0 credits). This seminar covers the conceptualizations of educational inquiry, theory and practice in relation to ongoing issues in holism, critical thought and the return to the humanities and arts as a way of informing human studies.
A compulsory research methods course beyond the introductory graduate level of at least 3.00 credits. (Students lacking pre-requisites must enrol in an introductory graduate-level course as an addition to their Program requirements. Equivalence of previous methods courses will be determined by the faculty supervisor in consultation with the Graduate Executive Committee). Courses may be offered in an online, blended or face-to-face format. Course format is at the discretion of the faculty members who are teaching, so may vary in each academic year.
Elective Courses
A minimum of four half-courses (12.00 credits) or equivalent must be chosen from among the following:
The formal course offerings of the Graduate Program in Education
Courses in allied disciplines chosen from among the offerings of other graduate Programs at York University
Courses in allied disciplines, to a maximum of one full course or equivalent, at other institutions
Negotiated studies courses: Student Initiated Collaborative Inquiry (SICI), Directed Reading, Practicum Seminar. (Note: the content and weighting of negotiated studies courses must be determined by the faculty and approved by the Graduate Executive Committee).
NOTE: Students may take no more than 6.00 credits outside the Graduate Program in Education toward their degree requirements.
Courses may be offered in an online, blended or face-to-face format. Course format is at the discretion of the faculty members who are teaching, so may vary in each academic year.
Comprehensive Examination
The Comprehensive Examination consists of a public defence of the dissertation proposal.
A Comprehensive Examination is set at the completion of all required course work, and typically held within six months of -- and no more than one year from -- the end of the student's course work. Additional details on the Comprehensive Examination are available in the Graduate Program in Education Handbook.
Doctoral Dissertation Proposal & Dissertation
For regulations on the Dissertation Proposal & Dissertation Oral Examination, please consult the Faculty of Graduate Studies site for details.
Residency & Regulations
All graduate students at York University are responsible for being familiar with and following policies and procedures, including registering and paying fees in accordance with Faculty of Graduate Studies and University policies, deadlines and procedures. By registering, each student becomes bound by the policies and regulations of York University, including the Faculty in which the student is registered.
Both full-time and part-time study options are available. Students must maintain continuous registration, including payment of applicable (tuition) fees, in every fall, winter and summer term up to and including the term in which all requirements for their program of study are successfully completed, in accordance with Faculty and program regulations.
Students who fail to maintain continuous registration, including payment of applicable fees, will lose their status as full-time or part-time graduate students and will be withdrawn from their program of study. Students who have been withdrawn as a result of failure to observe registration requirements may petition for reinstatement.
Doctoral students must register and pay fees for a minimum of the equivalent of six terms of full-time registration. All requirements for a doctoral degree must be fulfilled within 18 terms (6 years) of registration as a full-time or part-time doctoral student in accordance with Faculty of Graduate Studies Registration Policies, including the requirement of continuous registration.
Students who successfully complete a doctoral degree in less time than the program length will, prior to convocation, be responsible for payment of a balance of degree fee.
Please be advised that programs in the Faculty of Education are intended to be delivered on campus or in official offsite locations in Toronto. Although mandated restrictions resulting from covid-19 have required classes to run online in the 2020-21 academic year, it is an expectation that students attend all classes in their scheduled format (whether online, blended or in-person) in order to complete degree/diploma requirements.