Dear colleagues,
I am delighted to inform colleagues in the Schulich School of Business and across the York University community that the search for the next Dean of the Schulich School of Business has reached a successful conclusion. The search committee, chaired by Provost Lisa Philipps and comprised of members of SSB (full-time and contract faculty, staff, students and alumni) and myself, undertook an extensive national and international search, which attracted outstanding candidates for this key position in our University. On October 12, 2021, the Board of Governors concurred with my recommendation that Dr. Detlev Zwick be appointed to the position of Dean, effective July 1, 2021, for a five-year term.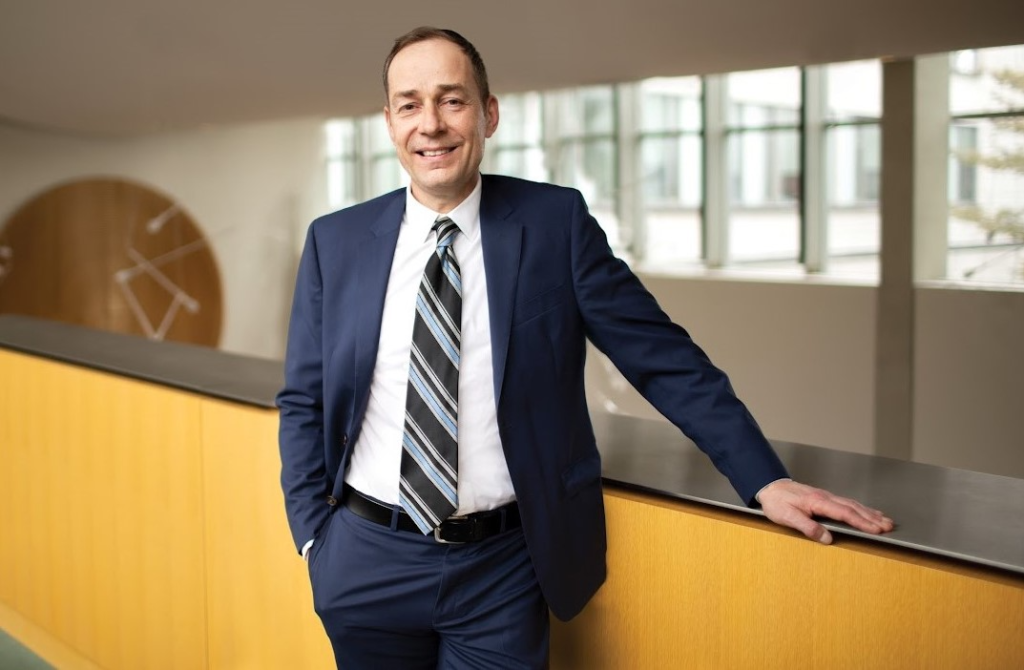 As members of the York community know, Professor Zwick has served with great distinction as Interim Dean of the Schulich School of Business since July 1, 2020. Prior to that appointment, he had served as the School's Associate Dean Academic with broad responsibilities for teaching and learning innovation and recognition, program development, academic policy, student services, and international relations; and earlier as director of the School's BBA/iBBA program. He had also represented the School on Senate and the Senate Executive Committee, as well as serving on the Joint Committee on Affirmative Action. He has been a member of the full-time faculty in Schulich's Marketing program since 2002 and is also a member of the Graduate Program in Communication and Culture.
Professor Zwick holds a PhD in Marketing from the University of Rhode Island, and master's degrees from the University of Memphis and the University of Cologne/DSHS. His research encompasses areas of marketing and responsible business, including consumer behaviour, database marketing, consumer surveillance, and marketing and sustainability. His work has been published widely in marketing, communication, media culture and sociology venues, and his expertise is frequently called upon by the media. He has taught undergraduate and graduate courses on digital marketing, leadership skills, and the philosophy of knowledge in the social sciences.
As Interim Dean, Professor Zwick has been leading the School's development at the forefront of technological innovation in management education. He has been working with colleagues within and beyond the School to advance its global brand and its reputation for excellence in research, teaching, and delivery of an exceptional student experience. These initiatives have included the launch of a new Research Excellence Fellowship program and further development of experiential learning. He has engaged faculty, staff, students, and alumni, as well as external stakeholders, in articulating directions and priorities for the School going forward. His commitment to equity, diversity and inclusion is evident in initiatives to address systemic barriers for students, including collaboration with other leading Ontario business schools to provide enhanced mentorship and support; diversification of the curriculum; and the formation of the School's DEI Working Group to consultatively develop recommendations to address Black and Indigenous racism.
I look forward to continuing to work closely in the coming years with Professor Zwick and his colleagues in the Schulich School of Business at this important time in the School's evolution, as it builds on its significant successes and outstanding reputation to lead in innovation and transformation in business education in Canada and internationally.
Finally, I want to thank the members of the search committee for their contributions to this crucial process.
Sincerely,
 
Rhonda L. Lenton, PhD
President and Vice-Chancellor 
---
Chers collègues, chères collègues,
Je suis ravie d'informer mes collègues de l'École Schulich des hautes études commerciales (SSB) et de la communauté de l'Université York que la recherche du prochain doyen de la SSB a été fructueuse. Le comité de recherche, présidé par la rectrice Lisa Philipps et composé de membres de la SSB (membres du corps professoral permanents et chargés de cours, du personnel, de la communauté étudiante et diplômées et diplômés) et de moi-même, a entrepris une vaste recherche nationale et internationale, qui a permis d'attirer des candidats exceptionnels pour ce poste clé de notre université. Le 12 octobre 2021, le Conseil d'administration a approuvé ma recommandation de nommer monsieur Detlev Zwick au poste de doyen pour un mandat de cinq ans, à compter du 1er juillet 2021.
Comme les membres de la communauté de York le savent, le professeur Zwick a servi avec grande distinction en tant que doyen intérimaire de l'École Schulich des hautes études commerciales depuis le 1er juillet 2020. Avant cette nomination, il a occupé le poste de doyen associé de l'École, comprenant de vastes responsabilités en matière d'innovation et de reconnaissance de l'enseignement et de l'apprentissage, de développement de programmes, de politique universitaire, de services aux étudiants et de relations internationales. Il a également été directeur du programme B.A.A./i.B.A.A. de l'École. Par ailleurs, il a représenté l'École au Sénat et au Comité de direction du Sénat et a siégé au comité conjoint sur l'action positive. Il est professeur à plein temps au programme de marketing de Schulich depuis 2002 et est membre du programme d'études supérieures en communication et culture.
Le professeur Zwick est titulaire d'un doctorat en marketing de l'Université de Rhode Island et de maîtrises de l'Université de Memphis et de l'Université de Cologne/DSHS. Ses recherches englobent les domaines du marketing et de l'entreprise responsable, notamment le comportement des consommateurs, le marketing des bases de données, la surveillance des consommateurs, ainsi que le marketing et la durabilité. Ses travaux ont fait l'objet de nombreuses publications dans les domaines du marketing, de la communication, de la culture médiatique et de la sociologie. Son expertise est fréquemment sollicitée par les médias. Il a donné des cours de premier et de deuxième cycle sur le marketing numérique, les compétences de leadership et la philosophie de la connaissance dans les sciences sociales.
En tant que doyen par intérim, le professeur Zwick a dirigé le développement de l'École à l'avant-garde de l'innovation technologique dans l'enseignement de la gestion. Il a travaillé avec des collègues au sein de l'École et à l'extérieur de celle-ci pour faire progresser sa marque, sa réputation d'excellence en recherche et en enseignement et pour continuer à offrir une expérience exceptionnelle aux étudiants. Ces initiatives comprennent le lancement d'un nouveau programme de bourses d'excellence de recherche et le développement de l'apprentissage par l'expérience. Il a fait participer le corps enseignant, le personnel, la communauté étudiante et les diplômés, ainsi que les intervenants externes, à la définition des orientations et des priorités de l'École pour l'avenir. Son engagement envers l'équité, la diversité et l'inclusion (EDI) est évident dans les initiatives visant à éliminer les obstacles systémiques pour les étudiants. Il a pu accomplir cela notamment en collaborant avec d'autres grandes écoles de commerce de l'Ontario pour offrir un mentorat et un soutien améliorés, en diversifiant le programme d'études et en mettant sur pied le groupe de travail EDI de l'École. Ce groupe de consultation a élaboré des recommandations visant à lutter contre le racisme envers les Noirs et les Autochtones.
Je me réjouis de continuer à travailler en étroite collaboration avec le professeur Zwick et ses collègues de l'École Schulich des hautes études commerciales à ce moment important de l'évolution de l'École, alors qu'elle met à profit ses importants succès et sa réputation exceptionnelle pour être à la fine pointe de l'innovation et de la transformation de l'enseignement des affaires au Canada et dans le monde.
Enfin, je tiens à remercier les membres du comité de recherche pour leur contribution à ce processus crucial.    
Sincères salutations,
Rhonda L. Lenton 
Présidente et vice-chancelière