Dear colleagues,
We are delighted to announce that the search for the Deputy Provost to lead our Markham Campus realization has reached a successful conclusion.
This is an important and exciting time in York's evolution as we bring to fruition plans for innovative teaching and research programs, physical space, and partnerships for our new Markham Campus in York Region, which will welcome its first cohort of students in September 2023. The new campus is situated in the fastest growing region in Ontario, and will offer students innovative, relevant, job-ready academic programming and research opportunities focused on digital media arts, engineering and technology, entrepreneurship, management, new media and communications.
Following an extensive search which attracted outstanding candidates, the search committee recommended the appointment of Dr. Gordon Binsted to the position of Deputy Provost Markham. We are very pleased that Dr. Binsted has accepted our invitation to take up a five-year term, commencing January 1, 2022.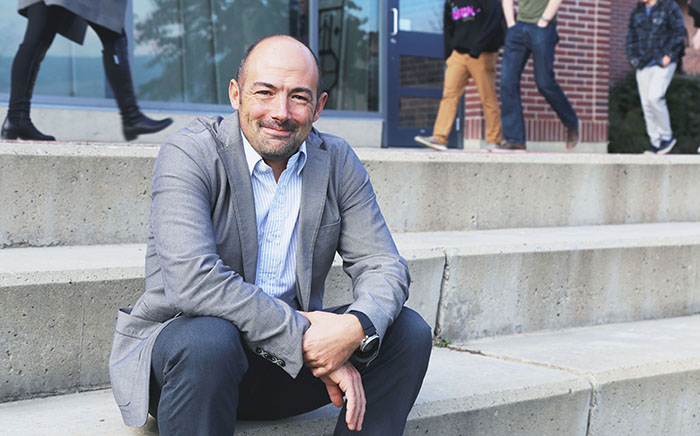 Dr. Binsted joins us from University of British Columbia, where he has most recently served as Dean, Faculty of Health and Social Development at the Okanagan Campus. During his time as Dean, which began in 2011, he has additionally served as Associate Provost, Strategic Health Initiatives; interim Dean, Faculty of Education; interim Vice-Principal Research for UBC Okanagan Campus, and interim Vice-Principal Academic and Provost for UBC Okanagan Campus. His extensive academic leadership experience at UBC has included a role as Founding Director of that university's School of Health and Exercise Sciences, the development of new degree programs and the re-design of curricula, all while working to focus faculty time and resources on research intensification. Dr. Binsted's efforts at UBC have included developing a campus-wide co-op program and a campus-industry incubator, as well as advancing supportive admissions for Indigenous learners. Prior to these leadership roles, Dr. Binsted taught at the Universities of British Columbia, Saskatchewan and Illinois, Urbana-Champagne, and held roles as Research Fellow at University of Aberdeen and the Beckman Institute in Illinois.
Having made faculty and student renewal a top priority during his time as Founding Director and then Dean, Dr. Binsted shepherded a ten-fold increase in faculty and student cohorts. He has built substantial international profile and recognition for his Faculty and Department in part by establishing formal mechanisms for mentorship and support of faculty as they move through their careers, including teaching, research and grant mentorship. In doing so, divisional research grant success increased by a factor of five, and research output by a factor of 10 in a decade. With extensive experience in collegial governance across the university system, Dr. Binsted is strongly committed to offering opportunities to students to expand their world view and see themselves as responsible to become leaders in their communities.
An advocate for diversity and inclusion in the widest sense, he supports York taking on a national leadership role on reconciliation and the decolonization of the institution and sees the new Markham Campus as an opportunity to further strengthen the University's contributions to the social and economic well-being of communities in surrounding York Region and beyond.
Dr. Binsted holds degrees from University of British Columbia, McMaster University and University of Alberta, where he completed his PhD in Experimental Psychology. His research explores ways in which the human brain controls movement by detecting and using sensory information. He has published dozens of articles in the top journals in his field and has contributed book chapters and conference proceedings to significant publications and societies. He has received numerous research grants, including several from the National Sciences and Engineering Research Council of Canada and the Canadian Foundation for Innovation. He has given more than 200 presentations at conferences and as a keynote speaker.
Please join us in welcoming Dr. Binsted into the York Community.
Sincerely,
Rhonda L. Lenton, PhD
President and Vice-Chancellor
Lisa Philipps 
Provost and Vice-President Academic
---
Nous sommes ravies d'annoncer l'aboutissement fructueux de la recherche d'un vice-recteur pour diriger notre campus Markham Centre.
Nous vivons une période importante et passionnante dans l'histoire de York; nos plans se concrétisent en vue de programmes d'enseignement et de recherche innovants, d'un espace physique et de partenariats pour notre nouveau campus Markham dans la région de York, qui accueillera sa première cohorte d'étudiants en septembre 2023. Le campus est situé dans une région de l'Ontario qui connaît une expansion fulgurante. Il offrira à la population étudiante des programmes universitaires innovants et pertinents qui préparent à l'emploi ainsi que des possibilités de recherche axées sur les arts médiatiques numériques, l'ingénierie et la technologie, l'entrepreneuriat, la gestion, les nouveaux médias et les communications.
À l'issue d'une recherche approfondie qui a attiré des candidatures exceptionnelles, le comité de recherche a recommandé la nomination du Dr Gordon Binsted au poste de recteur adjoint du campus Markham. Nous nous réjouissons que le Dr Binsted ait accepté un mandat de cinqans, à compter du 1er janvier 2022.
Le Dr Binsted nous arrive de l'Université de la Colombie-Britannique (UBC) où il occupait tout récemment le poste de doyen de la Faculté de santé et de développement social du campus Okanagan. Au cours de son mandat de doyen qui a débuté en 2011, il a également occupé les fonctions de vice-recteur des Initiatives stratégiques en matière de santé, de doyen intérimaire de la Faculté d'éducation, de vice-principal intérimaire de la recherche pour le campus Okanagan de l'UBC et de vice-principal intérimaire aux affaires académiques et recteur du campus Okanagan de l'UBC. Dans le cadre de sa vaste expérience en leadership pédagogique à l'UBC, il a fait partie des fondateurs de l'École des sciences de la santé et de l'exercice. Par ailleurs, il a élaboré de nouveaux programmes menant à un diplôme et a joué un rôle important dans la refonte des programmes d'études, tout en axant le temps et les ressources du corps professoral sur l'intensification de la recherche. Les efforts du Dr Binsted à l'UBC incluent le développement d'un programme coopératif à l'échelle du campus et d'un incubateur campus-industrie, ainsi que la promotion d'admissions favorisant les apprenants autochtones. Avant d'occuper ces postes au sein de la direction, le Dr Binsted a enseigné à l'UBC, dans des universités de la Saskatchewan et à l'Université de l'Illinois à Urbana-Champagne. Il a occupé des postes de chercheur à l'Université d'Aberdeen et à l'Institut Beckman, en Illinois.
Ayant fait du renouvellement du corps professoral et de la communauté étudiante une priorité absolue d'abord en tant que fondateur puis en tant que doyen, le Dr Binsted a mené à bien la multiplication par dix des effectifs. Il a établi un profil international et une reconnaissance considérables pour sa Faculté et son Département, notamment grâce à la mise en place de mécanismes formels de mentorat et de soutien des professeurs tout au long de leur carrière, tout particulièrement en matière d'enseignement, de recherche et de subventions. Ce faisant, le succès des subventions de recherche de la division a quintuplé, et les résultats de la recherche étaient dix fois plus élevés au bout d'une décennie. Fort d'une vaste expérience en gouvernance collégiale dans le système universitaire, le Dr Binsted est déterminé à offrir aux membres de la communauté étudiante des occasions d'élargir leur vision du monde et d'assumer leur responsabilité afin de devenir des leaders dans leurs communautés.
Défenseur de la diversité et de l'inclusion au sens le plus large, il appuie l'engagement de York de jouer un rôle de chef de file national en matière de réconciliation et de décolonisation. Il considère le nouveau campus Markham Centre comme une occasion de renforcer davantage les contributions de l'Université au bien-être social et économique des communautés de la région de York et au-delà.
Le Dr Binsted est diplômé de l'Université de la Colombie-Britannique, de l'Université McMaster et de l'Université de l'Alberta où il a obtenu son doctorat en psychologie expérimentale. Ses recherches explorent les moyens par lesquels le cerveau humain contrôle le mouvement en détectant et en utilisant des informations sensorielles. Il a publié des dizaines d'articles dans les meilleures publications de sa discipline et a rédigé des chapitres de livres et des travaux de congrès pour des publications et des sociétés renommées. Il a reçu de nombreuses subventions de recherche, dont plusieurs du Conseil de recherches en sciences naturelles et en génie du Canada et de la Fondation canadienne pour l'innovation. Il a donné plus de 200 présentations lors de congrès, notamment en tant qu'orateur principal.
Veuillez vous joindre à nous pour souhaiter la bienvenue au Dr Binsted dans la communauté de York.
Sincères salutations,
Rhonda L. Lenton, Ph. D.
présidente et vice-chancelière

Lisa Philipps
rectrice et vice-présidente aux affaires académiques