Helen Polatajko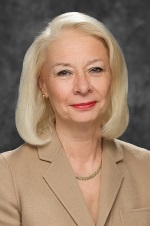 "I see my role as a York board member is to help the University better understand the vital role that technology can play in preparing students for future success."
A highly respected force for innovation and change, across North America's technology and financial services sectors, Helen Polatajko spent more than 40 years in a variety of executive roles, including chief information officer (CIO) at CIBC Mellon and the Canada Mortgage and Housing Corporation (CMHC).
She began her CIO career south of the border in Mellon Financial Corporation's mortgage subsidiary. Four years later, she was asked to move to Canada to become the CIO for the company's new start-up: a joint venture with CIBC in Toronto. Helen's ability to thrive in these challenging roles, followed by her subsequent leadership at CMHC earned her recognition as one of the Top 100 Women in Computing.
Since retiring, Helen has embraced a new kind of challenge — helping boards better understand technology and strategic risk. The proud parent of a York alumnus, she joined the York University Board of Governors in 2018, while continuing to serve as a board member of CDSPI. and its risk and governance committees. She is the past board chair of the Tafelmusik Baroque Orchestra and Chamber Choir, and a former member of the board of directors of Ontario's Independent Electricity System Operator and the independent advisory committees of the Ontario Ministry of Government Services and Workplace Safety and Insurance Board.
In her capacity as a CIO, Helen was also a member of the Council of CIOs and an advisory board member for both the CIO Executive Council and the Conference Board of Canada.
She is a graduate of the University of Pittsburgh and the University of Delaware, and a certified member of the Institute of Corporate Directors.