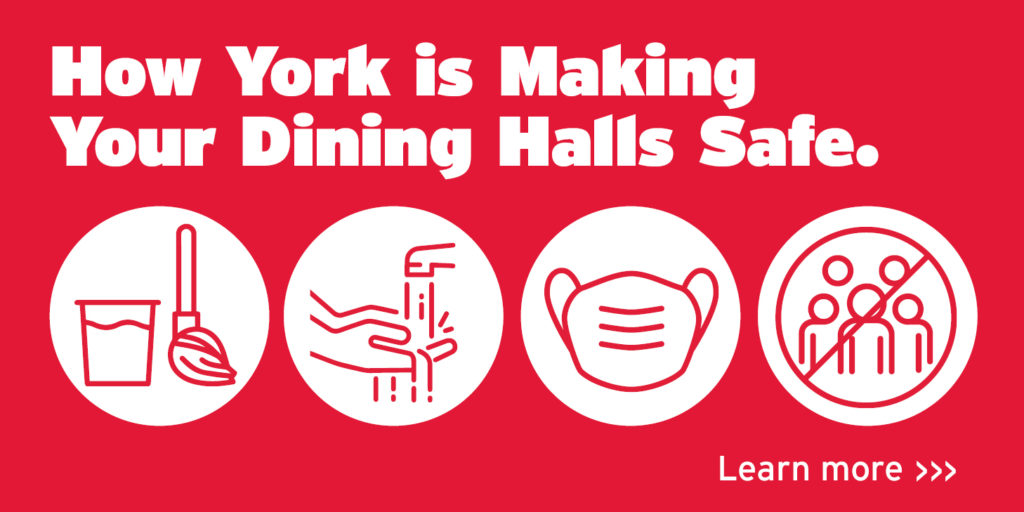 Re-imagining Dining at York University
---
YOUR SAFETY IS OUR FIRST PRIORITY
Our re-imagined Food Services will continue to offer a variety of high quality and healthy meal choices while complying with public health best practices. Kitchen staff wear personal protective equipment and are continuously cleaning and sanitizing high touch surfaces. We are also limiting numbers of patrons being served, allowing a safe distance between customers.
---
MEALS ON CAMPUS
Students on the Keele Campus will have access to both Stong and Winters dining halls, as well as some of the other retail outlets that will be open on campus. We are also preparing and serving a wider variety of freshly made, grab-and-go dishes – reducing long lines or having to touch serving utensils.
---
MOBILE ORDERING
In addition, Food Services has introduced a mobile order-and-pay app that enables you to pre-order your food from participating campus eateries and pay with your meal plan or credit card. Safe, fast and convenient!
Refund Policy Update: Meal Plan Taxable funds carried forward from 2019-2020 and prior terms maybe eligible for partial refunds. Students who purchased larger plans can downgrade to the Bronze and obtain a refund of the difference. Students who did not live in residence in 2020-2021, whether enrolled or not, can request a refund of Taxable Carry-Forward funds from previous meal plans by contacting yucard@yorku.ca. Refunds are subject to limits below:
Balances up to $1800 are eligible for refund
The first $200 or balances less than $200 are non-refundable
Refunds will be subject to an overhead deduction of 15%
Partial refunds may be requested, if students wish to retain some funds in their account for use next year.
Deadline to request a refund is July 31, 2021.
Convenient Locations Across Campus Serving A Diverse Menu To Meet Your Taste Buds.
Choose from a variety of dining options on campus to feed your appetite. Finding a place to eat is simple, convenient, nutritious and fresh! We strive to keep our menus changing to meet your expectations.
Water Bottle Free Campus!
York University is committed to providing alternatives to the use of disposable water bottles.
We have been water bottle free since 2015 and have since installed 70 water refill stations across both the Keele and Glendon campuses, and retrofitted many existing public water fountains (which number over 200). The initiative is integral to York University's overarching commitment as a leading post-secondary institution for sustainability, environmental conscientiousness and social responsibility. York has been recognized for its commitment to sustainability, having been named one of Canada's Greenest Employers.
Food Trucks
York U is happy to welcome food trucks on campus! We are always searching for new vendors to join us on both the Keele and Glendon campuses, and welcome any departments to contact us to help schedule any food trucks that may be needed for the many events we host.
---
Apply
All food trucks are welcome to apply to our food truck program. Approved trucks can participate in our Wheels Wednesday events, campus events, and as well as community events hosted by various groups on campus.
---
Request
Community groups on campus are welcomed to request food trucks for their special events. Please contact us for a full list of approved vendors.
---
Policy
If you are applying as a Food Truck Vendor or requesting a food truck for your event, please review York University's policy before proceeding.