A teaching kitchen is a learning laboratory for life skills. It teaches individuals–and by extension, their family members–to eat, cook, move and think more healthfully for a lifetime.
— Teaching Kitchen Collaborative, 2023
EVENTS
Sign up for a free cooking class or learn more about our past events.

Join our mailing list and be notified when we will be hosting our next class!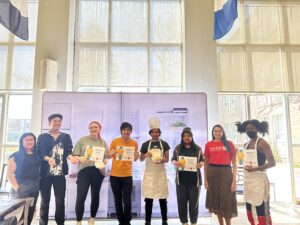 Upcoming Events
Previous Events
Resident Registered Dietitian Dahlia Abou El Hassan brings learning to life with Teaching Kitchen - a kind of cooking class that combines culinary instruction using healthful whole ingredients, nutrition education, mindfulness, and address food insecurity with students in mind.

Working with the on-campus executive chef Sergio Onorati, a series of cooking classes will have students cooking up various recipes that they can easily execute and will be offered at both Glendon and Keele campuses. With Chef leading students on the method and technical skills of cooking, Dahlia enriches the experience by educating students on nutritional facts of the recipe and offering ingredient alternatives for those with restrictions and intolerances with the aim of improving wellness through food.

Each series will introduce students to new recipes. The cooking classes are free to students and all equipment and ingredients are provided to create the dish. Dahlia believes "this initiative was launched to help address the United Nations' sustainable development goals. It helps us increase food literacy and empower students to make nutritious and affordable recipes in a hands-on environment."