Dr. Tokunbo Ojo joins the Faculty of Graduate Studies (FGS) as the new Associate Dean, Students. Ojo is an associate professor in the Department of Communication and Media Studies and an affiliated faculty member in the Department of Social Science within the Faculty of Liberal Arts & Professional Studies (LA&PS). He will transition into his new role through the month of July while liaising with the managers of the different portfolios in FGS throughout the summer.
"I am honoured to be selected to serve as the Associate Dean, Students, Graduate Studies. I look forward to enhancing the student experience and graduate education at York," says Ojo. "I wish to thank Professor Aryn Martin for her hard work and care for our students during her term as the Associate Dean, Students."
The AD Students is part of the senior-level team within the Dean's Office in the Faculty of Graduate Studies and reports to the Dean and Associate Vice-Provost of Graduate Studies. In his new role, Ojo will focus on matters involving Admissions and Enrolment, Degree Progress, as well as Funding and Employment. In addition to working with graduate students directly, he will also collaborate with the operational team in the FGS administrative office, graduate program directors (GPDs), graduate program assistants (GPAs), and various anchor Faculty Associate Deans.
"Something I stressed strongly for this position was the taking of an "ethics first" approach to student support" share Thomas Loebel, Dean and Associate Vice Provost Graduate. "Dr. Ojo has demonstrated both inside and outside of the classroom not only the significance but also the efficacy of this approach. For him, kindness need not be a stranger to honesty, realism, accuracy, and careful planning. If students want from their graduate school experience something unique and transformative, then there will be challenges on many fronts. What I felt distinguishes Dr. Ojo is how successful he has been at helping students to navigate such challenges. From experience he has learned when to stand beside or behind students as a support, but also when to step in front as a shield and advocate."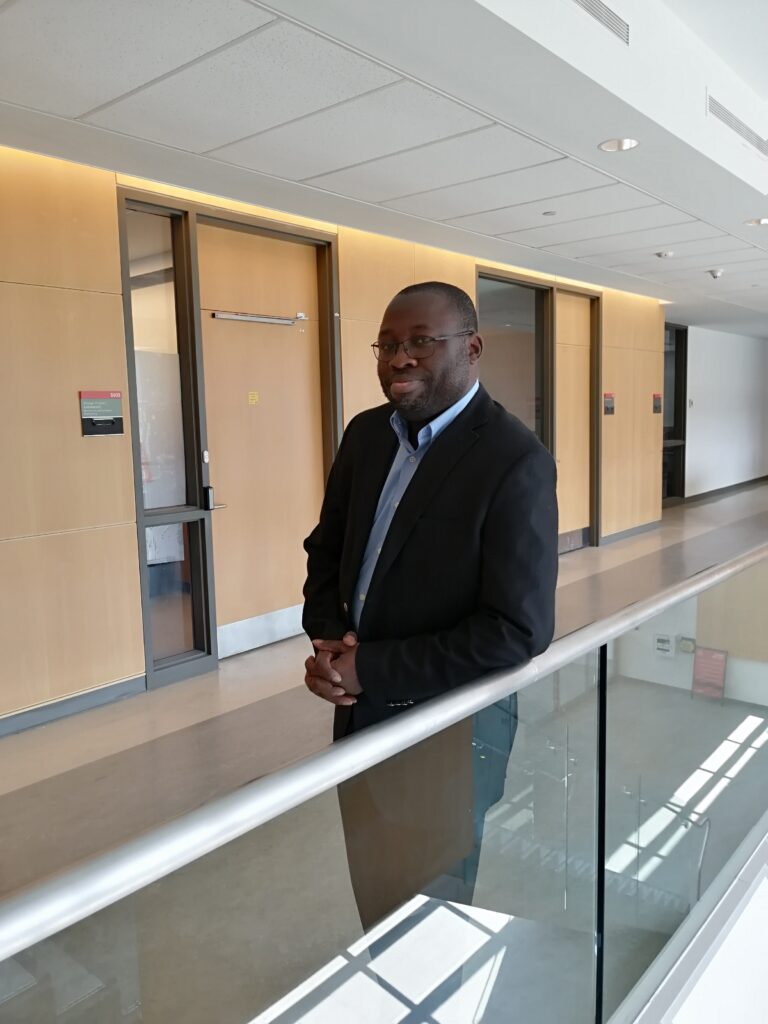 Dr. Tokunbo Ojo
Ojo joined the York community a decade ago, and his involvement with different committees as well as members of the community have prepared him to be successful in this new position. Most recently, he was the MA Coordinator for the York University/Toronto Metropolitan University (TMU) Joint Graduate Program in Communication and Culture (ComCult), where he led recruitment efforts and effective strategies to target future students, particularly those from equity-seeking groups in Canada.
Ojo's experience as Chair of the MA Admissions Committee as well as Chair of York's ComCult Ethics Committee will enable him to act as an effective liaison between students, university services, and campus resources. Additionally, his practical experience supervising and participating as a committee member with theses, MRPs, and dissertations will aid in supporting students across diverse life circumstances and career trajectories.
In 2020, Ojo became a member of LA&PS' Academic Policy & Planning Committee (APPC) and has served as Interim Co-chair in the fall of 2022. He is also one of the contributors to the Faculty's five-year academic plan for 2021-2026. Both experiences provide him with diverse and expansive perspectives, which will help him work together with various stakeholders within the Faculty and across campus to advance York's University Academic Plan.
"I am eager to work collaboratively with graduate program directors, administrative staff, faculty members, and various graduate student associations to support our students and foster a sense of belonging," shares Ojo.