Antonio Di Domenico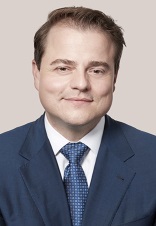 "York is where I nurtured my love of politics, trained as a lawyer and met my wife. I'm honoured to give back as an adjunct professor and a leadership volunteer."
Tony Di Domenico's interests and achievements as a York University student foreshadowed his successful career as a leading Canadian competition lawyer and leadership volunteer.
While studying political science and government at York between 1998 and 2002, he served as an undergraduate student representative on both the York University Senate and Board of Governors. He was also a member of the Senate Executive Committee, chair of the Student Senate Caucus and vice-chair of the Student Centre Board of Directors. Tony's volunteer commitments continued throughout his years at Osgoode Hall Law School, where he was chair of the Student Caucus of Faculty Council.
Shortly after his call to the bar in 2005, Tony joined international business law firm Fasken as a litigator.  In 2014, he completed a special two-year appointment as counsel to Canada's Commissioner of Competition. Now a Fasken partner and co-leader of Fasken's Antitrust/Competition & Marketing Group, Tony is recognized as one of Canada's leading practitioners in competition law and litigation.
He has also devoted his career to mentoring the next generation of lawyers. An Osgoode adjunct professor since 2006, he teaches competition law and serves as a team leader for the Law School's intensive trial advocacy workshop. He is also active in the leadership of the Canadian Bar Association and the American Bar Association, serving as vice-chair of the Mergers Committee and co-chair of the Consumer Protection Committee, respectively.
Prior to joining York's Board of Governors as an alumnus in 2017, Tony was a member and vice-chair of the York University Alumni Board and a director of the Osgoode Hall Law School Alumni Board.  Tony currently serves as Chair of the Academic Resouces Committee and as a member of the Executive and External Relations Committees.
He is also a long-time director of the Hockey Association for the Developmentally Challenged and a member of the board of directors of the Italian Chamber of Commerce of Ontario.