David Garg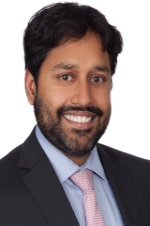 "I serve as a reminder of the positive impact York University can have on first-generation Canadians whose parents grew up with little."
When David Garg, BBA Hons 03, and his twin sister graduated from York University in 2003, they became the fifth and sixth members of their family to earn a degree from Canada's third largest university. Growing up with five siblings in the Jane-Finch community, David dreamed of studying at the Schulich School of Business, but he knew the journey to convocation wouldn't be easy.
Today, he's a Schulich alumnus, a guest lecturer, a mentor — and a member of York University's Board of Governors and its Finance and Audit and Investment Committees.
David joined the volunteer board in February 2019 "to support this great University that continues to enable generational advancement for our community" and to honour the memory of his father, who helped to make his university experience possible.
In addition to his unique appreciation of the financial challenges facing today's students, David brings to the board an accomplished career in investment banking at Scotiabank. From entry-level analyst, he has progressed to his current role as managing director and head of the bank's Canadian financial services corporate and investment banking practice. Prior appointments included leadership of Scotiabank's investment banking campus recruiting program, which included active recruitment on York's campus.
David has also volunteered as a guest lecturer at the Schulich School of Business and as a mentor to students interested in a career in finance. He continues to give back to his community as a supporter of the United Way and Kerry's Place for Autism.