Carole Malo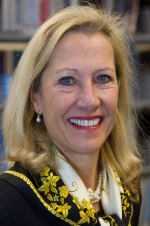 "I believe strongly in the capacity of university-industry-government partnerships to help prepare students for the future of work."
When it comes to implementing transformational capital projects in Canada and around the world, Carole Malo is a pioneer. A global finance and business executive with more than 25 years' experience in both the public and private sectors, she has helped to implement projects in health, social infrastructure, transit, transportation and energy worth more than $10 billion.
Most recently, Carole was the vice-president of project finance at Infrastructure Ontario and a director at the National Energy Board. She also held senior roles at Hydro-Québec as the director of investment projects and affiliates and at SNC-Lavalin as the vice-president and European country head in London, U.K. In the financial sector, she held senior roles at Newcourt Capital (CIT) and RBC in London, U.K. In 2009, Carole founded Stratford Ventures Inc., a consultancy specializing in providing independent and strategic advice to public- and private-sector players in infrastructure, energy, health and public-private partnership.
Carole's diverse career has taught her the value of multidisciplinary co-operation as a catalyst for innovative learning experiences. A member of York University's Board of Governors and its Land & Property Committee since February 2019, she hopes to help guide the University in forging new student-centered partnerships with industry and government.
In addition to her role at York, Carole is a member of the Board of Directors of the Humber River Hospital, the Canadian Development Investment Corporation and a long-standing volunteer at the United Way. She is an outspoken champion of diversity in leadership and of women in non-traditional sectors.
Carole holds a finance degree from HEC Montréal. She is a chartered financial analyst and a licensed Canadian Securities Institute member. In 2013, she was identified by the Canadian Board Diversity Council as one of Canada's 50 most qualified professionals ready to serve on boards.