Stefanie Lamonaca Caputo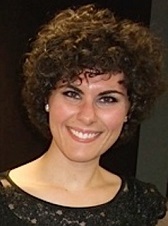 "I understand the aspirations and frustrations of students as well as comprehend the structures and challenges of their degree programs"
For almost two decades, Stefanie Lamonaca Caputo has been a fixture at York University as a student and as a staff member.
Infused with a lifelong love of learning, Stefanie has earned three degrees at York and is pursuing her fourth degree at the University. She has earned an undergraduate degree in environmental studies (BES '10), an honours degree in sociology (BA '11), and a master's degree in public policy, administration and law (MPPAL '15).
Currently, Stefanie is enrolled as a student in the Faculty of Education, where she is pursuing a master's degree in education.
In 2005, while Stefanie was pursuing her undergraduate degree, she began working at York where she continues to be employed.
Over the years, she has worked in various roles at York, including customer service in Parking Services, as a graduate program assistant in the Faculty of Liberal Arts & Professional Studies' School of Social Work, and in the Lassonde School of Engineering as a program support assistant, graduate program assistant and program support assistant.
A major highlight of her career was initiating and launching Lassonde's first ethics subcommittee on behalf of its Planning, Academic Resources and Research (PARR) Committee. At the time, there was an ad hoc ethics committee at the graduate level in the computer science department, but nothing official existed across the engineering school. Stefanie undertook the necessary steps to consult with the Office of Research Ethics and draft a proposal with a mandate, membership structure and modus operandi, which led to the approval of the subcommittee, officially known as the Lassonde Ethics Review Subcommittee, by PARR and the Lassonde Faculty Council. The project was a triumph for Stefanie, who oversaw the venture from beginning to end. This ethics subcommittee continues to operate as mandated.
Stefanie has been a student success and academic advisor in the Faculty of Liberal Arts & Professional Studies since 2018.
As a student and staff member, Stefanie understands the aspirations and frustrations of students and comprehends the structures and challenges of their degree programs. She prides herself on her keen sense for fairness and equity, and ability to persevere navigating and explicating complex issues patiently and thoroughly.
In 2017 she was awarded the Lassonde Staff Citizenship Award for her work in the Department of Electrical Engineering and Computer Science and Lassonde at large.
Stefanie has served on various York committees over the years, including the Lassonde Faculty Council and the Liberal Arts & Professional Studies Faculty Council. She was also a York University Staff Association union steward for eight years, until 2021.
Stefanie was appointed to York's Board of Governors on July 1, 2021.