Nadine Spencer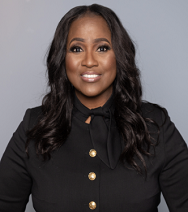 "Ultimately, I hope to empower students and lay a foundation from which to advance future generations of community leaders."
Nadine Spencer has developed the ability to really listen, communicate effectively, and to look at issues through a cultural lens.
A senior executive with more than 20 years of experience in marketing, communications and public relations, Nadine is widely recognized for developing strong brand positioning, leading a variety of multi-tiered corporate campaigns, increasing revenues for various multinational enterprises.
A major highlight of her career was working with a group from across Canada on the Black Entrepreneur Loan Fund and creating the communication strategy to support the initiative. Nadine considered the work fulfilling, especially knowing that these loans will have a direct, positive impact on the Black business community in Canada.
A York University graduate with an honours degree in political science, Nadine is the CEO of the global marketing and communications agency, BrandEQ Group Inc.
She is also President/CEO of the Black Business and Professional Association (BBPA), a non-profit charitable organization that serves to address equity and opportunity for the Black community.
A philanthropist, public speaker and avid volunteer, her dedication to the community was recognized as the recipient of a United Nations Volunteer award.
She is a director with the Lifelong Leadership Institute, an advisory committee member of the Toronto Star's Anti Black Racism Committee, a former president of the Junior League of Toronto and a current member of its diversity committee. Her awards include the BBPA Business Award, Brilliant Minded Women's Philanthropic Award and CGA Business Woman of the Year 2020.
She has participated in discussions with the White House on issues related to anti-discrimination and equity for women and girls of colour.
Nadine was appointed to York's Board of Governors on May 4, 2021.