Pascal Robichaud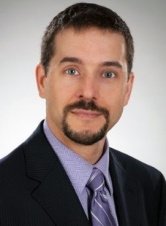 Pascal Robichaud was appointed University Secretary effective January 1, 2020.
An Acadian, born and raised in New Brunswick, Pascal has a long career of public service ranging from municipal management, provincial and federal government, and University administration.
Throughout his other engagements, Pascal has been connected to the University milieu as a lecturer in Political science and Public Management, as Director of University Affairs for the Government of New Brunswick and, for the decade leading up to his coming to York, University Registrar at l'Université de Moncton.  Student leadership was an integral part of his formative years; the inclusion of the student's voice and perspective in University Governance remains near and dear to his heart.
Pascal has a passion for governance and rules of assembly that has transcended his career from his early days presiding over youth organizations, to consultancy in governance, to his appointment as Chair of Senate by his Alma Mater.
He is father to Maxime, with whom he has actively indulged in another passion, travelling the world.
Pascal earned an undergraduate degree in Social Sciences (with Honours in Political Science) and a master's degree in Public Management at l'Université de Moncton.