Mary Traversy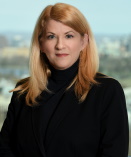 "As both a parent and business leader, I'm impressed with York's progressive and innovative approach to business education."
Mary Traversy hopes to use the deep experience and expertise she garnered before her retirement as Canada Post's chief operating officer to contribute to positive change through technology as a member of the York University Board of Governors.
Having witnessed the dramatic growth and importance of new technology in the postal business, Mary is convinced that technology will help equip graduates with the skills they need to be successful.   "I hope that my experience leading a large complex operation can benefit both the University and students," she says.
It also helps that she gets firsthand on-the-ground input, as her son is part of the first cohort of students in the Master of Supply Chain Management Program at York's Schulich School of Business.
Mary's three-plus decade career in progressively senior roles at Canada Post included strategy development, large capital and technology projects, labour relations, human resource management, real estate, engineering, communications, and stakeholder management.
Mary is a graduate of Carleton University and the Institute of Corporate Directors program. In 2016, she was named one of Canada's Top 100 Most Powerful Women.