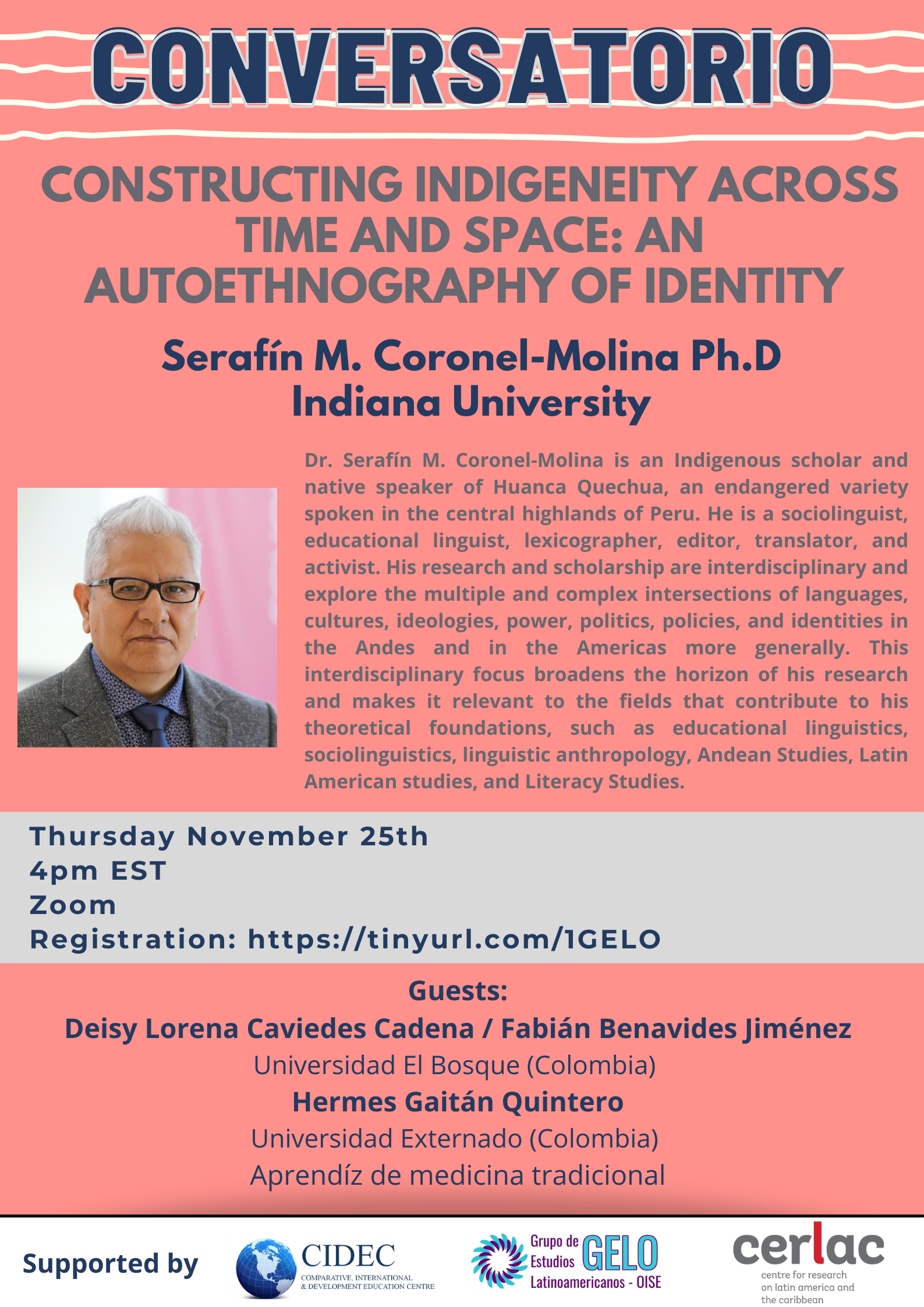 Conversatorio: Constructing Indigeneity Across Time and Space: An Autoethnography of Identity with Serafin M. Coronel-Molina.
CONSTRUCTING INDIGENEITY ACROSS TIME AND SPACE: ANAUTOETHNOGRAPHY OF IDENTITY with Serafín M. Coronel-Molina Ph.D Indiana University
Dr. Serafín M. Coronel-Molina is an Indigenous scholar and native speaker of Huanca Quechua, an endangered variety spoken in the central highlands of Peru. He is a sociolinguist, educational linguist, lexicographer, editor, translator, and activist. His research and scholarship are interdisciplinary and explore the multiple and complex intersections of languages, cultures, ideologies, power, politics, policies, and identities in the Andes and in the Americas more generally. This interdisciplinary focus broadens the horizon of his research and makes it relevant to the fields that contribute to his theoretical foundations, such as educational linguistics, sociolinguistics, linguistic anthropology, Andean Studies, Latin American studies, and Literacy Studies.
Thursday November 25th4pm ESTZoom- Registration: https://tinyurl.com/1GELO
Guests:Deisy Lorena Caviedes Cadena / Fabián Benavides Jiménez - Universidad El Bosque (Colombia)Hermes Gaitán Quintero - Universidad Externado (Colombia) - Aprendíz de medicina tradicional