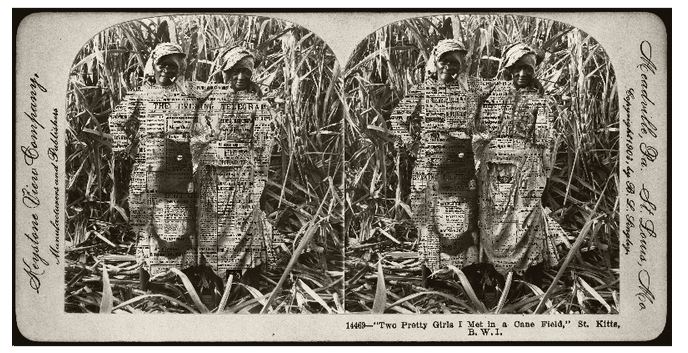 Visualizing Freedom Dreams
Visualizing Freedom Dreams
July 8 @ 12:00 pm - 1:30 pm
with Professor Robin D.G. Kelley
Distinguished Professor of History and Gary B. Nash Endowed Chair in U.S. History at UCLA
In conversation with John Akomfrah & Bushra Junaid
Moderated by Dr. Julie Crooks
and co-hosted with the AGO + Montgomery Collection
July 8
12:00pm-1:30pm(ET) - Zoom
"Visualizing Freedom Dreams" is a public dialogue between John Akomfrah, Robin Kelley and Bushra Junaid, moderated by Dr. Julie Crooks of the AGO. This dialogue will be organized through the AGO and the Graduate IPEE summer course at York University which this year is being led by Prof Robin D. G. Kelley of UCLA and will take place virtually on Zoom. Prompted by a discussion of selected images from the AGO's Montgomery Collection of Caribbeans photographs, this conversation will explore the visual representation of freedom and the transnational political economy of race from the vantage point of each panelists' geographic and social location.
RSVP NOW
Robin Davis Gibran Kelleyis the Distinguished Professor of History and Gary B. Nash Endowed Chair in U.S. History at UCLA. His extensive work has covered many topics including the history of social movements in the U.S., the African Diaspora, and Africa; black intellectuals; music and visual culture; Marxism and Surrealism. His books includeThelonious Monk: The Life and Times of an American Original;Race Rebels: Culture, Politics, and the Black Working Class;Hammer and Hoe: Alabama Communists During the Great Depressionand Into the Fire: African Americans since 1970 andThree Strikes: Miners, Musicians, Salesgirls, and the Fighting Spirit of Labor's Last Century, written collaboratively with Dana Frank and Howard Zinn. Among his numerous co-edited books areWalter Rodney,The Russian Revolution: A View From the Third World(with Jesse Benjamin) (a collection of Rodney's lecturesThe Other Special Relationship: Race, Rights and Riots in Britain and the United States(with Stephen Tuck);Black, Brown and Beige: Surrealist Writings from Africa and the African Diaspora(with Franklin Rosemont) andTo Make Our World Anew: A History of African Americans(with Earl Lewis) (Oxford University Press, 2000). Kelley's essays have appeared in numerous anthologies and publications among them theNation, theNew York Times,Counterpunch,Black Renaissance/RenaissanceNoir,Signs,American Quarterly,Re-Thinking Marxism, andJacobin.
In conversation with:
John Akomfrahis an internationally renownedGhanaian British Filmmaker and artist whose works are characterized by their investigationsin memory, post-colonialism, temporality and aesthetics, as well as global migrant diasporas. Akomfrah was a founding member of the influential Black Audio Film Collective, which started in London in 1982. Their work has been exhibited in numerous galleries includingSeattle Art Museum (2020); Secession, Vienna, Austria (2020); BALTIC, Gateshead, UK (2019); ICA Boston (2019); Museu Coleção Berardo, Lisbon, Portugal (2018); New Museum (2018); Bildmuseet, Umeå University, Umeå, Sweden (2015, 2018); SFMOMA (2018); Museo Nacional Thyssen-Bornemisza, Madrid, Spain (2018); Barbican, London, UK (2017) among others.In 2017, Akomfrah presented his largest film installation to date, Purple (2017), at the Barbican in London, commissioned by Bildmuseet Umeå, Sweden, TBA21--Academy, The Institute of Contemporary Art/ Boston, Museu Coleção Berardo, Lisbon and Garage Museum of Contemporary Art, Moscow. The six-channel video installation addresses climate change, human communities and the wilderness. He has also been featured in many international film festivals, including Sundance Film Festival, Utah, USA (2013 and 2011) and Toronto International Film Festival, Canada (2012). He was awarded the Artes Mundi Prize in 2017.
Bushra Junaid is a Canadian multidisciplinary artist, curator, and arts worker based in Toronto. Her works probe history, memory, cultural identity, and Black and Caribbean diasporas through mixed media collage, illustration, painting, and sculpture. In 2016, she co-curated (with Pamela Edmonds)New-Found-Lands:An Art Project Exploring Historical and Contemporary Connections between Newfoundland and the Caribbean Disaporaat Eastern Edge Gallery, St. John's. This exhibition featured Junaid's workTwo Pretty Girls- a performance by the artist and her sister of a 19th century image of two unnamed plantation workers which was also exhibited inFuture Possible: The Art of Newfoundland and Labrador to 1949(2018) atThe RoomsProvincial Art Gallery; andLike Sugar(2019) at the Tang Teaching Museum at Skidmore College. More recently, she is the curator of "What Carries Us: Newfoundland and Labrador in the Black Atlantic." (2020) Her work has been exhibited at the Royal Ontario Museum; Art Gallery of Nova Scotia; the MutualArt's artist archive, among others. Bushra currently serves as the Outreach and Development manager at Ontario Arts Council. Bushra Junaid has been mentioned in Canadian Art, CBC, Visual Arts News, among others.
Julie Crooksis a Canadian curator, researcher, and instructor. She currently serves asthe head of the department of Arts of Global Africa and the Diaspora at the Art Gallery of Ontario.curated exhibitions for many organizations including BAND (Black Artists Networks in Dialogue) and the Royal Ontario Museum's Of Africa project. She holds a PhD from the Department of History of Art and Archaeology at the School of Oriental and African Studies (SOAS), University of London, U.K. Crooks's area of specialty is vernacular photography of West Africa and the diaspora. Julie has curated exhibits at the AGO including: Free. Black. North (2017)Mickalene Thomas: Femmes Noires(2018) andWomen in Focus Collection Rotations(2017-ongoing)
RSVP NOW
Presented by: The Faculty of Environmental & Urban Change & The Department of Political Science
Sponsored by: The Graduate Programs in Environmental Studies, Geography, and Politics at York University
Co-sponsored by: The Faculty of Environmental and Urban Change, Department of Politics, LAPS Anti-Black Racism Initiatives Fund, Department of Anthropology, Department of Sociology, CERLAC and the Harriet Tubman InstituteThis event is hosted in honour of the late Leo Panitch and Rosa Luxembourg