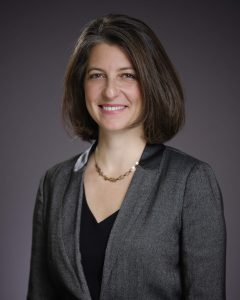 Economist Inbal Marcovitch is not your typical education graduate. An innovative economist and strategic foresight professional, Marcovitch uses mixed research methodologies and stakeholder engagement to develop organizational systems that contribute to resilient organizations. Born in Israel, Marcovitch came to Canada as an international student. She enrolled at York where she majored in Business and Society. During her undergraduate studies, she developed an interest in research and dialogue building and created the BUSO Pulse, a student-run magazine dedicated to the exploration of the relationship between government, business, and society.
Upon graduating and while working at York, she applied to the Master of Education program in the Faculty of Education. During her time at York, Marcovitch also partnered with the Dean of the Faculty of Health and together with fellow students led the Health as a Bridge for Peace (HBP) student association. The premise for HBP was to foster a culture of respectful dialogue at York by developing innovative programming around health-related topics that would establish a common ground for engagement. HBP brought together students of diverse backgrounds to develop personal relationships, collaborate, and build a safe environment for dialogue. Marcovitch received the York Internationalization Award for this initiative.
With an impressive skill set including system thinking and research, an interdisciplinary understanding of policy-making, analysis and development, and a strategic stakeholder engagement approach, Marcovitch obtained her Master of Economics degree from Carleton University. "I wanted to compliment all the valuable skills I learned at York," she said. "I wanted to be able to not only develop the value proposition of public policy programs and critically analyze public policy issues, but also have the knowledge and power to rigorously quantify their impact and demonstrate their value."
Equipped with a Bachelor and two Master's degrees, she landed a job as a researcher at the Standards Council of Canada (SCC). Marcovitch was hired as the first and only economist to establish and lead the economic research portfolio to support strategic policy development and programs (the team has expanded since). She is presently a research program manager at SCC responsible for quantifying and measuring the impact of standards on the Canadian economy. "Standards are important building blocks of the global market economy, they are an integral part of our market infrastructure," she says. "They're everywhere, from ensuring our electronic devices are interoperable and safe, to complementing regulations and ensuring our food and water are safe for consumption, but we don't always think about them in our day-to-day lives."
More recently Marcovitch has been championing SCC's strategic foresight function, helping the organization identify early signals of potentially disruptive change and linking those to strategic opportunities and risks. Her work demands broad system thinking and a multidisciplinary understanding of how the world works, something that she learned during her time at York. It also requires a rigorous understanding of quantitative and qualitative research methodologies.
The skill set Marcovitch developed while studying, working and leading community initiatives at York proved to be invaluable. She worked with colleagues on the Canadian Data Governance Standardization Collaborative, leading the design of a rigorous methodology engaging over 170 experts from diverse stakeholder groups across Canada, providing expert advice and mentoring throughout the implementation process. This research process will result in a standardization roadmap in support of Canada's Digital Strategy. "When I designed the methodology, I relied on best practices in stakeholder engagement, knowledge mobilization and qualitative research. The methodology also aligned with the consensus building principles of standard development, which allows a very diverse group of stakeholders to agree on an important topic that impacts nearly every Canadian citizen and business."
Marcovitch encourages future students to not only do well academically but to also get involved in their communities and sharpen their communications skills. "Take the time to reflect and to establish your networks," she advises. "Think broadly about your education and be open to opportunities. A lot of what I learned through my Education degree was very useful for policy-making and research."