Complete two university degrees at the same time in order to become a qualified teacher in Ontario. Students can apply to our Bachelor of Education (BEd) program in a concurrent delivery model.
Apply directly from high school (Direct Entry model) while also applying to select Faculties at the same time.
While co-registered in the two Faculties, students' combined degree program is subject to the approval of the two Faculties. Students pursuing their BEd also work towards the completion of a undergraduate degree.
To be considered for the Concurrent BEd program students must be admitted to and eligible to continue in an undergraduate program in one of York University's other Faculties:
Glendon

Glendon students who are preparing to teach French as a Second Language (FSL) in all teaching levels can apply to join the cohort that is held on Glendon campus. Students in this cohort may complete the FSL option.  

Glendon students who are preparing to teach subjects other than FSL can apply to the concurrent program that is offered on the Keele campus
Students are carefully selected on the basis of academic achievement, inclusiveness, experience and personal characteristics relevant to the teaching profession, as articulated in the application. The BEd degree is awarded concurrently only in conjunction with an academic degree as described above.
UPDATE: As of fall 2020, the Faculty of Education will no longer be offering the Bachelor of Education (BEd) Concurrent Upper Year Entry. Current York students who are interested in the BEd may apply to the Consecutive option - Bachelor of Education. Please note that the Concurrent Direct Entry model (Admission from high school) is continuing.
---
Access Initiative
Valuing Your Experience
The Faculty of Education at York University's Access Initiative is designed to recruit, admit and support individuals who will make excellent teachers and reflect the diversity of our society. Our admissions policies are designed to assess the potential of all candidates, including those who have faced systemic barriers in educational settings and in their lives. Through the Access Initiative, the Faculty invites students from underrepresented groups to apply.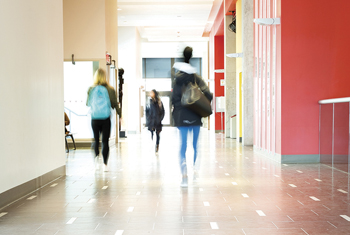 ---
Please be advised that programs in the Faculty of Education are intended to be delivered on campus or in official offsite locations in Toronto; community placements can only be completed in partner organizations and school placements can only be completed at partners school boards, which are located in the Greater Toronto Area (GTA). Although mandated restrictions resulting from covid-19 have required classes to run online in the 2020-21 academic year, all students should be prepared to commute to campus for in-person classes and to complete in-person placements in partner Boards when classes resume on campus. It is an expectation that students attend all classes in their scheduled format (whether online, blended or in-person) and complete their school and community-based placements where they are assigned in order to complete degree requirements.
Thinking Mathematically
BEd students in our "Thinking Mathematically" course had an opportunity to participate in an experiential education activity to co-plan and teach a mathematics lesson for their peers. The exercise provided students with hands-on experience facilitating mathematical thinking and also helped them to use "student solutions" which involves being responsive to student thinking in the moment.