Aurora is an eLearning Platform with on-demand, self-paced learning modules that allow PhDs and Postdocs to explore career options and discover ways to apply the skills acquired through their education. You can access the modules in any order and if you decide to complete 7 core modules, you earn a certificate of completion.

Access Aurora
Choose "York University" from the list of institutions and log in using your Passport York username and password.
Aurora's curated content consists of videos, and it provides information for students across disciplines in the Arts & Sciences. It was designed and built by PhDs - the Beyond the Professoriate team, as well as all of the contributors who deliver workshops and participate in career panels and interviews, are experts in their field who also successfully completed a PhD in the areas of Arts, Social Sciences, STEM, Business, and Education. If you're curious about the skills you've acquired throughout your studies, potential non-academic careers, or strategies for applying and securing non-academic employment, Aurora is an invaluable resource.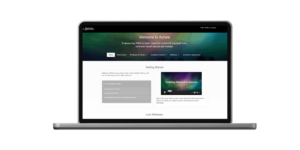 Aurora benefits graduate students by:
supporting career exploration.
providing accessible, well-curated resources for busy graduate students.
promoting engaged learning through reflective activities that encourage students to apply what they've learned.
complementing existing on-campus graduate student career supports.
offering recorded seminars, reflective prompts, and assessments that guide the student experience and foster user engagement.
You can bring your knowledge and PhD to many career fields. But don't just take our word for it—AURORA has interviews with over 170 PhDs. Listen to their stories and see for yourself.