Impression is a student-run undergraduate academic journal produced by the Communication & Media Studies department. Published annually under the mentorship of Professor Anne MacLennan, the journal showcases engaging and thought-provoking opinion pieces, essays, book reviews, photographs, short stories and poems reflective of both the subject of Communication & Media Studies and of the world around us, each practical, yet personal: the perfect impression.
Submissions: All work must be original, and any references to another work must be cited in APA style. Furthermore, while submitting work completed for courses is encouraged, your arguments should be original and unique, and should not simply restate the class material. Submissions must not have been published elsewhere previously, and submission must not violate any existing contracts of licenses.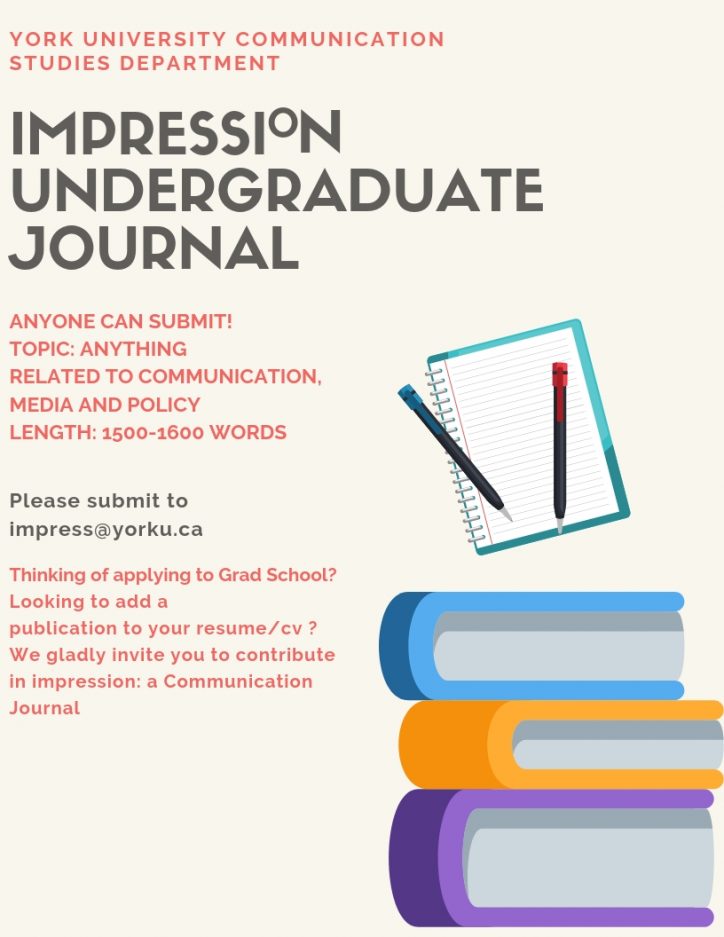 The Department of Communication & Media Studies in partnership with the CSSA is doing a call for submissions for the fifth volume of Impression. Papers on communications, policy and media are being accepted for our undergraduate student-run journal. Papers with original content and visuals are encouraged. The papers should be between 1500-6000 words. This is a great way for undergraduate students to get a publication, which looks impressive on a C.V if you're thinking of applying to grad schools. Please email your submissions to impress@yorku.ca
Please submit now. There will be plenty of time for the editors to help the authors edit their work.