Modern organizations rely on highly complex information systems to deliver products and services. Designing, developing and managing such systems are tasks that require both solid knowledge of key information technologies and a deep understanding of people, organizations and businesses.
The IT industry is in great demand for professionals who possess this skill combination. According to a recent report titled "Navigating the Digital Shift – Outlook 2021" from the Information and Communications Technology Council (ICTC), the ITC sector accounted for 4.3% of Canada's total output of $1,676 billion as of 2016, with ICT services contributing 95% of the total Canadian ICT sector's real gross domestic product.
The report also states that of the approximate total of 1,389,000 professionals working in the Canadian digital economy, 487,000 of them were ICT professionals working in the ICT industry, while 733,000 ICT professionals had occupations in non-ICT industries. Years later, the demand in the field continues to grow. Of a potential 216,000 new ICT jobs across Canada predicted in 2021, 88,000 are projected for Ontario.
This new era of industrialization is fuelled by peer-to-peer consumerism and the rise of intelligent and autonomous systems. According to the report, projections show that adoption in areas such as data-fueled artificial intelligence (AI), 5G connectivity and blockchain will herald a new demand for skilled talent.
The jobs required in these areas pay well! The average salary in ICT is noticeably higher than the economy-wide average, with the Software and Computer Service sector being the best paid, according to a Statistics Canada report. According to Glassdoor, roles such as Software Development Manager, IT Manager and Solution Architect are amongst the top 10 highest paying jobs in demand in America (together with, e.g. , Physicians and Lawyers). For the US Bureau of Labor Statistics, computer and information systems managers are also among the 20 highest paying occupations. These are people who "plan, coordinate and direct computer-related activities in an organization".
In the School of ITEC, we focus on knowledge and skills that fit exactly these requirements. Solid application and web programming courses are combined with courses such as Systems Analysis, Project Management, Business Intelligence and Business Process Management Systems aiming at educating versatile IT professionals.
Become a versatile business and socially aware IT professional. You will acquire a robust information systems and technologies education while cultivating awareness on how such technologies apply to organizations and business.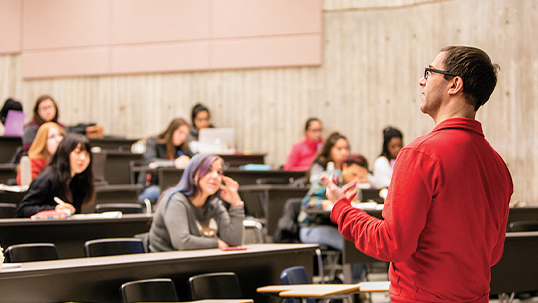 Our School is a leading destination for industrial and governmental research funding and attracts top caliber graduate students and researchers.
Having completed third year, honours students are eligible to join the Technology Internship Program and work at major IT companies, banks and government ministries.