Breaking Curtain is VCP's annual way of coming together at the end of the year to celebrate all the hard work that everyone put into the season. The event consists of a show followed immediately by an end-of-year company party!
A limited number of performance spots are available for anyone who is interested. Performances traditionally focus on something that relates to the past season of shows, not limited to inside jokes, skits and songs.
As part of the show, VCP's main awards are given out, including the Gold Eagle, Gold Heart, Fred Thury Award, and sometimes the Gold Ticket. As well, some casual and cheeky awards are also given out, which vary from year to year.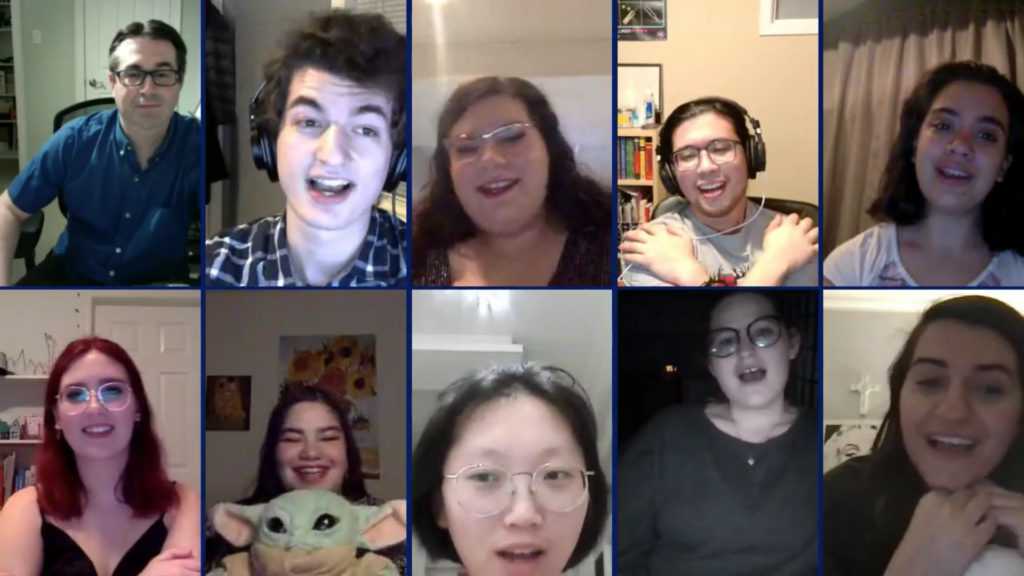 2021
Breaking Curtain 2021 took place on Thursday, April 8th at 7:30 pm. Hosted by Matthew Sabido and Kaitlyn Stollery, the evening featured performances by Elizabeth Furlano, Ethan Mofford, Kaitlyn Stollery, Krystyna Augustyn, Matthew Sabido, Rebecca Ehiagwina, Yaffa Segal, along with the VCP producer and work-study team. Performances included I Wish I Could Go in the Office, Let It Go, Halo, Satisfied, Only Us, Just a Thumb's Up, VCP Memories, and the Producer and Work-Study Radio Play.
Award winners included:
Gold Ticket – Arielle Branitsky, Dave Crawford, Alanna McConnell, Kristen Pepper, Jonathan Shaboo, Farnoosh Talebpour, Jean-Paul Yovanoff
Fred Thury Award – Ethan Mofford, Matthew Sabido
Gold Heart – Barbara Morrone-Sanchez, Kaitlyn Stollery
Gold Eagle – Shania Mendes
Ron Sparks Award – VIC 2020-2021
Rookie-of-the-Year – Angela Xu
Spirit in the Wings – Shabithah Varatharajan
Backstage Support / Crew – Elizabeth Jefferies, Yaffa Segal
Technical Superhero – Philip Ratcliff
Ready-to-Go Cast Member – Montserrat Cadena, Kaitlin Hicks
New Initiatives – Elizabeth Furlano, Kayla Thomas