Vanier College Productions is pleased to collaborate with many campus partners in providing event support, entertainment, and educational performances. VCP has played an instrumental role in York Orientation since 2005 through the creation and production of four educational orientation performances, providing valuable information about student resources and issues surrounding sexual violence and consent. VCP performances have enriched many events held for York alumni and current students – on campus, off campus, and virtually.
Orientation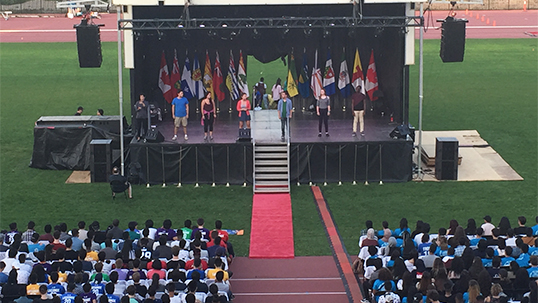 Since 2005, VCP has contributed to York orientation through its collaborations with Student Leadership & Community Development (SC&LD) to perform its signature orientation play, Experiencing the Possible and with The Centre for Sexual Violence Response, Support & Education to perform There is No Maybe: A Play About Sex and Consent as a part of York's Welcome Event. As a part of 2020 virtual orientation, VCP developed and produced the orientation video series Zooming Through YorkU and Consent Talks to support incoming students. To date, orientation productions have been performed for over 40,000 incoming first-year students.
Alumni
VCP collaborates regularly with the Division of Advancement and Alumni Engagement. A group of VCP alumni and current students had the distinct honour of performing the opening song from the hit Canadian musical Come From Away at the 2018 Bryden Alumni Awards at Arcadian Court. The group later reprised this performance for The Words & Deeds Leadership Award Dinner Honouring Cheryl and Rob McEwen at the Rebel Entertainment Complex in 2019.
Events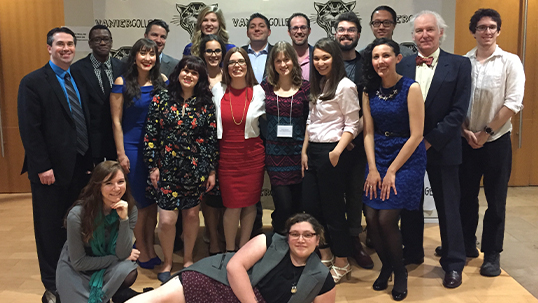 VCP provides event support and performances for many York University campus partners. VCP alumni and current students have performed for York's Red & White Day; York International's Celebration for International Students and Winter Holiday Gala; Vanier College's 50th Anniversary Festivities; and the Faculty of Liberal Arts & Professional Studies' 10th Anniversary Luncheon, Holiday Celebration, and numerous appreciation events for staff and students.