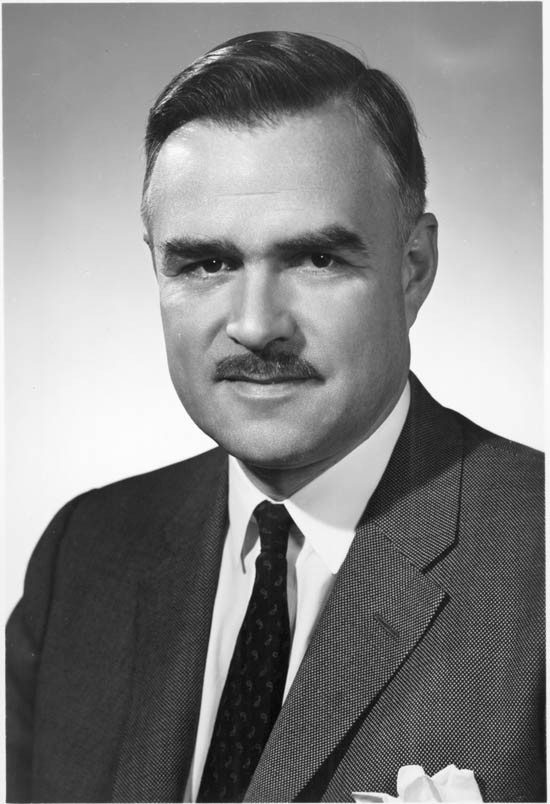 The Honourable John Parmenter Robarts, QC, was a Canadian politician who served as Premier of Ontario from 1961 to 1971, and as Chancellor of York University from 1977 to 1982.
Mr. Robarts was born in Banff, Alberta, but grew up in Ontario. He enlisted in the Royal Canadian Navy in 1940 and served for five years, until 1945. He earned his legal training at Osgoode Hall Law School, before entering politics, first as a member of the London City Council in 1950, and later as a member of the Progressive Conservative Party, which led to him being elected to the Ontario Provincial Legislature.
Mr. Robarts was Minister of Education while the province was planning the establishment of York University, and he was Premier of Ontario at a time of growth for the institution. As Premier, he led major educational initiatives, including the construction of f ive new universities, many teachers' colleges, Ontario Place, and the Ontario Science Centre. He also supported plans to expand French language education to Ontario schools. In 1972 he was made a Companion of the Order of Canada.
After his retirement in 1977, in addition to becoming Chancellor of York University, Mr. Robarts notably served as co-chair of the Task Force on Canadian Unity, along with the Honourable Jean-Luc Pépin, at the request of Prime Minister Pierre Elliott Trudeau.
In 1984, York University honoured the former Premier by naming our Centre The Robarts Centre for Canadian Studies. The University of Western Ontario established The John P. Robarts Research Institute in 1986. Mr. Robarts had previously been recognised for his commitment to and support for education with the establishment of the John P. Robarts Research Library at the University of Toronto in 1973. There is no relationship between the three institutions, but each pays tribute to his work and in his memory as an influential supporter of education in Ontario.