The Robarts Connects Series aims at connecting York graduate students with each other, connecting their studies with their future, and connecting their research with unavoidable research challenges in the contemporary Canadian landscape.
This series is open to all Robarts Centre Research Associates.
Learn more about Research Associates here. Apply to become a Research Associate here.
Upcoming events
Learning from the Pandemic? Challenges, Opportunities and Adaptations of Research Design, Goals and Outputs
14 September 2023 (Register here)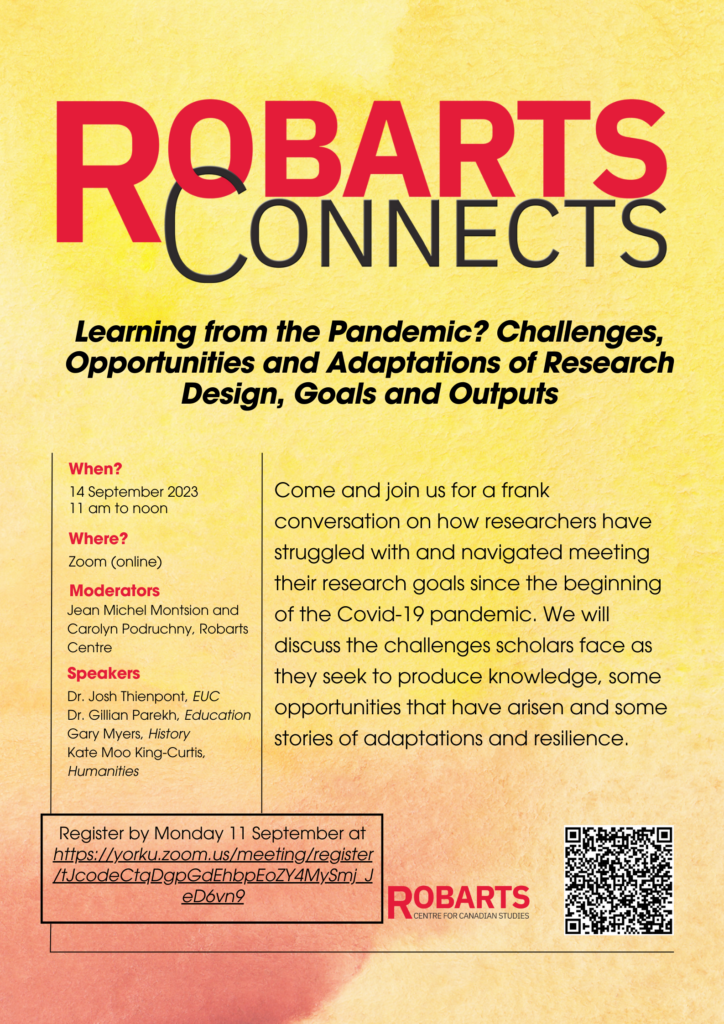 Previous Events
Languages other than English and the Anglophone academic world (Part 1: Back from the field?)
27 January 2023
Languages other than English and the Anglophone academic world (Part 2: Thinking and researching through multiple languages)
10 February 2023
Robarts Connects: Frequently Asked White Questions
24 March 2023
Being an Emerging Scholar Online | IRDL-Robarts-Nexus Connects
14 October 2022
Just renewable energy transitions and the climate emergency
10 March 2022
Researching diversity, equity and representation: A roundtable to share research experiences, struggles and solutions
12 November 2021
Planning next steps: Insights from postdoctoral fellows
28 October 2021
From conference abstract to published article: How to approach academic milestones"